A Gentleman in Moscow: A Novel
Spiral-Bound | March 26, 2019
Amor Towles
Rebinding by Spiralverse™
★★★★☆+ from 50,001 + ratings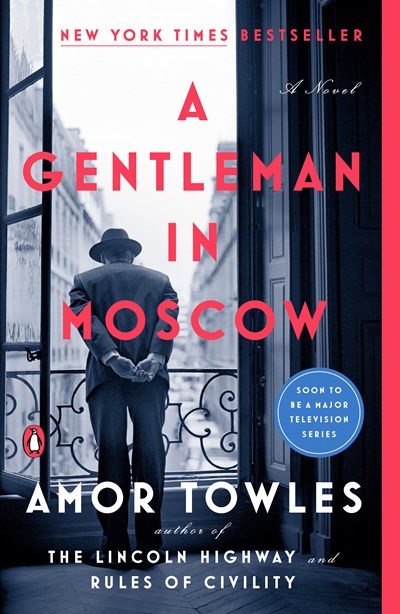 The mega-bestseller with more than 2 million readers, soon to be a Showtime/Paramount series starring Ewan McGregor as Count Alexander Rostov

From the #1 New York Times-bestselling author of The Lincoln Highway and Rules of Civility, a beautifully transporting novel about a man who is ordered to spend the rest of his life inside a luxury hotel

In 1922, Count Alexander Rostov is deemed an unrepentant aristocrat by a Bolshevik tribunal, and is sentenced to house arrest in the Metropol, a grand hotel across the street from the Kremlin. Rostov, an indomitable man of erudition and wit, has never worked a day in his life, and must now live in an attic room while some of the most tumultuous decades in Russian history are unfolding outside the hotel's doors. Unexpectedly, his reduced circumstances provide him entry into a much larger world of emotional discovery.

Brimming with humor, a glittering cast of characters, and one beautifully rendered scene after another, this singular novel casts a spell as it relates the count's endeavor to gain a deeper understanding of what it means to be a man of purpose.
"The novel buzzes with the energy of numerous adventures, love affairs, [and] twists of fate."
—The Wall Street Journal

"If you're looking for a summer novel, this is it. Beautifully written, a story of a Russian aristocrat trapped in Moscow during the tumult of the 1930s. It brims with intelligence, erudition, and insight, an old-fashioned novel in the best sense of the term."
—Fareed Zakaria, "Global Public Square," CNN

"Fun, clever, and surprisingly upbeat . . . A Gentleman in Moscow is an amazing story because it manages to be a little bit of everything. There's fantastical romance, politics, espionage, parenthood and poetry. The book is technically historical fiction, but you would be just as accurate calling it a thriller or a love story."
—Bill Gates

"The book is like a salve. I think the world feels disordered right now. The count's refinement and genteel nature are exactly what we're longing for."
—Ann Patchett

"How delightful that in an era as crude as ours this finely composed novel stretches out with old-World elegance."
—The Washington Post

"[A] wonderful book at any time . . . [I]t brought home to me how people find ways to be happy, make connections, and make a difference to one another's lives, even in the strangest, saddest and most restrictive circumstances."
—Tana French, author of The Searcher

"Marvelous."
—Chicago Tribune

"The novel buzzes with the energy of numerous adventures, love affairs, twists of fate and silly antics."
—The Wall Street Journal

"A winning, stylish novel."
—NPR.org

"Enjoyable, elegant."
—Seattle Times

"The perfect book to curl up with while the world goes by outside your window."
—Refinery29

"Who will save Rostov from the intrusions of state if not the seamstresses, chefs, bartenders and doormen? In the end, Towles's greatest narrative effect is not the moments of wonder and synchronicity but the generous transformation of these peripheral workers, over the course of decades, into confidants, equals and, finally, friends. With them around, a life sentence in these gilded halls might make Rostov the luckiest man in Russia."
—The New York Times Book Review

"This is an old fashioned sort of romance, filled with delicious detail. Save this precious book for times you really, really want to escape reality."
—Louise Erdrich

"Towles gets good mileage from the considerable charm of his protagonist and the peculiar world he inhabits."
—The New Yorker

"Irresistible . . . In his second elegant period piece, Towles continues to explore the question of how a person can lead an authentic life in a time when mere survival is a feat in itself . . . Towles's tale, as lavishly filigreed as a Fabergé egg, gleams with nostalgia for the golden age of Tolstoy and Turgenev."
—O, The Oprah Magazine

"'The Grand Budapest Hotel' and 'Eloise' meets all the Bond villains."
—TheSkimm

"And the intrigue! . . . [A Gentleman in Moscow] is laced with sparkling threads (they will tie up) and tokens (they will matter): special keys, secret compartments, gold coins, vials of coveted liquid, old-fashioned pistols, duels and scars, hidden assignations (discreet and smoky), stolen passports, a ruby necklace, mysterious letters on elegant hotel stationery . . . a luscious stage set, backdrop for a downright Casablanca-like drama."
—The San Francisco Chronicle

"The same gorgeous, layered richness that marked Towles' debut, Rules of Civility, shapes [A Gentleman in Moscow]."
—Entertainment Weekly

Praise for Rules of Civility

"An irresistible and astonishingly assured debut."
—O, the Oprah Magazine

"With this snappy period piece, Towles resurrects the cinematic black-and-white Manhattan of the golden age…[his] characters are youthful Americans in tricky times, trying to create authentic lives."
—The New York Times Book Review

"Sharp [and] sure-handed."
—Wall Street Journal

"Put on some Billie Holiday, pour a dry martini and immerse yourself in the eventful life of Katey Kontent."
—People

"[A] wonderful debut novel."
—The Chicago Tribune

"Glittering…filled with snappy dialogue, sharp observations and an array of terrifically drawn characters…Towles writes with grace and verve about the mores and manners of a society on the cusp of radical change."
—NPR.org

"A book that enchants on first reading and only improves on the second."
—The Philadelphia Inquirer
Amor Towles is the author of the New York Times bestsellers Rules of Civility, A Gentleman in Moscow, and The Lincoln Highway. The three novels have collectively sold millions of copies and have been translated into more than thirty-five languages. Towles lives in Manhattan with his wife and two children.