The Taste of Country Cooking: The 30th Anniversary Edition of a Great Southern Classic Cookbook
Spiral-Bound | August 1, 2006
Edna Lewis
Rebinding by Spiralverse™
★★★★☆+ from 1,001 to 10,000 ratings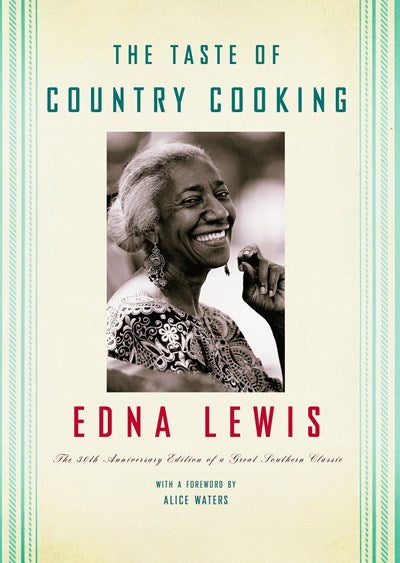 In this classic Southern cookbook, the "first lady of Southern cooking" (NPR) shares the seasonal recipes from a childhood spent in a small farming community settled by freed slaves. She shows us how to recreate these timeless dishes in our own kitchens—using natural ingredients, embracing the seasons, and cultivating community. With a preface by Judith Jones and foreword by Alice Waters.

With menus for the four seasons, Miss Lewis (as she was almost universally known) shares the ways her family prepared and enjoyed food, savoring the delights of each special time of year.

From the fresh taste of spring—the first wild mushrooms and field greens—to the feasts of summer—garden-ripe vegetables and fresh blackberry cobbler—and from the harvest of fall—baked country ham and roasted newly dug sweet potatoes—to the hearty fare of winter—stews, soups, and baked beans—Lewis sets down these marvelous dishes in loving detail.

Here are recipes for Corn Pone and Crispy Biscuits, Sweet Potato Casserole and Hot Buttered Beets, Pan-Braised Spareribs, Chicken with Dumplings, Rhubarb Pie, and Brandied Peaches. Dishes are organized into more than 30 seasonal menus, such as A Late Spring Lunch After Wild-Mushroom Picking, A Midsummer Sunday Breakfast, A Christmas Eve Supper, and an Emancipation Day Dinner.

In this seminal work, Edna Lewis shows us precisely how to recover, in our own country or city or suburban kitchens, the taste of the fresh, good, and distinctly American cooking that she grew up with.
"[A] masterpiece of Southern cuisine . . . widely hailed as one of the most important cookbooks of the 20th century." —Saveur

"[An] indispensable classic of a cookbook. . . . Thanks to this book, a new generation was introduced to the glories of an American tradition . . . of simplicity and purity and sheer deliciousness that is only possible when food tastes like what it is, from a particular place, at a particular point in time." —Alice Waters (from the Foreword)

"Known as the Grande Dame of Southern Cooking, Lewis is responsible for shining a light on Southern cooking as the basis for American cuisine." —Food & Wine

"[A] seminal cookbook." —San Francisco Chronicle

"[A] classic. . . . Revered for the way it shows the simple beauty of food honestly made in the rhythm of the seasons—the now common but at the time nearly forgotten ethos of eating farm-to-table—and for the way it gave a view of Southern food that was refined and nuanced, going beyond grease, greens and grits." —Francis Lam, The New York Times Magazine

"Edna Lewis brought a conviction and honesty to her food that few have touched." —The Splendid Table

"One of the most influential figures in modern Southern cooking. . . . [A Taste of Country Cooking] is celebrated for its focus on the simplicity of Southern food and emphasis of farm-to-table eating." —Kiera Wright-Ruiz, The New York Times

"The empress of Southern cooking." —Helen Rosner, The New Yorker
Edna Lewis was born in 1916 in Freetown, Virginia, a farming community founded after the Civil War by freed slaves (among them her grandfather) and for many years lived and cooked in New York City. She was the recipient of numerous awards, including the inaugural James Beard Living Legend and Southern Foodways Alliance (SFA) Lifetime Achievement Awards, the Grande Dame des Dames d'Escoffier International, and the International Association of Culinary Professionals (IACP) Lifetime Achievement Award. Her books were inducted into the James Beard Foundation Cookbook Hall of Fame, and she was commemorated with a United States Postal Service postage stamp. Miss Lewis was also the author of The Edna Lewis Cookbook, In Pursuit of Flavor, and, with Scott Peacock, The Gift of Southern Cooking. She died in February 2006.