The Berenstain Bears and the Easter Story: An Easter And Springtime Book For Kids
Spiral-Bound | January 29, 2012
Jan Berenstain, Mike Berenstain
Rebinding by Spiralverse™
★★★★☆+ from 501 to 1,000 ratings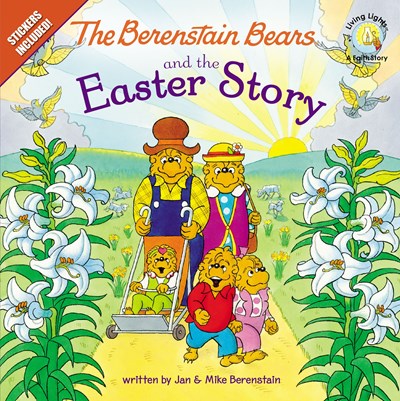 When Mama Bear overhears the cubs and Papa talking about their favorite Easter candies, she realizes a lesson in the real meaning of Easter is needed in The Berenstain Bears and the Easter Story, which features a colorful sticker sheet.
Young readers will understand the real meaning behind Easter in this addition to the Living Lights™ series of Berenstain Bears books. Children will discover that Easter is more than candy and egg hunts as they read about the Bear cubs at Sunday school learning about Jesus' resurrection and salvation.
Join the Berenstain Bears as they explore the true meaning of Easter Sunday and the resurrection of Jesus. Children will discover ways to implement traditional religious values and share God's goodness in Zonderkidz The Berenstain Bears Living Lights™ series of books with over 13 million copies sold.
The Berenstain Bears and the Easter Story:
Encourages age appropriate discussions about salvation and Jesus' resurrection

Is an engaging story about how Easter is more than the Easter bunny, candy, and egg rolls, and is a season of faith

Perfect for early reader ages 4-8,

reading out loud at home, in a classroom, or Sunday school

Perfect for independent reading, Easter basket gift, and holiday?gift-giving
The Berenstain Bears Living Lights™ series:
Is written and illustrated by Mike Berenstain

Features the hand-drawn artwork of the Berenstain family

Continues in the much-loved footsteps of Stan and Jan Berenstain with the Berenstain Bears series of books

Is part of one of the bestselling children's book series ever created, with more than 250 books published and nearly 300 million copies sold to date
Look for additional inspirational children's picture books in The Berenstain Bears Living Lights™ series, including:
The Berenstain Bears and the Easter Story for Little Ones
The Berenstain Bears The Very First Easter
The Berenstain Bears' Easter Sunday
Stan and Jan Berenstain introduced the first Berenstain Bears books in 1962. Mike Berenstain grew up watching his parents work together to write about and draw these lovable bears. Eventually he started drawing and writing about them too. Though Stan died in 2005 and Jan in 2012, Mike continues to create the delightful Bear adventures from his studio in Pennsylvania, in an area that looks much like the sunny dirt road deep in Bear Country.