Sunday Suppers: Recipes + Gatherings: A Cookbook
Spiral-Bound | October 14, 2014
Karen Mordechai
Rebinding by Spiralverse™
★★★☆☆+ from 101 to 500 ratings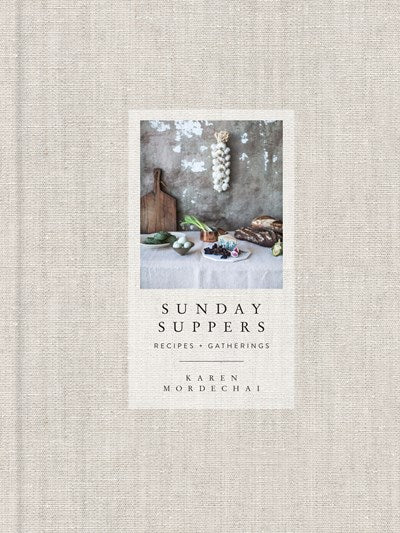 Rediscover the art of cooking and eating communally with a beautiful, simple collection of meals for friends and family.

With her dinner series Sunday Suppers, Karen Mordechai celebrates the magic of gathering, bringing together friends and strangers to connect over the acts of cooking and sharing meals. For those who yearn to connect around the table, Karen's simple, seasonally driven recipes, evocative photography, and understated styling form a road map to creating community in their own kitchens and in offbeat locations. This collection of gatherings will inspire a sense of adventure and community for both the novice and experienced cook alike.
"Karen Mordechai offers a gentle reminder to slow down and enjoy preparing simple meals to share with loved ones. You won't find trendy, complicated recipes in Sunday Suppers—her focus is on gathering around a communal table where good food leads to good conversation. From brunch to picnics to birthdays, Karen provides wholesome recipes that will nourish body and soul."
—Nathan Williams, founding editor of Kinfolk

"Sitting down to a meal with others is always an opportunity to learn, explore, ask questions, and expand one's worldview. It might mean meeting someone unexpected, or deepening existing friendships. Sunday Suppers celebrates the act of connecting over a shared meal. The recipes are gorgeous, and the photography sublime. That said, the thing I love most is how Karen makes it all feel doable, and done beautifully, without a lot of fuss. Her menus are inspiring, the recipes accessible, seasonal, and crowd-pleasing—now it's time to daydream about the guest list."
—Heidi Swanson, author of Super Natural Every Day

"Sunday Suppers is a beautiful meditation on the satisfaction of gathering—good food, friends and family, community—and sharing in the powerful experience of cooking and eating together."
—Melissa Hamilton and Christopher Hirsheimer, authors of Canal House Cooking

"Mordechai offers a chic and stylish cookbook of 100 recipes with a focus on get-togethers and intimate gatherings. Mordechai's style is casual, simple yet sophisticated... Complete soup-to-nuts, predesigned menus inspire a breakfast-in-bed menu of rich cream biscuits, perfect scrambled eggs, and fresh greens or a hearty winter brunch of homemade bagels, tea and ginger-cured sea bass, warm citrus salad, and fig tart with honey... Mordechai's light-filled photographs mirror her calm, peaceful mood as well as her belief in a slow-paced approach to sharing food with friends and family through recipes that are informal, fun, and consistently elegant."
—Publisher's Weekly
KAREN MORDECHAI, a photographer and stylist, is the founder of Sunday Suppers, a Brooklyn-based food community and blog that has won many accolades, including a 2013 Food and Wine Digital Award, top food blog by Saveur, and #6 in Babble.com's Top 50 Design Blogs. Karen's work is regularly featured in the New York Times, Martha Stewart Living, Remodelista, New York magazine, and more. She lives with her husband and daughter in Brooklyn, New York.