Where Do Diggers Sleep at Night?
Spiral-Bound | June 24, 2014
Brianna Caplan Sayres, Christian Slade (Illustrated by)
Rebinding by Spiralverse™
★★★★☆+ from 1,001 to 10,000 ratings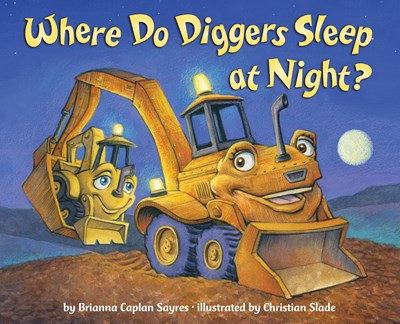 Truck-obsessed toddlers will want to make this fun-filled construction tale part of their nightly bedtime routine! Over one million copies sold!

Discover what bedtime looks like for fire trucks, snowplows, dump trucks, tractors, and all the vehicles that fill the pages of this irresistible book. Just like you and me, the trucks in this story get tuckered out after a long day of hard work and need to quiet down and settle in for sweet dreams. Young readers will see themselves as these trucks ask for one more story while parents sing them a goodnight song and send them off to bed.

With vibrant illustrations and a sweet rhyming text that's perfect for storytime, kids won't be able to get enough of Where Do Diggers Sleep at Night? and its companion books—Where Do Steam Trains Sleep At Night?, Where Do Jet Planes Sleep At Night?, Where Do Speedboats Sleep at Night?, Where Do Diggers Celebrate Christmas? and many holiday titles, too!
"Sure to find an audience among small fans of big trucks." --Booklist

"Trucks can be big and noisy and moderately terrifying. Caught right, as here--what's not to love?" --Kirkus Reviews

"A solid choice for any truck-obsessed preschooler... Fun, imaginative verse appears on every page." --School Library Journal

"Taking you from the construction site to the farm to the monster truck arena and more, little ones will be ready to close their eyes by the time they've visited each truck." --Random Acts of Reading

"This book is just plain adorable! ...The rhyming text compliments with words that are perfectly matched to the individual machine." --Youth Services Book Review

"A must have for every little one who is a big truck/construction truck lover!" --CMLD Kids/Teens Book Reviews

"The pictures in this book are amazing and the rhyming phrases that accompany them make this a super cute story." --Kiss the Book (a book review site for school librarians)
BRIANNA CAPLAN SAYRES didn't know anything about trucks—until her two-year-old son started to teach her everything about them. Now she and her husband put two boys to bed each night in a Seattle home filled with diggers, dump trucks, and fire engines. Brianna has followed the success of Where Do Diggers Sleep at Night? with a whole array of Where Do...books featuring steam trains, jet planes, speedboats, and everyone's favorite diggers celebrating holidays! You can visit Brianna on the Web at briannacaplansayres.com and facebook.com/authorbrianna.

CHRISTIAN SLADE's classic, distinctive art style can be found in picture books, novels, and magazines and graphic novels for children. He holds an MA in Illustration from Syracuse University, as well as a BFA in Drawing and Animation from the University of Central Florida. He lives with his wife and two children in Florida. Visit him on the Web at ChristianSlade.com.