The Giver of Stars: A Novel
Spiral-Bound | May 4, 2021
Jojo Moyes
Rebinding by Spiralverse™
★★★★☆+ from 50,001 + ratings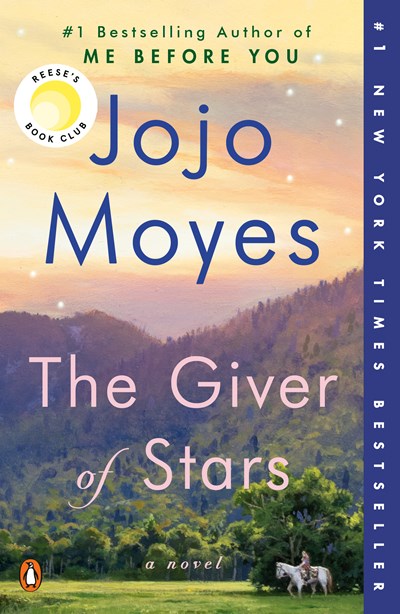 #1 NEW YORK TIMES BESTSELLER A REESE'S BOOK CLUB PICK

"A great narrative about personal strength and really captures how books bring communities together." —Reese Witherspoon

From the author of the forthcoming Someone Else's Shoes, a breathtaking story of five extraordinary women and their remarkable journey through the mountains of Kentucky and beyond in Depression-era America

Alice Wright marries handsome American Bennett Van Cleve, hoping to escape her stifling life in England. But small-town Kentucky quickly proves equally claustrophobic, especially living alongside her overbearing father-in-law. So when a call goes out for a team of women to deliver books as part of Eleanor Roosevelt's new traveling library, Alice signs on enthusiastically.

The leader, and soon Alice's greatest ally, is Margery, a smart-talking, self-sufficient woman who's never asked a man's permission for anything. They will be joined by three other singular women who become known as the Packhorse Librarians of Kentucky.

What happens to them--and to the men they love--becomes an unforgettable drama of loyalty, justice, humanity, and passion. These heroic women refuse to be cowed by men or by convention. And though they face all kinds of dangers in a landscape that is at times breathtakingly beautiful, at others brutal, they're committed to their job: bringing books to people who have never had any, arming them with facts that will change their lives.

Based on a true story rooted in America's past, The Giver of Stars is unparalleled in its scope and epic in its storytelling. Funny, heartbreaking, enthralling, it is destined to become a modern classic--a richly rewarding novel of women's friendship, of true love, and of what happens when we reach beyond our grasp for the great beyond.
Praise for The Giver of Stars

"A captivating tale of love, friendship, and self-actualization."
—People

"The Giver of Stars is a richly rewarding exploration of the depths of friendship, good men willing to stand up to bad and adult love. Moyes celebrates the power of reading in a terrific book that only reinforces that message."
—USA Today

"Though she made her mark writing contemporary romance, Moyes proves just as adept at historical fiction. . . . The Giver of Stars is a celebration of love, but also of reading, of knowledge, of female friendship, of the beauty of our most rural corners, and our enduring American grit: the kind of true grit that can be found in the hills of Kentucky and on the pages of this inspiring book."
—The Washington Post

"Moyes paints an engrossing picture of life in rural America, and it's easy to root for the enterprising librarians."
—The New York Times Book Review

"Bestselling author Jojo Moyes has a unique way of using her prose to make her readers feel great emotions – love, passion, sadness, and grief – and her latest novel, The Giver of Stars– does not disappoint in that respect."
—Parade

"Moyes stays true to her narrative and takes full advantage of the sense of place she gained from repeated trips to the area . . . riveting. A stirring novel sure to please Moyes's many fans."
—Star Tribune

"An epic journey of friendship, danger, and literacy. . . an ideal read."
—theSkimm

"With characters so real they feel like dear friends and a compelling storyline, this is a beautiful, special novel. I loved it and didn't want it to end!"
—Liane Moriarty, #1 New York Times bestselling author of Big Little Lies

"[A] dramatic, sweeping story. . . As well as creating wonderful strong characters, Jojo Moyes has an incredible eye for historical detail — I really felt as though I was riding over those Kentucky mountains with those women."
—Sophie Kinsella for Bustle

"Timeless, Jojo Moyes's greatest work yet, and one of the most exquisitely-written—and absolutely compulsory—novels about women ever told."
—Lisa Taddeo, #1 New York Times bestselling author of Three Women

"Epic in scope and fiercely feminist. . . an unforgettable story."
—POPSUGAR

"Compelling. . . It's an epic feminist adventure that candidly paints a community's soul-searching with great humor, heartache, honesty, and love."
—The Christian Science Monitor

"Inspired by the history of the actual Pack Horse Librarians, Moyes depicts the courage and resourcefulness of these women in loving detail. The Giver of Stars is a tribute not just to the brave women who brought the light of knowledge in dark times, but also to the rejuvenating bond of women's friendship."
—The Associated Press

"Moyes brings an often forgotten slice of history to life. . . the true power of the story is in the bonds between the women of the library. . . A love letter to the power of books and friendship."
—Kirkus Reviews (starred review)

"[An] homage to the power of reading and the strength of community. . . A must-read for women's fiction."
—Booklist (starred review)

"An adventure story grounded in female competence and mutual support, and an obvious affection for the popular literature of the early twentieth century, give this Depression-era novel plenty of appeal. . . . There's plenty of drama, but the reader's lasting impression is one of love."
—Publishers Weekly

"Rich in history, with well-developed characters and a strong sense of place, this book will fit well in any library's fiction collection. For fans of Sara Gruen's Water for Elephants or Catherine Marshall's Christy."
—Library Journal (starred review)

Jojo Moyes is the #1 New York Times bestselling author of The Giver of Stars, Still Me, Paris for One and Other Stories, After You, One Plus One, The Girl You Left Behind, Me Before You, The Last Letter from Your Lover, The Horse Dancer, Silver Bay, The Ship of Brides, and The Peacock Emporium. The Last Letter from Your Lover is now available as a major motion picture on Netflix. She lives with her husband and three children in Essex, England.