Horse: A Novel
Spiral-Bound | June 14, 2022
Geraldine Brooks
Rebinding by Spiralverse™
★★★★☆+ from 50,001 + ratings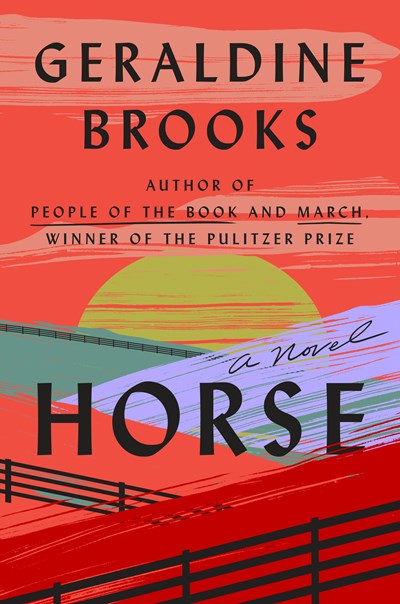 "Brooks' chronological and cross-disciplinary leaps are thrilling." —The New York Times Book Review

"Horse isn't just an animal story—it's a moving narrative about race and art." —TIME

"A thrilling story about humanity in all its ugliness and beauty . . . the evocative voices create a story so powerful, reading it feels like watching a neck-and-neck horse race, galloping to its conclusion—you just can't look away." —Oprah Daily

Winner of the Anisfield-Wolf Book Award

A discarded painting in a junk pile, a skeleton in an attic, and the greatest racehorse in American history: from these strands, a Pulitzer Prize winner braids a sweeping story of spirit, obsession, and injustice across American history

Kentucky, 1850. An enslaved groom named Jarret and a bay foal forge a bond of understanding that will carry the horse to record-setting victories across the South. When the nation erupts in civil war, an itinerant young artist who has made his name on paintings of the racehorse takes up arms for the Union. On a perilous night, he reunites with the stallion and his groom, very far from the glamor of any racetrack.

New York City, 1954. Martha Jackson, a gallery owner celebrated for taking risks on edgy contemporary painters, becomes obsessed with a nineteenth-century equestrian oil painting of mysterious provenance.

Washington, DC, 2019. Jess, a Smithsonian scientist from Australia, and Theo, a Nigerian-American art historian, find themselves unexpectedly connected through their shared interest in the horse—one studying the stallion's bones for clues to his power and endurance, the other uncovering the lost history of the unsung Black horsemen who were critical to his racing success.

Based on the remarkable true story of the record-breaking thoroughbred Lexington, Horse is a novel of art and science, love and obsession, and our unfinished reckoning with racism.
Praise for Horse:

"Brooks' chronological and cross-disciplinary leaps are thrilling . . . [Horse] is really a book about the power and pain of words . . . Lexington is ennobled by art and science, and roars back from obscurity to achieve the high status of metaphor."
—The New York Times Book Review

"[A] sweeping tale . . . fluid, masterful storytelling . . . [Brooks] writes about our present in such a way that the tangled roots of history, just beneath the story, are both subtle and undeniable . . . Horse is a reminder of the simple, primal power an author can summon by creating characters readers care about and telling a story about them—the same power that so terrifies the people so desperately trying to get Toni Morrison banned from their children's reading lists."
—Maggie Shipstead, The Washington Post

"In her thrilling new novel Horse, Geraldine Brooks moves back and forth between the 19th century and the near present with the same practiced ease she displayed in her 2008 epic People of the Book . . . Brooks [has an] almost clairvoyant ability to conjure up the textures of the past and of each character's inner life . . . Her felicitous, economical style and flawless pacing carries us briskly yet unhurriedly along. And the novel's alternating narratives, by suspending time, also intensify suspense."
—Wall Street Journal

"Every character is carefully and believably explored, including Lexington, the horse, an excellent racehorse and one of the best sires, ever, whose closest relationship is with his enslaved caretaker and exercise rider, whose insights into Lexington are spectacular. There is plenty of drama, given the era (1850s), but Brooks handles it perfectly. She also reveals a lot about racing art and biological science. Best horse book I've ever read, including all of my own."
—Jane Smiley, The New York Times Book Review

"[A] deft novel . . . create[s] a picture of the artistic, athletic, and scientific passions that horses can inspire in humans."
—The New Yorker

"Horse isn't just an animal story—it's a moving narrative about race and art."
—TIME

"[Horse is] set in contemporary times as well as the antebellum era and during the Civil War, but every story line is so pertinent to the issues of the day."
—Beth Macy, bestselling author of Raising Lazarus, in The New York Times

"A thrilling story about humanity in all its ugliness and beauty . . . while the historic detail in the book is impressive, it's the fictions filling in the blanks where Brooks' genius truly shines . . . The care with which Brooks crafts each character's voice is a plea to look past the categorical labels and legends with which we describe each other, to truly see the individual. Paired with a compelling plot, the evocative voices create a story so powerful, reading it feels like watching a neck-and-neck horse race, galloping to its conclusion—you just can't look away."
—Oprah Daily

"A confident novel of racing and race . . . with tender precision, Horse shows us history in flux . . . the book returns the Australian-American novelist to the terrain that won her a Pulitzer Prize with March, her 2005 tale of the war-absent father from Little Women. She brings the same archival confidence and sensory flair to the antebellum racetrack."
—The Guardian

"This is historical fiction at its finest, connecting threads of the past with the present to illuminate that essentially human something . . . Calling all horse girls: This is the story of the most important racehorse you've never heard of, but it's also so much more than that."
—Good Housekeeping

"A testament to the intelligence and humanity of animals, a stinging rebuke of racist and abusive humans, and a study of how the past gets recorded, remembered, and remade . . . anyone who ever grew up loving horses, anyone who dearly loves an animal, will find a cornucopia of riches in this novel."
—Boston Globe

"This heart-pounding novel about a famous antebellum champion thoroughbred named Lexington and his talented, enslaved trainer circles two tracks, one historical, one contemporary, to highlight the ongoing scourge of racism in America."
—Christian Science Monitor

"Brooks is an accomplished writer . . . [She] has a talent and passion for research that is fully expressed here—she writes beautifully about the anatomy of horses and the delicate work of 'articulating' their skeletons, arranging every bone in its proper place. The descriptions of 19th-century horse racing, when the animals were bred differently and raced much longer tracks, are thrilling."
—The Atlantic

"Horse mingles the past with the present, and history melds with well-informed invention . . . Brooks crafts an exceptionally sensitive portrayal of an enslaved groom and his special bond with Lexington."
—Smithsonian Magazine

"Horse glows . . . engrossing, masterful . . . Brooks makes each setting come alive . . . [N]ot the least of the lessons of Horse is an understanding of the redemptive power of art."
—St. Louis Post-Dispatch

"[F]ew authors can claim the range of Geraldine Brooks . . . What truly sets her work apart from many others, however, is the rigorous and extensive nature of her research [...] which shines through on every page. Readers will not only enjoy Brooks's well-told tales but will also likely learn something new along the way . . . The end result is a deliciously dense, character-rich exploration of the world of horse racing that still manages to make some stinging observations about the modern-day state of race in America."
—Paste

"[Y]ou won't be able to contain yourself while reading this elegant story about three generations of people inspired by the story of America's greatest racehorse . . . This is a novel about love, anger, passion, and justice—unbridled and bursting."
—LitHub

"Brooks is such a sharp pleasure to read . . . her research is meticulous, but she wears it lightly. And she writes supple, vigorous prose . . . she sees a universal condition that transcends the boundary lines of time and place . . . in short, she operates one of the best time machines around."
—Garden & Gun

"With exceptional characterizations, Pulitzer Prize–winner Brooks tells an emotionally impactful tale . . . [The] settings are pitch-perfect, and the story brings to life the important roles filled by Black horsemen in America's past. Brooks also showcases the magnificent beauty and competitive spirit of Lexington himself."
—Booklist (starred review)

"Brooks probes our understanding of history to reveal the power structures that create both the facts and the fiction . . . [She] has penned a clever and richly detailed novel about how we commodify, commemorate, and quantify winning in the United States, all through the lens of horse racing."
—Library Journal (starred review)

"[A] marvelous novel. Brooks structures the book like a mystery . . . Through Jarret's story, the author reveals the unique and indispensable role Black trainers and jockeys played in the pre-Civil War South . . . Equestrian or no, readers will appreciate Brooks's invitation to linger awhile among beautiful and graceful horses, to see the devotion they engendered in her characters."
—Shelf Awareness

"A fascinating saga based on the true story of a famous 19th-century racehorse . . . Brooks's multiple narratives and strong character development captivate, and she soars with the story of Jarret."
—Publishers Weekly

"[Brooks] demonstrates imaginative empathy [...] and provides some sardonic correctives to White cluelessness . . . Brooks skillfully [...] demonstrate[s] how the poison of racism lingers. Contemporary parallels are unmistakable . . . Strong storytelling in service of a stinging moral message."
—Kirkus Reviews (starred review)

"[A] sweeping exploration of racial injustice."
—Electric Literature

Praise for Geraldine Brooks:

"Brooks is a master at bringing the past alive . . . in [her]skillful hands the issues of the past echo our own deepest concerns: love and loss, drama and tragedy, chaos and brutality."
—Alice Hoffman, The Washington Post

"[Brooks] makes a masterly case for the generative power of retelling . . . [her] real accomplishment is that she also enables readers to feel the spirit of the place."
—The New York Times

"There's something bordering on the supernatural about Geraldine Brooks. She seems able to transport herself back to earlier time periods, to time travel. Sometimes, reading her work, she draws you so thoroughly into another era that you swear she's actually lived in it. With sensory acuity and a deep and complex understanding of emotional states, she conjures up the way we lived then . . . enrapturing."
—The Boston Globe
Geraldine Brooks is the author of the Pulitzer Prize-winning novel March and the international bestsellers The Secret Chord, Caleb's Crossing, People of the Book, and Year of Wonders. She has also written the acclaimed nonfiction works Nine Parts of Desire and Foreign Correspondence. Born and raised in Australia, Brooks lives in Massachusetts.