The ADHD Advantage: What You Thought Was a Diagnosis May Be Your Greatest Strength
Spiral-Bound | August 9, 2016
Dale Archer, MD
Rebinding by Spiralverse™
★★★☆☆+ from 501 to 1,000 ratings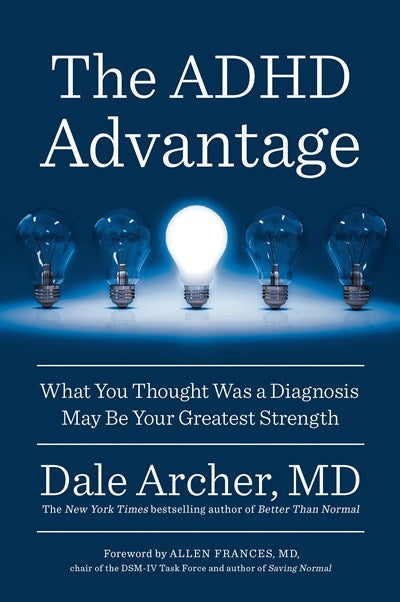 The New York Times–bestselling author of Better Than Normal, esteemed psychiatrist Dale Archer, M.D., reveals how ADHD might be the key to your success.

For decades, in the United States and in countries around the world, physicians delivered the diagnosis of ADHD to patients as bad news and warned them about a lifelong struggle of managing symptoms. But The ADHD Advantage explodes this outlook, arguing that some of the most highly successful entrepreneurs, leaders, and entertainers have reached the pinnacle of success not in spite of their ADHD but because of it.

People with ADHD are restless, endlessly curious, often adventurous, willing to take smart risks, and unusually resilient, and their ranks include some of the greatest entrepreneurs of our time. Sharing the stories of highly successful people with ADHD, Archer offers a vitally important and inspiring new way to recognize ADHD traits in oneself or in one's loved ones and then leverage them to great advantage. Readers will learn to harness mental energy for greater creativity, embrace multitasking, and build a path to great success—without medication. As someone who not only has ADHD himself but has never used medication to treat it, Dr. Archer understands the condition from a unique professional and personal standpoint. Armed with new science and research, and his own personal experience, he teaches readers to embrace their natural strengths and innate potential.
"By framing ADHD as primarily a set of personality traits and a unique learning style, instead of as a disease or a disorder, Dale Archer moves psychiatry a step in the right direction. Written in an engaging style, the book is a refreshing change from the medicalizing of normal childhood difficulties."
—Marilyn Wedge, PhD, author of A Disease Called Childhood

"This book changes the conversation about ADHD by focusing on strengths rather than deficits. With a healthy mix of research findings, real-life stories and observations, Dale Archer convincingly shows that in the right context, ADHD symptoms can be leveraged and provide advantages. I feel particularly satisfied that he acknowledges the linkages between ADHD and entrepreneurship. The book provides me and other academics with ideas and inspiration to delve deeper into the topic."
—Johan Wiklund, Professor of Entrepreneurship at Syracuse University

"By trying to suppress and medicate ADHD out of existence, we risk suppressing the gifts that are part of the package. Dale offers an array of useful and insightful alternatives for leveraging these strengths without the aid of a pill. Overmedicating...could dim the light that could be the next great business leader, explorer or innovator."
—From the Foreword by Allen Frances, MD, Chair of the DSM-IV Task Force, author of Saving Normal
Dr. Dale Archer is a medical doctor, a board-certified psychiatrist, and a Distinguished Fellow of the American Psychiatric Association. He also has ADHD and has never used medication to treat it. Currently, he is the medical director for psychiatric services at Lake Charles Memorial Hospital and was appointed by the governor to serve on the Louisiana Medical Advisory Board. A media veteran with more than 800 television appearances to date, Dr. Archer has appeared on most of the top national news shows to talk about various psychological issues related to current events, business, behavioral economics, politics, and more.