Savage Run
Spiral-Bound | July 5, 2016
C. J. Box
Rebinding by Spiralverse™
★★★★☆+ from 10,001 to 50,000 ratings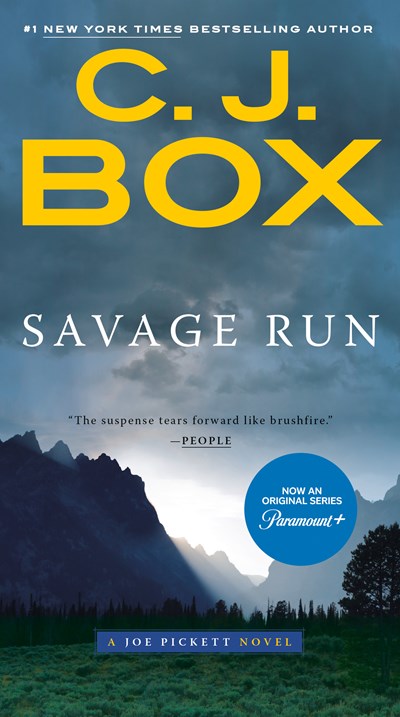 Don't miss the JOE PICKETT series—now streaming on Paramount+

Wyoming game warden Joe Pickett uncovers a conspiracy in this explosive novel in the #1 New York Times bestselling series.

When a massive blast rocks the forests of Twelve Sleep County, Wyoming game warden Joe Pickett is called to the scene to help investigate the death of a colorful environmental activist. The case is wrapped up quickly, explained as an environmental publicity stunt gone wrong, but Joe isn't convinced. He soon discovers clues that suggest a deadly conspiracy–one that will test his courage, his survival skills, and his determination to "do the right thing" despite all costs.
Praise for Savage Run

"The suspense tears forward like a brush fire."—People

"Brilliantly crafted...Bears comparison to the best Work of mystery giants such as Tony Hillerman and James Lee Burke."—Minneapolis Star-Tribune

"No sophomore slump from the remarkable talented Mr. Box...His plots, centering on issues of land management but filled with Old West-style action, are rich in both complexity and narrative drive....The 'outdoor mystery' was a thriving sub-genre before Box arrived on the scene, but he has taken it to new levels of substance and style."—Booklist

"Box is one of those rare authors who can match his tone with his setting. Here he creates a story as crisp as a Wyoming sunrise and every bit as dramatic."—Houston Chronicle

"Reinforces Box's status as a first-class talent."—Publishers Weekly (starred review)

More Praise for the C. J. Box and the Joe Pickett novels

"One of today's solid-gold, A-list, must-read writers."—Lee Child

"Picking up a new C. J. Box thriller is like spending quality time with family you love and have missed...It's a rare thriller series that has characters grow and change. An exciting reading experience for both loyal fans as well as newcomers."—Associated Press

"Box is a master."—The Denver Post

"Box knows what readers expect and delivers it with a flourish."—Cleveland Plain Dealer

"Wyoming game warden Joe Pickett strides in big boots over the ruggedly gorgeous landscape of C.J. Box's outdoor mysteries."—The New York Times Book Review

"Riveting...[A] skillfully crafted page-turner."—People

"Will keep you on the edge of your seat."—The Philadelphia Enquirer
C. J. Box is the #1 New York Times bestselling author of the Joe Pickett series, five stand-alone novels, and the story collection Shots Fired. He has won the Edgar, Anthony, Macavity, Gumshoe, and two Barry awards, as well as the French Prix Calibre .38 and a French Elle magazine literary award. His books have been translated into twenty-seven languages. He and his wife Laurie split their time between their home and ranch in Wyoming.