Trophy Hunt
Spiral-Bound | July 5, 2016
C. J. Box
Rebinding by Spiralverse™
★★★★☆+ from 10,001 to 50,000 ratings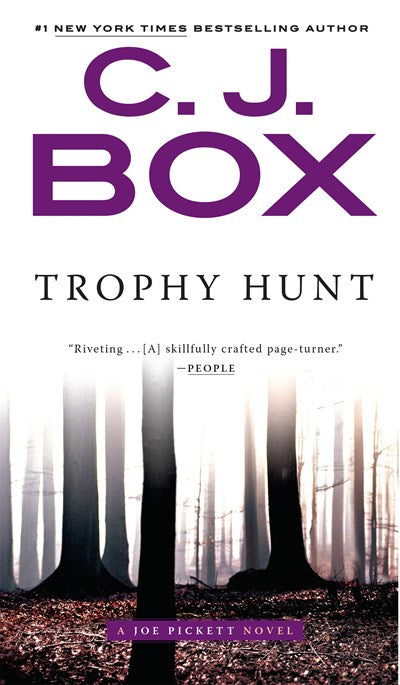 Don't miss the JOE PICKETT series—now streaming on Paramount+

In this thriller in the #1 New York Times bestselling Joe Pickett series, the Wyoming game warden is up against a vicious killer who's more beast than man...

Local authorities in Twelve Sleep County, Wyoming, are quick to label a rash of animal mutilations as the work of a grizzly bear, but game warden Joe Pickett suspects that something far more sinister is afoot. And when the bodies of two men are found disfigured in the same way, his worst fears are confirmed: A modern-day Jack the Ripper is on the loose—and the killings have just begun.
Praise for Trophy Hunt

"Unflinching. The answers are never easy to predict; the book keeps the reader guessing until the end. [Box's] style is down-to-earth and commercially appealing, with a Western locale that sets it apart."—The Philadelphia Inquirer

"Pickett is a particularly well-wrought, well-rounded hero, a bright, decent, committed guy...[His] dogged pursuit of the truth drives him into potentially deadly confrontations."—St. Louis Post-Dispatch

"Superb. This has all the elements that made the first three Picketts so pleasurable: Pickett himself, a bad shot but a good man; a strong supporting cast, especially his family; an inventive plot; and Bos'x own well-reasoned grasp of the issues....Excellent."—Booklist

More Praise for the C. J. Box and the Joe Pickett novels

"One of today's solid-gold, A-list, must-read writers."—Lee Child

"Picking up a new C. J. Box thriller is like spending quality time with family you love and have missed...It's a rare thriller series that has characters grow and change. An exciting reading experience for both loyal fans as well as newcomers."—Associated Press

"Box is a master."—The Denver Post

"Box knows what readers expect and delivers it with a flourish."—Cleveland Plain Dealer

"Wyoming game warden Joe Pickett strides in big boots over the ruggedly gorgeous landscape of C.J. Box's outdoor mysteries."—The New York Times Book Review

"Riveting...[A] skillfully crafted page-turner."—People

"Will keep you on the edge of your seat."—The Philadelphia Enquirer
C. J. Box is the #1 New York Times bestselling author of the Joe Pickett series, five stand-alone novels, and the story collection Shots Fired. He has won the Edgar, Anthony, Macavity, Gumshoe, and two Barry awards, as well as the French Prix Calibre .38 and a French Elle magazine literary award. His books have been translated into twenty-seven languages. He and his wife Laurie split their time between their home and ranch in Wyoming.