Save the Cat! Writes a Novel: The Last Book On Novel Writing You'll Ever Need
Spiral-Bound | October 9, 2018
Jessica Brody
Rebinding by Spiralverse™
★★★★☆+ from 1,001 to 10,000 ratings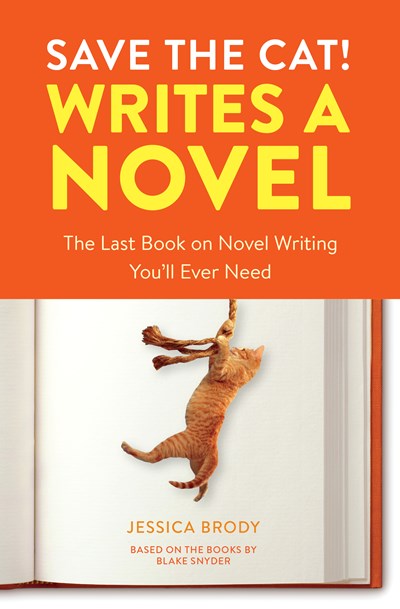 The first novel-writing guide from the best-selling Save the Cat! story-structure series, which reveals the 15 essential plot points needed to make any novel a success.

Novelist Jessica Brody presents a comprehensive story-structure guide for novelists that applies the famed Save the Cat! screenwriting methodology to the world of novel writing. Revealing the 15 "beats" (plot points) that comprise a successful story--from the opening image to the finale--this book lays out the Ten Story Genres (Monster in the House; Whydunit; Dude with a Problem) alongside quirky, original insights (Save the Cat; Shard of Glass) to help novelists craft a plot that will captivate--and a novel that will sell.
"Every novelist should own a copy of this book. It will change the way you think about stories—and your writing. Jessica Brody takes the mystery and frustration out of plotting a novel. I'll never write another book without a copy of Save the Cat! Writes a Novel."
--Kami Garcia, #1 New York Times best-selling coauthor of Beautiful Creatures and author of Broken Beautiful Hearts

"Good plotters aren't born. They're formed by studying the twists and turns of others' stories. Save the Cat! Writes a Novel is a perfect plot study tool for all levels of writer. It will help you dissect any plot conundrum, conceive your story's blueprint, and give a beat to every pivot of your hero's journey."
--Grant Faulkner, executive director of National Novel Writing Month and author of Pep Talks for Writers: 52 Insights and Actions to Boost Your Creative Mojo

"Through its insightful use of beat sheets, genres, and trade secrets, this book is an invaluable guide through the daunting task of writing a novel."
--Jessica Khoury, author of The Forbidden Wish and Last of Her Name

"This playful, illuminating book is a godsend for anyone seeking to understand story structure for novels."
--Emmy Laybourne, author of the international bestselling Monument 14 trilogy, and the novels Sweet, Berserker and Ransacker


JESSICA BRODY worked for MGM Studios as manager of acquisitions and business development before becoming an internationally best-selling author of more than fifteen novels for teens, tweens, and adults including The Geography of Lost Things, The Chaos of Standing Still, A Week of Mondays, and Better You Than Me. She's also the author of the Descendants: School of Secrets series, based on the hit Disney Channel original movie, Descendants. Her books have been translated and published in over 23 countries and Unremembered and 52 Reasons to Hate My Father are currently being developed for film through Reliance Entertainment by the producers of Zero Dark Thirty and Slumdog Millionaire. She travels the country teaching Save the Cat! workshops to novelists.