Signs: The Secret Language of the Universe
Spiral-Bound | June 2, 2020
Laura Lynne Jackson
Rebinding by Spiralverse™
★★★★☆+ from 10,001 to 50,000 ratings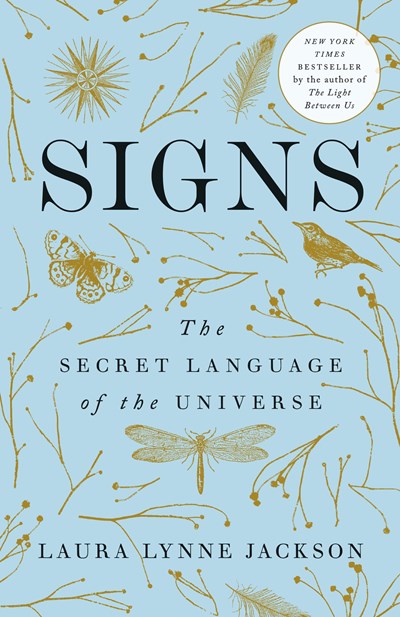 NEW YORK TIMES BESTSELLER • A renowned psychic medium teaches us how to recognize and interpret the life-changing messages from loved ones and spirit guides on the Other Side.

"A collection of incredible stories . . . that speak to the universe's endless capacity for magical moments."—goop

Laura Lynne Jackson is a psychic medium and the author of the New York Times bestseller The Light Between Us. She possesses an incredible gift: the ability to communicate with loved ones who have passed, convey messages of love and healing, and impart a greater understanding of our interconnectedness. Though her abilities are exceptional, they are not unique, and that is the message at the core of this book. Understanding "the secret language of the universe" is a gift available to all. As we learn to ask for and recognize signs from the other side, we will start to find meaning where before there was only confusion, and see light in the darkness. We may decide to change paths, push toward love, pursue joy, and engage with life in a whole new way.

In Signs, Jackson is able to bring the mystical into the everyday. She relates stories of people who have experienced uncanny revelations and instances of unexplained synchronicity, as well as others drawn from her own experience. There's the lost child who appears to his mother as a deer that approaches her unhesitatingly at a highway rest stop; the name written on a dollar bill that lets a terrified wife know that her husband will be okay; the Elvis Presley song that arrives at the exact moment of Jackson's own father's passing; and many others. This is a book that is inspiring and practical, deeply comforting and wonderfully motivational, in asking us to see beyond ourselves to a more magnificent universal design.
"This stirring guide . . . asserts that anyone can learn to understand messages that are sent from the 'Other Side.' . . . For readers struggling with loss who believe it's possible to communicate with the deceased, this book will console and empower them to look beyond their suffering."—Publishers Weekly

"This brilliant book by the renowned psychic medium Laura Lynne Jackson is a guidebook to and translator of the mysterious spiritual language of the universe. Through a series of touching personal stories, Signs teaches us how to discern and understand the myriad spiritual signs in our lives. Laura Lynne's beautiful and compassionate heart shines through every page. This book is both excellent and important, and I highly recommend it to all."—Brian L. Weiss, M.D., author of Many Lives, Many Masters

"This most hopeful work is a peek behind the scenes of the universe, reading it is like receiving a private message from God. Its essence is this: While one's body is temporary, one's love lives forever. What a thought!"—Mark Epstein, MD, author of Advice Not Given: A Guide to Getting Over Yourself

"Our collective understanding of the nature of reality is undergoing a massive shift that is progressively revealing the interaction between the human spirit and the universe at large. Signs offers a tremendously liberating and empowering resource for those willing to take charge of such knowing and awareness. Hardships and difficulties become the engines of our personal growth. Laura Lynne Jackson, a scientifically validated psychic medium, shares her sage observations, which allow any true seeker to participate in the expression of their highest dreams and aspirations. This book is a rare treasure."—Eben Alexander, M.D., author of Proof of Heaven, The Map of Heaven, and Living in a Mindful Universe

"Laura Lynne Jackson is a gift to the world. In Signs: The Secret Language of the Universe, she shows us how to open our eyes and ears to the extraordinary messages of love that surround us, right here, right now, in our ordinary lives. I finished this book feeling less alone and more alive."—Glennon Doyle, New York Times bestselling author of Untamed
Laura Lynne Jackson is a teacher, speaker, and psychic medium. She currently serves as a Windbridge Certified Research Medium with the Windbridge Research Center and is also a certified medium with the Forever Family Foundation. She is the author of The Light Between Us, a New York Times bestseller. She lives on Long Island with her husband and their three children.