The Peripheral
Spiral-Bound | October 6, 2015
William Gibson
Rebinding by Spiralverse™
★★★☆☆+ from 10,001 to 50,000 ratings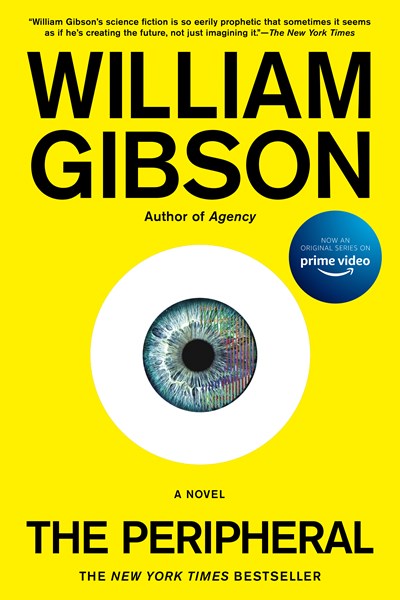 The New York Times bestselling author of Neuromancer and Agency presents a fast-paced sci-fi thriller that takes a terrifying look into the future.

DON'T MISS THE SERIES—NOW STREAMING EXCLUSIVELY ON PRIME VIDEO!

Flynne Fisher lives down a country road, in a rural America where jobs are scarce, unless you count illegal drug manufacture, which she's trying to avoid. Her brother Burton lives on money from the Veterans Administration, for neurological damage suffered in the Marines' elite Haptic Recon unit. Flynne earns what she can by assembling product at the local 3D printshop. She made more as a combat scout in an online game, playing for a rich man, but she's had to let the shooter games go.

Wilf Netherton lives in London, seventy-some years later, on the far side of decades of slow-motion apocalypse. Things are pretty good now, for the haves, and there aren't many have-nots left. Wilf, a high-powered publicist and celebrity-minder, fancies himself a romantic misfit, in a society where reaching into the past is just another hobby.

Burton's been moonlighting online, secretly working security in some game prototype, a virtual world that looks vaguely like London, but a lot weirder. He's got Flynne taking over shifts, promised her the game's not a shooter. Still, the crime she witnesses there is plenty bad.

Flynne and Wilf are about to meet one another. Her world will be altered utterly, irrevocably, and Wilf's, for all its decadence and power, will learn that some of these third-world types from the past can be badass.
"William Gibson's science fiction is so eerily prophetic that sometimes it seems as if he's creating the future, not just imagining it."—The New York Times

Praise for The Peripheral

"Spectacular, a piece of trenchant, far-future speculation that features all the eyeball kicks of Neuromancer and all the maturity and sly wit of Spook Country. It's brilliant."—Cory Doctorow

"From page one, The Peripheral ticks and sings with the same controlled, dark energy and effortless grace of language....Like the best of Gibson's early, groundbreaking work, it offers up the same kind of chewy, tactile future that you can taste and smell and feel on your skin; that you believe, immediately, like some impossible documentary, because the thing that Gibson has always been best at is offering up futures haunted by the past."—NPR

"[Gibson is] revered not just as a unique and brilliantly talented SF novelist but a social and psychological visionary....[The Peripheral] creates a future that is astoundingly inventive and frighteningly plausible....A wonderful addition to a brilliant oeuvre."—The Sunday Times (UK)

"Gibson's characters are intensely real, and Flynne is a clever, compelling, stereotype-defying, unhesitating protagonist who makes this novel a standout."—Publishers Weekly

"The Peripheral is one of [Gibson's] most sophisticated attention-management machines, a culmination of his career, both a return to old themes and a step forward, and his most sustained experiment in helping us, even if only for a moment, see the world with new eyes."—Los Angeles Review of Books

"No one writes better about the near future than Gibson."—The Washington Post

"Like any really well-designed thrill ride of mystery tour (or sonnet or string quartet), as soon as you get off, you want to get right on for another go-round."—Locus

More Praise for William Gibson

"His eye for the eerie in the everyday still lends events an otherworldly sheen."—The New Yorker

"Like Pynchon and DeLillo, Gibson excels at pinpointing the hidden forces that shape our world."—Details

"William Gibson can craft sentences of uncanny beauty, and he is a great poet of crowds."—San Francisco Chronicle Book Review

"Gibson's radar is deftly tuned to the changes in the culture that many of us are missing."—Milwaukee Journal Sentinel
William Gibson's first novel, Neuromancer, won the Hugo Award, the Nebula Award, and the Philip K. Dick Award. He is also the New York Times bestselling author of Count Zero, Burning Chrome, Mona Lisa Overdrive, Virtual Light, Idoru, All Tomorrow's Parties, Pattern Recognition, Spook Country, Zero History, Distrust That Particular Flavor, The Peripheral, and Agency. He lives in Vancouver, British Columbia, with his wife.