Pack Up the Moon
Spiral-Bound | June 8, 2021
Kristan Higgins
Rebinding by Spiralverse™
★★★★☆+ from 10,001 to 50,000 ratings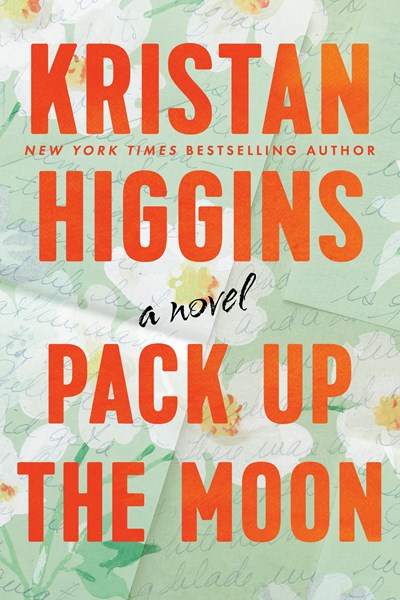 Funny, heartbreaking and uplifting, New York Times bestselling author Kristan Higgins delivers an unforgettable romance about how love can transcend even the greatest obstacles.

They used to joke about her "honey do" lists. He just never realized how much he would need one when she was gone.

Being a widower is not something Joshua Park ever expected. Given his solitary job as a scientist, his small circle of friends and family, and the social awkwardness he's always suffered from, Josh has no idea how to negotiate this new, unwanted phase of life. But his beloved wife Lauren had a plan to keep him moving forward, to lead him on a journey through grief, anger, and denial—twelve letters.

Twelve letters to see him through the first year without her, and to lead him on a heartrending, beautiful, often humorous journey to find joy again. From his first outing as a widower to buy groceries to finding a new best friend while sobbing in a clothing store, Joshua's grief makes room for him to learn Lauren's most valuable lesson: The path to happiness doesn't follow a straight line.

Emotional, heartwarming, and perfect for book clubs, TikTok sensation Pack Up the Moon illuminates how love always finds a way to carry bring us joy, even when we least expect it.
Praise for Pack Up the Moon

"A gorgeous study of love, life and grief, this book broke my heart—and then stitched me back together again. Kristan Higgins is a masterful storyteller."—New York Times bestselling author Colleen Oakley

"A moving and life-affirming portrait of grief that's sure to bring the tears."—Kirkus Reviews, starred review

"Higgins is a master of snappy dialogue, and her characters are authentic and relatable—a must for this type of novel. The heart of the story is tragic, but just like real life, there's humor hidden in the darkest moments. This warm, bighearted story about grief, family, and the redemptive power of love will appeal to fans of Katherine Center and Jennifer Weiner."—Booklist, starred review

"Perfect pacing and plotting lift Higgins's masterly latest. This is going to break (and restore) plenty of hearts."—Publishers Weekly, starred review

"New York Times bestselling author Kristan Higgins tells a heartwarming—and heartbreaking—story about young love, loss and the lingering effects of grief. … A story about resilience and everlasting love, this stunningly written tale is a true tearjerker."—Good Morning America

"Kristan Higgins is beloved for her rich, heartwarming sagas—which her latest novel delivers."—Women's World

"Higgins has crafted one of the most beautiful love stories I have ever read. It will make you cry but also leave you breathless and aching for a love like Joshua and Lauren's."—Book Reporter

Praise for Always the Last to Know

"A thoroughly entertaining exploration of families' complexities—from bitter disappointment to quiet strengths."—People Magazine, Book of the Week

"Filled with hilarious honesty and heartwarming moments…A moving portrait of a family putting their differences aside in favor of love."—Women's World

"This sparkling story is perfect summer reading."—Publishers Weekly

Praise for Life and Other Inconveniences

"Deeply touching, real and raw, but infused with the love and hope that make life possible, despite everything."—Abbi Waxman, author of I Was Told It Would Get Easier and The Bookish Life of Nina Hill

"Higgins is a mastermind of family dynamics in this poignant novel about two different generations of women struggling to find common ground. I couldn't put it down!"—Emily Liebert, author of Some Women

"Readers will be riveted as the well-drawn characters uncover one another's hidden depths and heal old wounds. This rich and memorable story will instantly win readers over."—Publishers Weekly (starred review)

Praise for Good Luck with That

"Good Luck With That is a powerful testament to the hard work of self-love...a paean to how it's never too early (or too late) to be a little kinder to yourself, an inspiring meditation on how to embrace the supportive individuals in your life and stand up to the toxic ones, and a love story....[Good Luck With That is] the story of learning to love oneself, and living a life that leads with that love, in all its joy, sorrow, failure, and triumph."—Entertainment Weekly

"Kristan Higgins is at the top of her game, stirring the emotions of every woman with the poignant reality of her characters."— #1 New York Times bestselling author Robyn Carr

"Kristan Higgins takes the reader deep into the hearts of her utterly relatable characters with this bold, unflinching look at a reality every woman thinks about, every day of her life--body image. If you like stories that celebrate women's challenges and triumphs, you'll love this book. If you struggle with body issues and need comfort and wisdom, this book could change your life."—#1 New York Times bestselling author Susan Wiggs

"Masterfully told, Good Luck with That is a story with which every woman will identify. We all deal with body image, self-esteem, and acceptance of love at one time or another. Bravo, Kristin Higgins, bravo!"—#1 New York Times bestselling author Debbie Macomber
Kristan Higgins is the New York Times, USA TODAY and Publishers Weekly bestselling author of more than twenty novels, which have been translated into more than two dozen languages and have sold millions of copies worldwide. Her books have received dozens of awards and accolades, including starred reviews from Entertainment Weekly, People, Kirkus, The New York Journal of Books, Publishers Weekly, Library Journal and Booklist.

The happy mother of two snarky and well-adjusted adults, Kristan enjoys gardening, mixology, the National Parks and complimenting strangers on their children. She lives in Connecticut with her heroic firefighter husband, cuddly dog and indifferent cat. Find her online at KristanHiggins.com, twitter.com/Kristan_Higgins, and facebook.com/KristanHigginsBooks.