Die Trying: A Jack Reacher Novel
Spiral-Bound | November 28, 2006
Lee Child
Rebinding by Spiralverse™
★★★★☆+ from 50,001 + ratings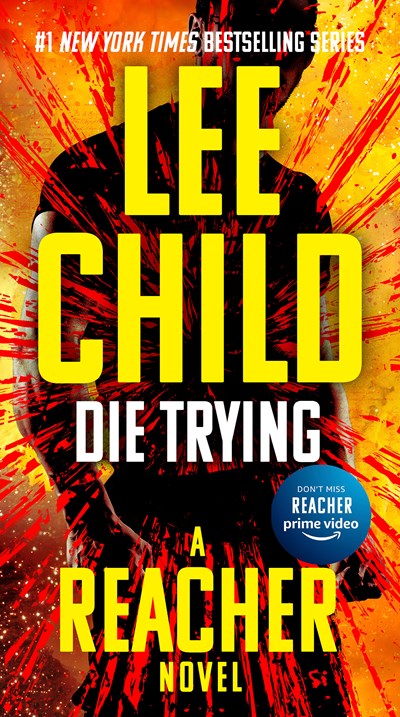 Jack Reacher finds himself in bad company in the second novel in Lee Child's #1 New York Times bestselling series.

DON'T MISS REACHER ON PRIME VIDEO!

Jack Reacher is an innocent bystander when he witnesses a woman kidnapped off a Chicago street in broad daylight. In the wrong place at the wrong time, he's kidnapped with her. Chained together, locked in the back of a stifling van, and racing across America to an unknown destination for an unknown purpose, they're at the mercy of a group of men demanding an impossible ransom. Because this mysterious woman is worth more than Reacher ever suspected. Now he has to save them both—from the inside out—or die trying....
"Tough, elegant, and thoughtful."—Robert B. Parker

"A riveting thriller, brought to life with well-observed detail and paced with taut, evocative prose. It's a winner."—Greg Iles

"A thoroughly engrossing tale told by an author who doesn't miss a beat." —Rocky Mountain News

"Child presents his tense, action-packed adventure in vivid prose, as lean and capable as his central character. Jack Reacher is not merely a terrific hero; he sets a new standard."—Tom Savage

"Opens with a bang."—Chicago Tribune

"A literate scenario-cum-thriller."—The Philadelphia Inquirer

"Lee Child's knowledge of the modern military and its combat tactics amazed me. A chilling and all-too realistic story, and a damn good book."—Steve Thayer

"[A] redoubtable yet romantic hero…[a] fast-paced misadventure...Cunning and explosive, it's a thumping good read."—Time Out

"Furiously suspenseful."—Kirkus Reviews
LEE CHILD is a #1 bestselling author worldwide. His debut novel, Killing Floor, won two awards for best first mystery and was nominated for two more. Foreign rights in the Jack Reacher series have been sold in ninety-five countries. Child, a native of England, is a former television director. He lives in New York City, where he is at work on his next Jack Reacher thriller.