On Target
Spiral-Bound | September 28, 2010
Mark Greaney
Rebinding by Spiralverse™
★★★★☆+ from 10,001 to 50,000 ratings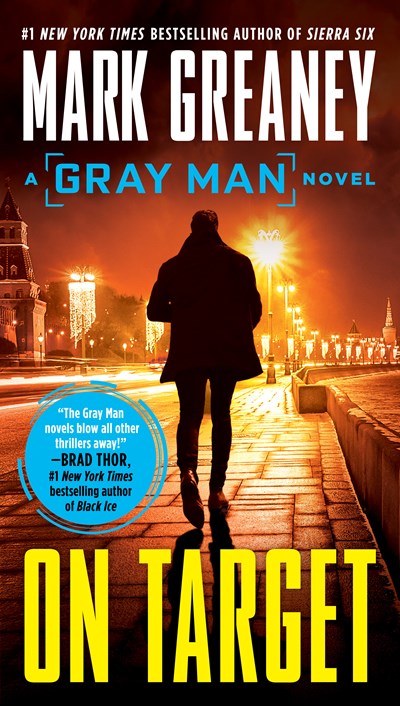 NATIONAL BESTSELLING AUTHOR OF THE GRAY MAN.
Killing is Court Gentry's business... But his business is about to get personal."Never has an assassin been rendered so real yet so deadly."—James Rollins
"BOURNE FOR THE NEW MILLENNIUM." (James Rollins)
From #1 New York Times bestselling author Mark Greaney comes the second entry in the explosive thriller series featuring the lethal assassin known as the Gray Man.

When an old comrade Court Gentry thought was dead returns to haunt him, his own life is put in the crosshairs.

The man wants Court to complete a mission, with one crucial catch to his orders: Instead of a difficult assassination, the job will entail a nearly impossible kidnapping--and Court must return his quarry to the very CIA team that turned on him.
"I LOVE THE GRAY MAN."—#1 New York Times bestselling author Lee Child

"BOURNE FOR THE NEW MILLENNIUM."—New York Times bestselling author James Rollins

Praise for On Target

"Fine characterization, witty dialogue, breathtaking chase and battle scenes, and as many unforeseen twists and turns as your favorite Robert Ludlum or Vince Flynn novel—combined."—New York Times bestselling author Keith Thomson

"Greaney writes smart, sharp, perfectly-paced thrillers. Intense, intelligent and loads of fun."—National bestselling author Steven James

"Discovering The Gray Man was like falling in love for the first time. Reading On Target is like going on a second date and realizing this relationship might last the long haul."—New York Times bestselling author Eric Wilson

More Praise for the Gray Man Novels

"Writing as smooth as stainless steel and a hero as mean as razor wire."—New York Times bestselling author David Stone

"The story is so propulsive, the murders so explosive, that flipping the pages feels like playing the ultimate video game."—The New York Times

"A high-octane thriller that doesn't pause for more than a second for all of its 464 pages."—Chicago Sun-Times

"Take fictional spy Jason Bourne, pump him up with Red Bull and meth, shake vigorously—and you've got the recipe for Court Gentry."—The Memphis Commercial Appeal



Mark Greaney has a degree in international relations and political science. In his research for the Gray Man novels, including One Minute Out, Mission Critical, Agent in Place, Gunmetal Gray, Back Blast, Dead Eye, Ballistic, On Target, and The Gray Man, he traveled to more than twenty countries and trained alongside military and law enforcement in the use of firearms, battlefield medicine, and close-range combative tactics. He is also the author of the New York Times bestsellers Tom Clancy Support and Defend, Tom Clancy Full Force and Effect, Tom Clancy Commander in Chief, and Tom Clancy True Faith and Allegiance. With Tom Clancy, he coauthored Locked On, Threat Vector, and Command Authority.