Hood Feminism: Notes from the Women That a Movement Forgot
Spiral-Bound | February 23, 2021
Mikki Kendall
Rebinding by Spiralverse™
★★★★☆+ from 10,001 to 50,000 ratings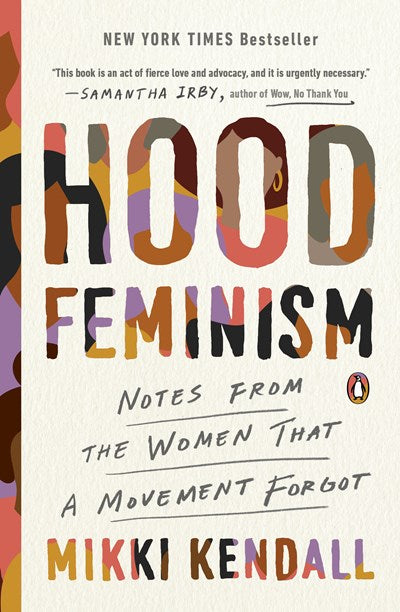 A NEW YORK TIMES BESTSELLER

"The fights against hunger, homelessness, poverty, health disparities, poor schools, homophobia, transphobia, and domestic violence are feminist fights. Kendall offers a feminism rooted in the livelihood of everyday women." —Ibram X. Kendi, #1 New York Times-bestselling author of How to Be an Antiracist, in The Atlantic

"One of the most important books of the current moment."—Time

"A rousing call to action... It should be required reading for everyone."—Gabrielle Union, author of We're Going to Need More Wine


A potent and electrifying critique of today's feminist movement announcing a fresh new voice in black feminism

Today's feminist movement has a glaring blind spot, and paradoxically, it is women. Mainstream feminists rarely talk about meeting basic needs as a feminist issue, argues Mikki Kendall, but food insecurity, access to quality education, safe neighborhoods, a living wage, and medical care are all feminist issues. All too often, however, the focus is not on basic survival for the many, but on increasing privilege for the few. That feminists refuse to prioritize these issues has only exacerbated the age-old problem of both internecine discord and women who rebuff at carrying the title. Moreover, prominent white feminists broadly suffer from their own myopia with regard to how things like race, class, sexual orientation, and ability intersect with gender. How can we stand in solidarity as a movement, Kendall asks, when there is the distinct likelihood that some women are oppressing others?

In her searing collection of essays, Mikki Kendall takes aim at the legitimacy of the modern feminist movement, arguing that it has chronically failed to address the needs of all but a few women. Drawing on her own experiences with hunger, violence, and hypersexualization, along with incisive commentary on reproductive rights, politics, pop culture, the stigma of mental health, and more, Hood Feminism delivers an irrefutable indictment of a movement in flux. An unforgettable debut, Kendall has written a ferocious clarion call to all would-be feminists to live out the true mandate of the movement in thought and in deed.
Named a Best Book of 2020 by Bustle, BBC, and Time
A Washington Post Notable Nonfiction Book of 2020

"In prose that is clean, crisp, and cutting, Kendall reveals how feminism has both failed to take into account populations too often excluded from the banner of feminism and failed to consider the breadth of issues affecting the daily lives of millions of women. . . . Throughout, Kendall thoughtfully and deliberately takes mainstream feminism to task . . . [but] if Hood Feminism is a searing indictment of mainstream feminism, it is also an invitation. For every case in which Kendall highlights problematic practices, she offers guidance for how we can all do better."
—NPR

"With poise and clarity, Kendall lays out the case for why feminists need to fight not just for career advancement but also for basic needs and issues that often plague women of color, including food security, educational access, a living wage and safety from gun violence. In expertly tying the racial justice and feminist movements together, Kendall's is one of the most important books of the current moment."
—Time, "100 Must-Read Books of 2020"

"Hood Feminism paints a brutally candid and unobstructed portrait of mainstream white feminism: a narrow movement that disregards the needs of the overwhelming majority of women. In the storied tradition of Black feminism stretching back to Maria Stewart, Kendall persuasively contends that women's basic needs are feminist issues. The fights against hunger, homelessness, poverty, health disparities, poor schools, homophobia, transphobia, and domestic violence are feminist fights. Kendall offers a feminism rooted in the livelihood of everyday women."
—Ibram X. Kendi, #1 New York Times-bestselling author of How to Be an Antiracist, in The Atlantic

"Beautifully centers on the experience of women who face an actual battle on the front lines while mainstream feminists clamor for access to the officers' club."
—The Washington Post

"A searing indictment of . . . the modern feminist movement's failure to support marginalized women and to integrate issues of race, class and sexual orientation."
—USA Today

"This book is an act of fierce love and advocacy, and it is urgently necessary."
—Samantha Irby, author of Meaty and We Are Never Meeting in Real Life

"Mikki's book is a rousing call to action for today's feminists. It should be required reading for everyone."
—Gabrielle Union, author of We're Going to Need More Wine

"Cutting, critical, and consequential, Hood Feminism is required reading for anyone who calls himself or herself a feminist, an urgent piece of feminist discourse. It's a tough read—especially if you've been giving yourself woke feminist gold stars—but that makes it all the more necessary."
—Marie Claire

"My wish is that every white woman who calls herself a feminist (as I do) will read this book in a state of hushed and humble respect. Mikki Kendall is calling out white feminists here—and it's long overdue that we drop our defenses, listen to her arguments carefully, and then change our entire way of thinking and behaving. As Kendall explains in eloquent and searing simplicity, any feminism that focuses on inequality between men and women without addressing the inequalities BETWEEN women is not only useless, but actually harmful. In the growing public conversation about race, class, status, privilege, and power, this text is essential reading."
—Elizabeth Gilbert

"Elicits action by effectively calling out privilege . . . This can be a tough read, even for the most woke and intersectional feminist, and that's exactly how it should be."
—Bust

"Hood Feminism is a critical feminist text that interrogates the failings of the mainstream feminist movement and gives us the necessary expertise of Black women. Kendall skillfully illuminates the many intersections of identity and shows us the beauty and power of anger."
—Erika L. Sánchez, author of Lessons on Expulsion and I Am Not Your Perfect Mexican Daughter

"Kendall is a highly knowledgeable and inspiring guide, and she effectively builds on the work of black women who have, for ages, been working to better the lives of themselves and their communities. . . . A much-needed addition to feminist discourse."
—Kirkus Reviews

"In this forceful and eloquent series of essays, [Kendall] takes on the feminist myopia that ignores the daily existential struggles of women of color and encourages a broader support of society's most vulnerable citizens. If such support is forthcoming and awareness expanded, then not only will those outside the feminist establishment be empowered, those within the current movement will also be enlightened as to their cause's true universal potential."
—Booklist

"A frank account of who and what is still missing from mainstream feminism that will appeal to readers of women's and African American studies, and readers seeking a better grasp on history."
—Library Journal

"An energizing critique of the feminist movement's preference for white women."
—BookPage

"Mikki Kendall tells it like it is, and this is why she has long been a must-read writer for me: incisive, clear-eyed, and rightly willing to challenge readers when necessary. Her exploration of how feminists' fight for liberation has too often left poor people, Black people, Indigenous people, and other people of color behind is critical reading for anyone who is or wants to be involved in work addressing complex and longstanding inequalities."
—Nicole Chung, author of All You Can Ever Know: A Memoir

"Mikki has been writing for years about protection, 'problem children,' the limits and the usefulness of different kinds of anger, and the way sisterhood can be wielded as a demand. She's here for her community, and this book has everything to do with expanding access to it."
—Daniel Mallory Ortberg, author of The Merry Spinster and Texts from Jane Eyre

"Mikki Kendall has established herself as an important voice in current feminist discourse, and Hood Feminism cements that place. With a compelling, forceful piece, Kendall has written the missive that feminists—especially white feminists—need to remember the racist history of who we are as a movement and to move forward with an intersectional and deliberately anti-racist focus."
—Dianna Anderson, author of Problematic

"Every white lady should have this book assigned to them before they can talk about feminism in the same way that every human should have to work in the service industry for a year before they can talk about the economy. Ain't nothing but truth in these words."
—Linda Tirado, author of Hand to Mouth: Living in Bootstrap America
Mikki Kendall is a New York Times bestselling writer, speaker, and blogger whose work has appeared in The Washington Post, The Boston Globe, The Guardian, Time, Salon, Ebony, Essence, and elsewhere. An accomplished public speaker, she has discussed race, feminism, violence in Chicago, tech, pop culture, and social media on Good Morning America, The Daily Show, MSNBC, NPR, Al Jazeera's The Listening Post, BBC's Woman's Hour, and Huff Post Live, as well as at universities across the country. In 2017, she was awarded Best Food Essay from the Association of Food Journalists for her essay on hot sauce, Jim Crow, and Beyoncé. She is also the author of Amazons, Abolitionists, and Activists: A Graphic History of Women's Fight for Their Rights and a co-editor of the Locus-nominated anthology Hidden Youth, as well as a part of the Hugo-nominated team of editors at Fireside Magazine. A veteran, she lives in Chicago with her family.