The Ride of Her Life: The True Story of a Woman, Her Horse, and Their Last-Chance Journey Across America
Spiral-Bound | June 7, 2022
Elizabeth Letts
Rebinding by Spiralverse™
★★★★☆+ from 1,001 to 10,000 ratings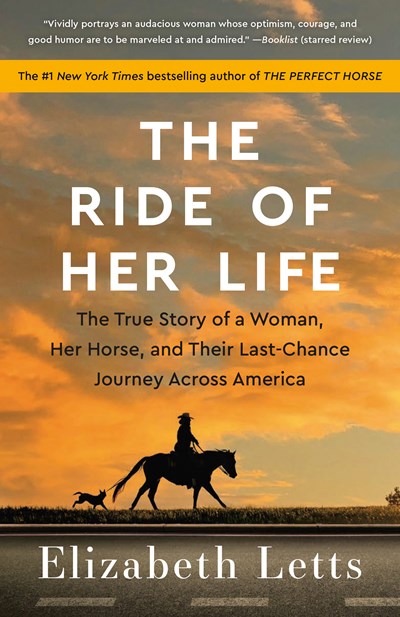 NATIONAL BESTSELLER • The triumphant true story of a woman who rode her horse across America in the 1950s, fulfilling her dying wish to see the Pacific Ocean, from the #1 New York Times bestselling author of The Perfect Horse and The Eighty-Dollar Champion

"The gift Elizabeth Letts has is that she makes you feel you are the one taking this trip. This is a book we can enjoy always but especially need now."—Elizabeth Berg, author of The Story of Arthur Truluv

In 1954, sixty-three-year-old Maine farmer Annie Wilkins embarked on an impossible journey. She had no money and no family, she had just lost her farm, and her doctor had given her only two years to live. But Annie wanted to see the Pacific Ocean before she died. She ignored her doctor's advice to move into the county charity home. Instead, she bought a cast-off brown gelding named Tarzan, donned men's dungarees, and headed south in mid-November, hoping to beat the snow. Annie had little idea what to expect beyond her rural crossroads; she didn't even have a map. But she did have her ex-racehorse, her faithful mutt, and her own unfailing belief that Americans would treat a stranger with kindness.

Annie, Tarzan, and her dog, Depeche Toi, rode straight into a world transformed by the rapid construction of modern highways. Between 1954 and 1956, the three travelers pushed through blizzards, forded rivers, climbed mountains, and clung to the narrow shoulder as cars whipped by them at terrifying speeds. Annie rode more than four thousand miles, through America's big cities and small towns. Along the way, she met ordinary people and celebrities—from Andrew Wyeth (who sketched Tarzan) to Art Linkletter and Groucho Marx. She received many offers—a permanent home at a riding stable in New Jersey, a job at a gas station in rural Kentucky, even a marriage proposal from a Wyoming rancher. In a decade when car ownership nearly tripled, when television's influence was expanding fast, when homeowners began locking their doors, Annie and her four-footed companions inspired an outpouring of neighborliness in a rapidly changing world.
"Twenty pages of notes and a Bibliography attest to the serious and thorough research by the author who travelled ten thousand miles to research this story. . . . What is so appealing about this nutball adventure is that the reader is taken on a trip across the United States."—New York Journal of Books

"Heartwarming."—AARP

"Elizabeth Letts's gift is that she makes you feel you are the one taking this trip: selecting your route from a gas station map, enduring awful weather and accidents, hearing the creak of the saddle and the roar of the trucks that pass you by. This is a book we can enjoy always but especially need now."—Elizabeth Berg, author of The Story of Arthur Truluv

"This poignant, inspiring story is not just about a woman choosing to live instead of die, but also about an America that no longer exists."—Melanie Benjamin, author of The Children's Blizzard

"A love story on so many levels—from the menagerie that was with her every step of the way, to the kindness of strangers who opened their homes to help Annie complete this ride of her life—this book will tear at your heartstrings from beginning to end. I loved it, and so will you!"—Robin Hutton, author of Sgt. Reckless: America's War Horse

"Annie Wilkins was an American original, and The Ride of Her Life gives her the tribute she deserves. Elizabeth Letts has created an indelible account of hope, loyalty, generosity, and sheer grit—and the power of a woman doing something just because she wants to do it."—Matthew Goodman, author of Eighty Days

"There is sly wisdom in Annie Wilkins's simple journey: Keep faith in yourself and animals, trust in strangers, dismiss all the downers, and always live as if you just received a mortal diagnosis. Letts honors her subjects…with an author's hand and a historian's eye."—Ken Ilgunas, author of Trespassing Across America

"Thanks to deeply sourced research and her own travels along Wilkins' route, Letts vividly portrays an audacious woman whose optimism, courage, and good humor are to be marveled at and admired. Upbeat and touching, Wilkins' story is the perfect pandemic escapist read."—Booklist
(starred review)

"This engaging folk-hero biography, which follows Wilkins throughout her grand adventure, also touches on the cultural history of mid-20th-century America…A heartwarming and nostalgic book to appeal to horse lovers and fans of the author's previous books."—Kirkus Reviews

"This is a feel-good story in every way, and Letts keeps the momentum lively, sprinkling in interesting historical tidbits that enrich the drama. The Ride of Her Life is an altogether quirky, inspiring journey that's not to be missed."—BookPage (starred review)
Elizabeth Letts is the #1 New York Times bestselling author of The Eighty-Dollar Champion and The Perfect Horse, which won the 2017 PEN Center USA Literary Award for research nonfiction, as well as the novel Finding Dorothy. A lifelong horsewoman, she lives in Southern California and Northern Michigan.