Escape This Book! Titanic
Spiral-Bound | March 19, 2019
Bill Doyle, Sarah Sax (Illustrated by)
Rebinding by Spiralverse™
★★★★☆+ from Up to 30 ratings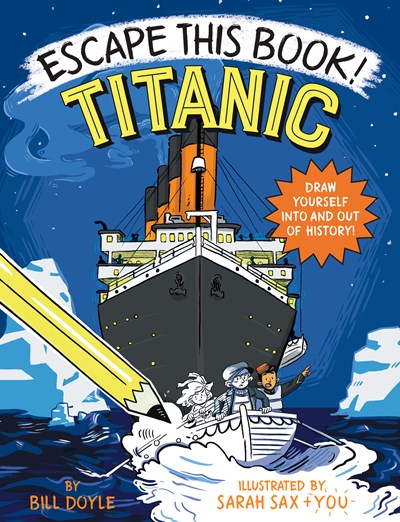 Activity book meets adventure in this series that is Choose Your Own Adventure meets I Survived meets doodle book! Doodle, decide, and demolish your way out of history's greatest events!

Reader, beware! Once you open this book, there is no turning back. You will have three chances to survive the Titanic's fateful voyage. Decide which path to take first.

Passenger: Exploring the ship is fun! Just don't get caught on the wrong deck when there's an iceberg ahead!

Crew Member: You work for a family in first class. Can you persuade them to save you along with their beloved dog?

Stowaway: You snuck onto this ship. Can you draw your way onto a lifeboat?

In the Escape This Book! series, YOU are the star of history! Doodle your way through adventures as you decide the best path for survival. Don't be afraid to rip or fold a page. . . . Your escape may depend on it!
"Even the most reluctant of readers is likely to be pulled into this gamelike book as they are enticed to draw and personalize the story....A truly engaging format for historical adventurers of all ages....This is ideal as a gift." --School Library Journal
Bill Doyle is the author of Attack of the Shark-Headed Zombie and Behind Enemy Lines, as well as many other books for kids--with over two million copies in print. He has also created lots of games for Sesame Workshop, Warner Bros., and Nerf. He says, "My happiest moment as an author was when the genius Master Escapologist sent me a secret message offering me the job to write his incredible books." (No, he's not just saying that because the Master Escapologist is writing this biography!) Bill lives in New York City, and you can find out more about him at BillDoyleBooks.com.

Sarah Sax is an illustrator and comic artist based in Oakland, California. She studied illustration, animation, and storytelling at Hampshire College and has a background in arts education. Sarah cares deeply about how, why, and what people create, and she works to foster the creative spark in makers of all ages. You can visit Sarah online at SarahSax.me.