Live No Lies: Recognize and Resist the Three Enemies That Sabotage Your Peace
Spiral-Bound | September 28, 2021
John Mark Comer
Rebinding by Spiralverse™
★★★★☆+ from 1,001 to 10,000 ratings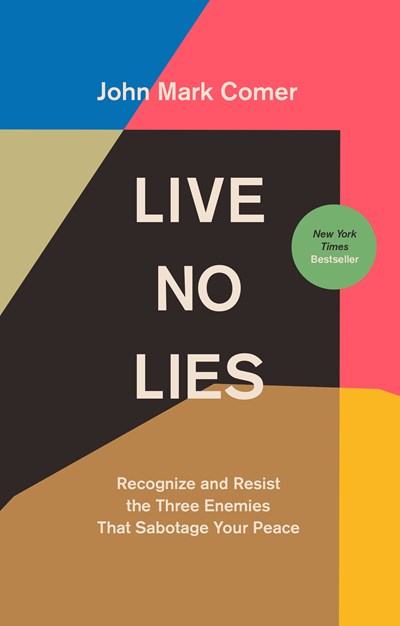 NEW YORK TIMES BESTSELLER • The bestselling author of The Ruthless Elimination of Hurry equips readers to recognize and resist the lies that seek to rob them of peace and freedom.

"Live No Lies is brilliant, deep, scriptural, and will equip you to face the enemy and fight."—Jennie Allen, New York Times bestselling author of Get Out of Your Head

We are at war. Not with a foreign government or domestic terrorists or a creepy new artificial intelligence hell-bent on taking over the world. No, it's a war we feel deep inside our own chests: we are at war with lies.

The problem isn't so much that we tell lies but that we live them. We let them into our bodies, and they sabotage our peace. All around us in the culture and deep within our own body memories are lies: deceptive ideas that wreak havoc on our emotional health and spiritual well-being, and deceptive ideas about who God is, who we are, and what the good life truly is.

The choice is not whether to fight or not fight, but whether we win or surrender.

Ancient apprentices of Jesus developed a paradigm for this war; they spoke of the three enemies of the soul: the devil, the flesh, and the world. Live No Lies taps into this ancient wisdom from saints of the Way and translates the three enemies for the modern era, with all its secularism and sophistication. As a generation, we chuckle at the devil as a premodern myth, we are confused by Scripture's teaching on the flesh in an age where sensual indulgence is a virtue not a vice, and we have little to no category for the New Testament concept of the world.

In this provocative and practical book, bestselling author John Mark Comer combines cultural analysis with spiritual formation. He identifies the role lies play in our spiritual deformation and lays out a strategic plan to overcome them.

Do you feel the tug-of-war in your own heart, the inner conflict between truth and lies? The spirit and the flesh? The Way of Jesus and the world? It's time to start winning. It's time to live no lies...
"This is the book I've been waiting for and one of the most important books a follower of Jesus will ever read. It will become a classic."—Christine Caine, founder of A21 and Propel Women

"John Mark Comer is a gift to the church. He writes with adept cultural nuance, theological savvy, and refreshing spiritual depth. In Live No Lies, he's taken on a multilayered, ancient topic and brilliantly rearticulated it for our generation. This is a gem."—Rich Villodas, lead pastor of New Life Fellowship and author of The Deeply Formed Life

"In a time that feels full of contradictions and confusion, John Mark does a masterful job of laying out what is true, what true is, and why it matters deeply that we know the truth. This is the book for our day."—Annie F. Downs, New York Times bestselling author of That Sounds Fun

"I devoured every word of this book and found myself deeply stirred and nourished. John Mark speaks to the mind and soul, as he uncovers in his usual thoughtful way the three great enemies to our peace—the world, the flesh, and the devil. You will emerge better after reading these pages."—Bryan Loritts, author of Insider Outsider

"Every day we are dealing with temptations in multiple forms that draw us away from faithfulness to the Way of Jesus. In this compelling work, John Mark gives a vision of the beauty of Jesus in a culture of lies."—Jon Tyson, pastor of Church of the City New York and author of The Intentional Father

"This book is a godsend. It exposes our spiritual enemy of untruth—a foe impacting our societies on a global scale. In a world where everyone tries to live their own 'truth,' this book reveals and challenges the many lies that have become common, normal, and accepted in our everyday conversations and decisions.."—Albert Tate, lead pastor of Fellowship Church

"Comer has personally helped me on my faith journey and I believe he is one of the greatest teachers of our generation. As you read Live No Lies, your heart will be strengthened and your eyes opened to the daily war waged against our personal peace."—Rich Wilkerson Jr., pastor of VOUS Church

"In a time where deception seems to have settled upon the land like a dense fog, Live No Lies offers us a clearing to see how we have been deceived, to learn how we deceive ourselves, and to flee from the one who deceives. An essential guide for discernment in our contested age."—Mark Sayers, senior leader of Red Church in Melbourne, Australia, and author of a number of books including Strange Days and Reappearing Church
John Mark Comer is the founding pastor of Bridgetown Church in Portland, Oregon, a teacher and writer with Practicing the Way, and the bestselling author of The Ruthless Elimination of Hurry plus four previous books.