Midnight Mom Devotional: 365 Prayers to Put Your Momma Heart to Rest
Spiral-Bound | March 31, 2020
Becky Thompson, Susan K. Pitts
Rebinding by Spiralverse™
★★★★☆+ from 101 to 500 ratings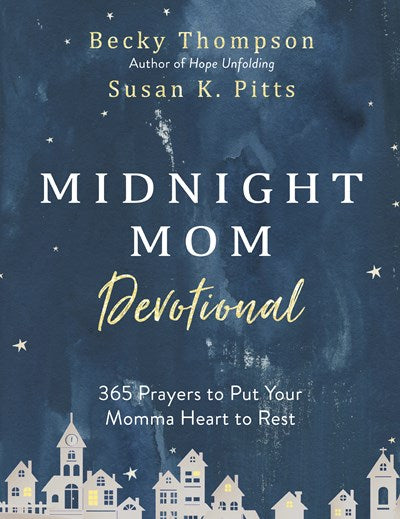 USA TODAY AND PUBLISHERS WEEKLY BESTSELLER • A yearlong book of prayers to bring nightly hope and a sense of connection to mothers who feel alone, from the mother-daughter team behind the Midnight Mom Devotional Facebook page

There is something about a quiet house in the midnight hours that causes stress and anxious thoughts that have been ignored throughout the day to rise to the surface of a mother's heart. When the world goes still around you, it's good to know you're not alone; there are so many other mommas just like you and a God who wants to meet you in the quiet.

What began as a small online prayer ministry to encourage moms in the middle of the night quickly grew into a worldwide prayer movement known as the Midnight Mom Devotional. Now this encouraging book of prayers connects you with a community of moms to strengthen your heart and give you support when you need it most.

Each night offers a different prayer for mommas in all circumstances of life, including

• being fearful and anxious
• needing a miracle
• caring for a sick child
• feeling as if there is nothing left to give
• welcoming a new baby
• experiencing sorrow
• getting ready for a new beginning

In the stillness and the night, take heart in knowing that women across the world are joining you in prayer and that God is listening and loving you right where you are.
Becky Thompson is the founder of the Midnight Mom Devotional on Facebook. She is the author of the books Hope Unfolding, Love Unending, Truth Unchanging, and My Real Story. Becky also shares hope-filled truth through her top Christian podcast, Revived Motherhood. She lives in Los Angeles with her husband and three young children.

Susan K. Pitts has been married to her husband, Marc, for more than forty years. Together they minister across the state of Oklahoma. Susan is also the co-director and prayer team leader of the Midnight Mom Devotional on Facebook, serving alongside her daughter, Becky.