Lidia's a Pot, a Pan, and a Bowl: Simple Recipes for Perfect Meals: A Cookbook
Spiral-Bound | October 19, 2021
Lidia Matticchio Bastianich, Tanya Bastianich Manuali
Rebinding by Spiralverse™
★★★☆☆+ from 101 to 500 ratings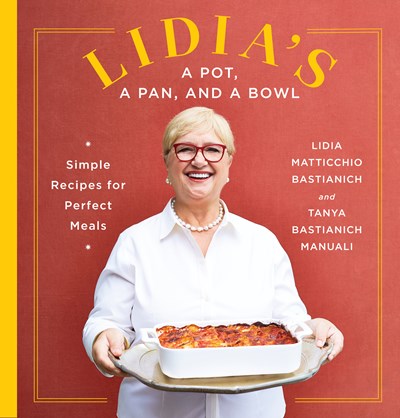 From the beloved TV chef and best-selling author—her favorite recipes for flavorful, no-fuss Italian food that use just one pot or pan (or two!). The companion cookbook to the upcoming public-television series Lidia's Kitchen: Home Cooking.

Lidia Bastianich—"doyenne of Italian cooking" (Chicago Times)—makes Italian cooking easy for everyone with this new, beautifully designed, easy-to-use cookbook. Here are more than 100 homey, simple-to-prepare recipes that require fewer steps and fewer ingredients (not to mention fewer dirty pots and pans!), without sacrificing any of their flavor.

These are just a few of the delectable dishes that fill this essential book of recipes:



Spinach, Bread, and Ricotta Frittata
One-Pan Chicken and Eggplant Parmigiana
Roasted Squash and Carrot Salad with Chickpeas and Almonds
Penne with Cauliflower and Green Olive Pesto
Balsamic Chicken Stir-Fry
Skillet Lasagna
Braised Calamari with Olives and Peppers
Beer-Braised Beef Short Ribs
Apple Cranberry Crumble

Some of them are old favorites, others are Lidia's new creations, but every one represents Italian food at its most essential—guaranteed to transport home cooks to Italy with a minimum of fuss and muss. "Tutti a tavola a mangiare!"
Praise for Lidia Matticchio Bastianich

"Straightforward, honest, simple but sophisticated, and utterly delicious...these satisfying dishes will never fail to please your family or your friends." —Jacques Pépin

"I have enjoyed the creative and soulful cooking at Felidia for more than three decades. Lidia was the first to really bring us authentic regional Italian food in New York. Her recipes in this book are rustic, delicious, and perfect for the home cook." —Daniel Boulud

"For those who want to craft the kind of delizioso Italian delights one finds at the chef's flagship New York restaurant, Felidia, [Lidia] Bastianich serves up more than 100 signature recipes she's spent 38 years perfecting: Istrian-inflected dishes both sophisticated and homespun." —O, The Oprah Magazine

"No one gets to the heart of Italian food like Lidia Bastianich." —Debbie Macomber,#1 New York Times best-selling author

"One of America's great Italian cooks." —Los Angeles Times

"Bastianich's 16th cookbook and arguably one of her most user-friendly, streamlined to be 'as straightforward to cook as possible' and using a minimal number of pots and pans. . . . You'll find a wide assortment of primi pasta and risotto cishes, which are the cornerstone of Italian cooking and perfectly suited for one-pot cooking: chicken eggplant parmesan, gemelli with pesto and tomato, chicken cacciatore and zucchini bread lasagna, to name a few. . . . Ever the teacher, Bastianich sprinkles tips and tricks throughout, and also offers substitution and serving suggestions." —Pittsburgh Post-Gazette
LIDIA MATTICCHIO BASTIANICH is the author of fifteen previous cookbooks and the Emmy Award-winning host of public television's Lidia's Kitchen, which also airs internationally. She is also a judge on Junior MasterChef Italy and Italy's highly rated daily program La Prova del Cuoco. Lidia owns Felidia, Becco, and several other restaurants, and is a partner in the acclaimed Eataly. TANYA BASTIANICH MANUALI is integrally involved in the production of Lidia's Public Television series as an owner and executive producer of Tavola Productions, and is active daily in the family restaurant business. She oversees the production and expansion of LIDIA'S food line alongside her husband, Corrado, and has coauthored several cookbooks with her mother, and one with her brother, Joe.