How Do Dinosaurs Say Good Night? (Board Book)
Spiral-Bound | April 7, 2020
Jane Yolen, Mark Teague (Illustrated by)
Rebinding by Spiralverse™
★★★★☆+ from 10,001 to 50,000 ratings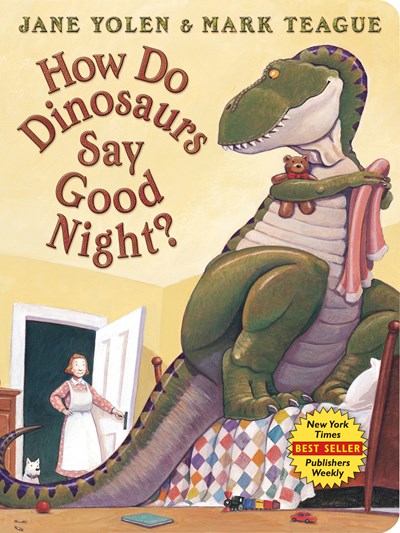 Perfect for bedtime reading, children love the laugh-aloud antics of playful Tyrannosaur-sized dinosaur children who stomp and fuss and jump on the bed in this award-winning New York Times bestseller!
Celebrate the 20th anniversary of one of the most popular good-night books ever. Simple verse and hilarious illustrations present common scenes of sly humor as enormous dinosaur children yawn and fuss and throw their toys about-before finally going to sleep.
Wildly popular, this book set off an award-winning series with more than 15 million books in print, and it's still going strong. Children will find the name of each dinosaur hidden in the pictures, which are a delight from start to finish. Be prepared to read it again and again!
"[A] mischievous series... The series' star attractions are Teague's colorful and playful dinosaurs, not to be found in any museum."-USA TodayPraise for How Do Dinosaurs Say Good Night?:An American Library Association Notable Children's Book of 2001A Nick Jr. Magazine Best Book (for ages 3-5)A School Library Journal Best Book of 2000Book of the Month Club's Best Picture Book of 2000A Booklist Editors' Choice*"Huge, fanciful dinosaurs confront their parents at bedtime in this playful romp.... Verse and illustration are beautifully matched in these bedtime scenarios familiar to all parents of young children."-Kirkus Reviews, starred review*"A delight from start to finish; better buy more than one."-Booklist, starred reviewPraise for How Do Dinosaurs Say Merry Christmas?:"If you want to teach your little monsters how to behave over the holidays, this book might be for you."-Huffington Post"Yolen and Teague add to their delightful dinosaur canon with this funny, gentle reminder of proper behavior for the most eagerly anticipated of holidays...Don't pass up this exuberant guide to achieving yuletide harmony."-School Library JournalPraise for How Do Dinosaurs Go to School?:"A new cast of brightly colored dinosaurs appears in this charming back-to-school story."-School Library Journal"Yolen's short, rhyming text and Teague's irresistible, cavorting dinosaurs perfectly convey how dinosaurs could behave in school, large and powerful though they may be."-BooklistPraise for How Do Dinosaurs Eat Their Food?:Winner of the Oppenheim Toy Portfolio 2006 Gold Award"Once again kids will chortle over Teague's clever images of adults dwarfed by toothy miscreants, and both parents and children will recognize the hilarious parallels with occasionally naughty human kids who loom dinosaur-large within their respective households."-Booklist"Young dinosaur fans will eat this up and, taking a cue from the polite Spinosaurus, ask for more."-The Horn Book
Mark Teague is the internationally bestselling illustrator (and author) of more than 50 books for children. His numerous awards and honors include the Book Sense Book of the Year Award and the Christopher Medal. He has illustrated 12 full-size books and 11 board books in the widely successful How Do Dinosaurs...? series. He is the author of the popular Dear Mrs. LaRue, Firehouse!, and Jack and the Beanstalk and the French Fries. He lives in New York State.
Jane Yolen is the beloved author of more than 365 books for children and adults, including award-winning picture books, fiction, nonfiction, and poetry. In addition to two Nebula Awards and a National Book Award nomination, she has received a Golden Kite from SCBWI, three Mythopoeic Fantasy Awards, and the California Young Reader Medal. Yolen's How Do Dinosaurs Say Good Night? was an ALA Notable Book and a Christopher Medal winner. The book has gone on to become a widely popular bestselling series with over 15 million copies in print. She lives in Western Massachusetts.