Heir to the Empire: Star Wars Legends (The Thrawn Trilogy) : Star Wars, Volume I
Spiral-Bound | May 1, 1992
Timothy Zahn
Rebinding by Spiralverse™
★★★★☆+ from 50,001 + ratings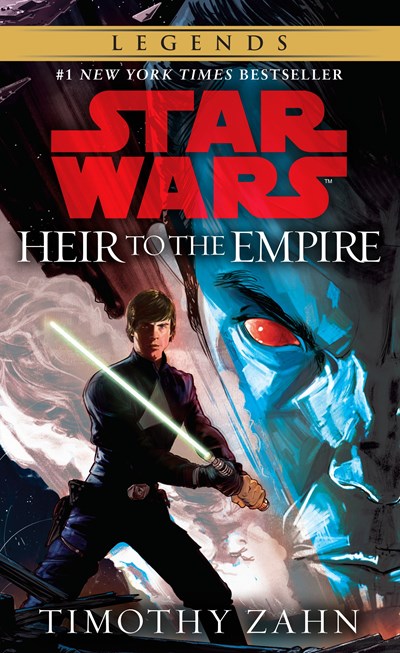 #1 NEW YORK TIMES BESTSELLER • In this essential Star Wars Legends novel—the first ever to take place after the events of the original trilogy—Grand Admiral Thrawn makes his debut on the galactic stage.

Five years ago, the Rebel Alliance destroyed the Death Star, defeated Darth Vader and the Emperor, and drove the remnants of the old Imperial Starfleet to a distant corner of the galaxy. Princess Leia and Han Solo are married and expecting twins. And Luke Skywalker has become the first in a long-awaited line of Jedi Knights.

But thousands of light-years away, the last of the Emperor's warlords, Grand Admiral Thrawn, has taken command of the shattered Imperial fleet, readied it for war, and pointed it at the fragile heart of the New Republic. For this dark warrior has made a vital discovery that could destroy everything the courageous men and women of the Rebel Alliance fought so hard to build.
Timothy Zahn is the author of more than sixty novels, nearly ninety short stories and novelettes, and four short-fiction collections. In 1984, he won the Hugo Award for Best Novella. Zahn is best known for his Star Wars novels (Thrawn, Thrawn: Alliances, Thrawn: Treason, Thrawn Ascendancy: Chaos Rising, Heir to the Empire, Dark Force Rising, The Last Command, Specter of the Past, Vision of the Future, Survivor's Quest, Outbound Flight, Allegiance, Choices of One, and Scoundrels), with more than eight million copies of his books in print. Other books include StarCraft: Evolution, the Cobra series, the Quadrail series, and the young adult Dragonback series. Zahn has a BS in physics from Michigan State University and an MS from the University of Illinois. He lives with his family on the Oregon coast.