Space: Planets, Moons, Stars, and More!
Spiral-Bound | May 24, 2016
Joe Rhatigan, Thomas Girard (Illustrated by)
Rebinding by Spiralverse™
★★★★☆+ from 31 to 100 ratings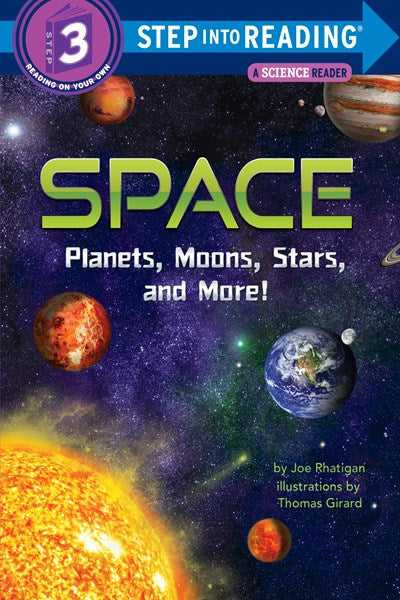 Learn about our solar system in this Step 3 Science Reader packed with NASA photos and space facts! Step into Reading, the most trusted name in early readers, delivers an introduction to the final frontier that kids can read themselves! For up-to-date information (including about Pluto and its fellow dwarf planets) and stellar photos and illustrations, kids eager for mind-blowing nonfiction need look no further!

Step 3 Readers feature engaging characters in easy-to-follow plots about popular topics. They are ideal for children who are ready to read on their own.
JOE RHATIGAN began his publishing career as a publicity assistant in 1989, and has since worked in many roles in the publishing industry. Joe has written several books for adults and children, including White House Kids and Don't Unravel When You Travel. He lives in North Carolina with his wife.

Born in Lyon, France, THOMAS GIRARD spent several years as a leading concept artist in the video games industry, working on high-profile projects such as the Astérix & Obélix games (including Kick Buttix and Mission: Las Vegum), Arthur and the Invisibles, Pink Panther: Pinkadelic Pursuit, The Legend of Spyro: Dawn of the Dragon, Alice in Wonderland, and How to Train Your Dragon. With his vivid imagination and dynamic artwork, Thomas now enjoys bringing children's books to life.