The Algebra of Happiness: Notes on the Pursuit of Success, Love, and Meaning
Spiral-Bound | May 14, 2019
Scott Galloway
Rebinding by Spiralverse™
★★★☆☆+ from 1,001 to 10,000 ratings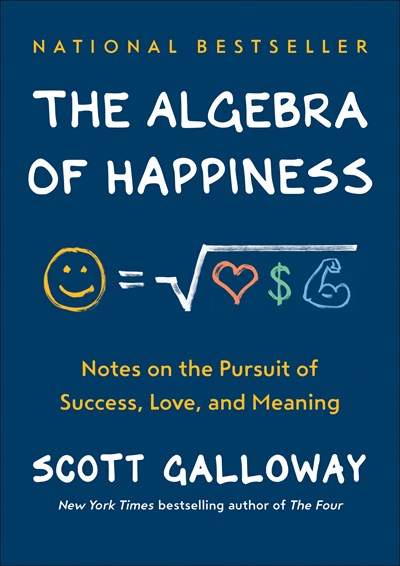 An unconventional book of wisdom and life advice from renowned business school professor and New York Times bestselling author of The Four Scott Galloway.

Scott Galloway teaches brand strategy at NYU's Stern School of Business, but his most popular lectures deal with life strategy, not business. In the classroom, on his blog, and in YouTube videos garnering millions of views, he regularly offers hard-hitting answers to the big questions: What's the formula for a life well lived? How can you have a meaningful career, not just a lucrative one? Is work/life balance possible? What are the elements of a successful relationship?

The Algebra of Happiness: Notes on the Pursuit of Success, Love, and Meaning draws on Professor Galloway's mix of anecdotes and no-BS insight to share hard-won wisdom about life's challenges, along with poignant personal stories.

Whether it's advice on if you should drop out of school to be an entrepreneur (it might have worked for Steve Jobs, but you're probably not Steve Jobs), ideas on how to position yourself in a crowded job market (do something "boring" and move to a city; passion is for people who are already rich), discovering what the most important decision in your life is (it's not your job, your car, OR your zip code), or arguing that our relationships to others are ultimately all that matter, Galloway entertains, inspires, and provokes.

Brash, funny, and surprisingly moving, The Algebra of Happiness represents a refreshing perspective on our need for both professional success and personal fulfillment, and makes the perfect gift for any new graduate, or for anyone who feels adrift.
"[A] lovely short book, which is likely to be a graduation and holiday gift for years to come." —Barry Ritholtz, Bloomberg

"The Algebra of Happiness offers raw and vulnerable wisdom, delivered with heart. We all can learn from Galloway's mistakes and insights." —Derek Sivers, author of Anything You Want

"This book is required reading for everyone with a heartbeat. Scott delivers powerful, hard-earned life lessons that will resonate with anyone who hasn't had their common sense surgically removed." —Eric Barker, Wall Street Journal bestselling author of Barking Up The Wrong Tree

Scott Galloway is the New York Times bestselling author of The Four: The Hidden DNA of Amazon, Apple, Facebook, and Google and a professor at New York University's Stern School of Business. A serial entrepreneur, he has founded nine firms, including L2, Red Envelope, and Prophet. In 2012, he was named one of the "World's 50 Best Business School Professors" by Poets & Quants. His weekly YouTube series, "Winners and Losers," has generated tens of millions of views. He co-hosts two podcasts, "Pivot" with Recode's Kara Swisher and "The Prof G Show." He is also the host of Vice TV's "No Mercy, No Malice with Professor Scott Galloway," named after his popular newsletter.