Good Dogs on a Bad Day
Spiral-Bound | January 18, 2022
Rachel Wenitsky, David Sidorov, Tor Freeman (Illustrated by)
Rebinding by Spiralverse™
★★★☆☆+ from 31 to 100 ratings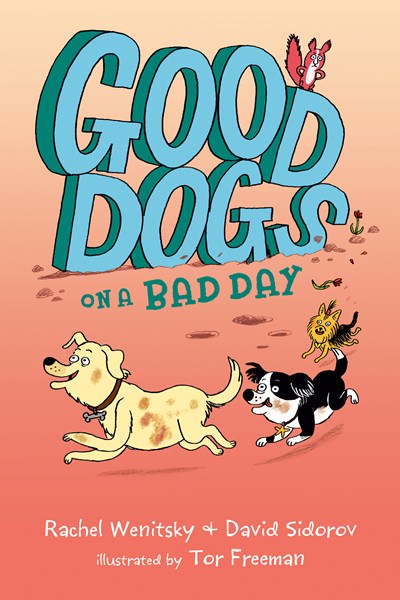 The Secret Life of Pets meets Toy Story in a new illustrated series about a group of Very Good doggie day care buddies who follow a few of their wilder instincts, leading to hilarious chaos.

Do good dogs have to be good all the time?

Hugo, Lulu, and King love going to doggy day care together. The super-friendly dogs there are very good listeners, and they always follow the rules, even at the park.

But then a new dog comes to town. Napoleon jumps on people, dives into fountains, and will do anything (really!) to get human food. The Good Dogs are shocked to see such canine chaos, but they also notice something else: Napoleon seems to be having a ton of fun.

That gets them thinking: Could being a little bit bad be a good idea?

Find out directly from Hugo, Lulu, and King as they tell you all about it!
"Equal parts hilarious and hair-raising, adventures abound, enlivened by expressive cartoon illustrations. The bright, energetic narration flows seamlessly among the dogs' delightfully distinctive perspectives. . . This series starter is a doggone good time." -Kirkus Reviews

"Freeman illustrates throughout in a dynamic style reminiscent of William Steig. A story of redemption and unconditional love . . . this celebration of imperfectability and consensual squirrel-chasing features a cast of sympathetic canines who find that 'sometimes it's nice to just be a dog.'" –Publishers Weekly

"Laughs! Friendships! Mutts! BUTTS! Rachel and David obviously crawled into the brains of A LOT of dogs (and one squirrel) for this book, and the proof is in the pages!"
-Mindy Thomas, Wow in the World podcast

"Every day I read this book was the OPPOSITE of a bad day! These wonderful dogs took me on the adventure of a lifetime, one with tail-wagging twists and turns."
–Bowen Yang, Saturday Night Live

"A riveting insider's look at what it's REALLY like to be a dog living in the 21st century. Be a GOOD HUMAN and read this book to fully understand your furry masters."
--Rachel Bloom, co-creator and star of Crazy Ex-Girlfriend


Rachel Wenitsky (@RachelWenitsky) is a comedy writer and actor who has written for The Tonight Show Starring Jimmy Fallon, Saturday Night Live, and Reductress. She is the head writer and a co-host of The Story Pirates Podcast, a kids and family podcast on Gimlet Media.
David Sidorov (@DavidSidorov) is a comedy writer and director who has written for Alternatino with Arturo Castro, Odd Mom Out, The Gong Show, Billy on the Street, and Holey Moley. He was a field producer and director on The Rundown with Robin Thede, and was formerly a writer and director at The Onion.
Rachel and David are a married couple living in Brooklyn, New York. This is their first novel. They do not have a dog at the time of writing these bios, but hope that they will by the time you're reading this!

Tor Freeman (@tormalore) was born in London and received a degree in illustration from Kingston University. She has written and illustrated many children's books and was awarded a Sendak Fellowship in 2012. Tor has also been published in magazines and taught art to students of all ages.