Attack of the Underwear Dragon
Spiral-Bound | October 6, 2020
Scott Rothman, Pete Oswald (Illustrated by)
Rebinding by Spiralverse™
★★★☆☆+ from 501 to 1,000 ratings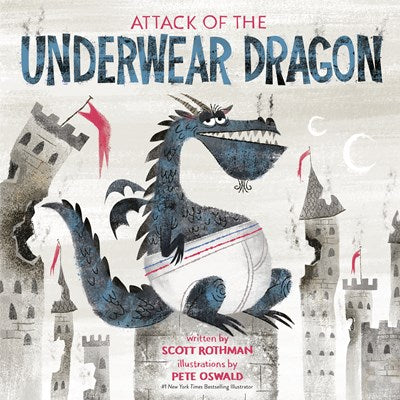 Brave knights, fire-breathing dragons, and underwear – in this comical picture book, one young knight takes on a mighty dragon to save the kingdom. With playful illustrations from the #1 New York Times bestselling artist of The Bad Seed!

Cole's wish comes true when he becomes an Assistant Knight to Sir Percival, his favorite Knight of King Arthur's Round Table. Cole learns how to ride a horse, swing a sword, cheer for Sir Percival when he goes to battle, and bandage his boo-boos when the battle is over. Cole loves practicing every skill a Knight-in-Training must master and he is determined to be granted knighthood.

Sir Percival is a great knight in every way, except for one thing: He is terrified that an Underwear Dragon will come and destroy the kingdom. But when the unthinkable happens, Cole is the only knight left standing (and just an assistant knight at that!) Cole must use all of his newly acquired skills to battle the fearsome dragon and avoid a catastrophe. Luckily, an unfortunate underwear mishap changes everything and Cole triumphs in this hilarious and triumphant tale! Kids of all ages will recognize themselves in our pint-sized hero.

Don't miss the fun and silly sequel, Return of the Underwear Dragon!
"A tiny knight's tale that's hard not to like." --Kirkus Reviews

"The action moves as briskly as a well-oiled cartoon episode, and ends on an appropriately amusing note: in return for his gallantry, Cole wants an assistant of his own." --Publishers Weekly

"This rollicking read, full of action and hilarious non sequiturs, will leave its audience in stitches." --Booklist

SCOTT ROTHMAN is a writer of humor pieces and screenplays, including Draft Day and Army of One, both of which he cowrote with Rajiv Joseph. Scott is a graduate of Colby College and received an MFA in dramatic writing from New York University's Tisch School of the Arts. His humor writing has appeared in various publications, including the New Yorker, GQ, and McSweeney's. He lives in Connecticut with his wife and three children.

PETE OSWALD is the New York Times bestselling illustrator of The Good Egg, as well as The Bad Seed, which was an Amazon Best Children's Book of the Year in 2017 and an indie favorite. He has worked as a character designer, a concept artist, and an art director on many popular films including Madagascar 2, Cloudy with a Chance of Meatballs, and Angry Birds.