The World Needs More Purple People
Spiral-Bound | June 2, 2020
Kristen Bell, Benjamin Hart, Daniel Wiseman (Illustrated by)
Rebinding by Spiralverse™
★★★☆☆+ from 1,001 to 10,000 ratings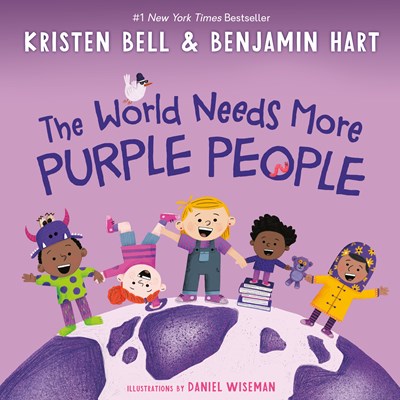 #1 New York Times bestseller!

Actress, producer, and parent Kristen Bell (The Good Place, Veronica Mars, Frozen) and creative director and parent Benjamin Hart have a new challenge for you and your kids: become a purple person by embracing what makes YOU special while finding common ground with those around you.

What is a purple person? Great question. I mean, really great! Because purple people always ask really great questions. They bring their family, friends, and communities together, and they speak up for what's right. They are kind and hardworking, and they love to laugh (especially at Grandpa's funny noises)! A purple person is an everyday superhero! How do you become one? That's the fun part! Penny Purple will lead you through the steps. Get ready to be silly, exercise your curiosity, use your voice, and be inspired.

Looking to reach beyond the political divide of red and blue, Kristen Bell and Benjamin Hart have created a hilarious and joyous read-aloud that offers a wonderful message about embracing the things that bring us together as humans. This book will inspire a whole generation to paint the world purple!
"A plethora of broad smiles and wide-open mouths crank up the visual energy—and if the earnest overall tone doesn't snag the attention of young audiences, a grossly literal view of the young narrator and a grandparent 'snot-out-our-nose laughing' should do the trick." —Kirkus Reviews

"This book serves as a pep talk for contentious times by caring adults who want a nicer world—and that is no small thing." —Publishers Weekly

"The message is inspiring: Ask questions, advocate for positive change, and have fun while collaborating with members of your family and community." —School Library Journal
Kristen Bell is a mostly grown adult who spends much of her time pretending to be other people. She finds this pursuit oddly rewarding, mostly because of the free food. She is also an actress and producer who has starred in such films as Frozen, Bad Moms, and Forgetting Sarah Marshall, as well as the television series The Good Place and Veronica Mars. She has been a guest editor for Parents magazine and has been featured in parenting articles on platforms like Motherly, Real Simple, Babble, and more. She also produces and stars in the web series Momsplaining for EllenTube.

Benjamin Hart is a mostly grown adult who spends his time on a rock, floating through space. He is reminded of this almost daily by his neighbor Frank. He is also a multidisciplinary designer and creative director. He is currently a principal partner and the co-president of Brains on Fire, a creative agency that specializes in building communities and sparking social movements through the power of identity and narrative. Benjamin has worked on numerous projects and campaigns focused on early childhood development and education.

Together the duo also helped launch a new baby company in 2019 called Hello Bello, which provides families with access to premium and more natural products at affordable prices.

Daniel Wiseman is a mostly grown adult who spends a lot of his time drawing kids having fun, and animals wearing hats. On the off chance he's not scribbling pictures, you can probably find him stomping through the woods with his not-at-all-grown sons, looking for bears, bugs, and Bigfoot.