Cook This Book: Techniques That Teach and Recipes to Repeat: A Cookbook
Spiral-Bound | April 20, 2021
Molly Baz
Rebinding by Spiralverse™
★★★★☆+ from 1,001 to 10,000 ratings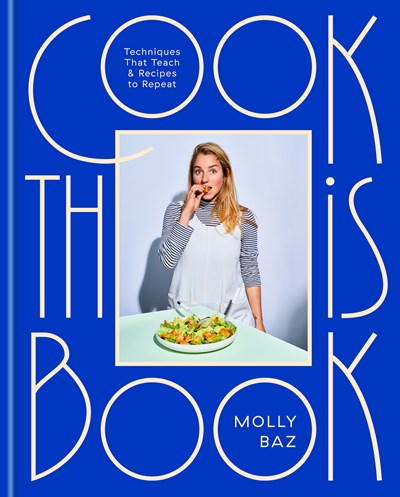 NEW YORK TIMES BESTSELLER • A thoroughly modern guide to becoming a better, faster, more creative cook, featuring fun, flavorful recipes anyone can make.

ONE OF THE BEST COOKBOOKS OF THE YEAR: NPR, Food52, Taste of Home

"Surprising no one, Molly has written a book as smart, stylish, and entertaining as she is."—Carla Lalli Music, author of Where Cooking Begins

If you seek out, celebrate, and obsess over good food but lack the skills and confidence necessary to make it at home, you've just won a ticket to a life filled with supreme deliciousness. Cook This Book is a new kind of foundational cookbook from Molly Baz, who's here to teach you absolutely everything she knows and equip you with the tools to become a better, more efficient cook.

Molly breaks the essentials of cooking down to clear and uncomplicated recipes that deliver big flavor with little effort and a side of education, including dishes like Pastrami Roast Chicken with Schmaltzy Onions and Dill, Chorizo and Chickpea Carbonara, and of course, her signature Cae Sal. But this is not your average cookbook. More than a collection of recipes, Cook This Book teaches you the invaluable superpower of improvisation though visually compelling lessons on such topics as the importance of salt and how to balance flavor, giving you all the tools necessary to make food taste great every time. Throughout, you'll encounter dozens of QR codes, accessed through the camera app on your smartphone, that link to short technique-driven videos hosted by Molly to help illuminate some of the trickier skills.

As Molly says, "Cooking is really fun, I swear. You simply need to set yourself up for success to truly enjoy it." Cook This Book will help you do just that, inspiring a new generation to find joy in the kitchen and take pride in putting a home-cooked meal on the table, all with the unbridled fun and spirit that only Molly could inspire.
"Molly Baz is rethinking the way we engage with cookbooks"—TASTE

"Cook This Book is for anyone who wants to learn kitchen skills that stick."—Esquire

"[Cook This Book is] packed with information about the principles of great flavor and instructions on technique."—Salon

"Recipe developer Baz delivers an exciting crash course in cooking fundamentals via 95 recipes that don't 'ask too much of the home cook.'"—Publishers Weekly

"Cook This Book is devoted to teaching foundational kitchen info and basics that'll help you cook efficiently."—theSkimm

"Cook This Book is a syllabus for how to become a more technically-skilled cook."—Epicurious

"The recipes in this book are dripping with deliciousness."—Eat Your Books

"Whether you're a novice or a pro, Molly makes you think about cooking in an exciting and modern way that is foolproof and easy to follow. This book will be your guide to mastering the basics, cooking with all the right flavors, and bringing delicious meals to the table every time without the guesswork."—Bobby Berk, design expert and Emmy-nominated host of Netflix's Queer Eye

"This certainly ain't your grandma's cookbook. I mean, I know I used to bake special M-shaped biscuits for Molly when she was a was a little girl, but I never expected it would come to this! With rich recipes and a design that just knock your socks off, this cookbook is simply vibrant. And BOOM . . . don't even get me started about those innovative QR codes: all my technique-related fears, gone with a vid. The photographs are sooo good they make me want to eat the page! Now I may be a bit biased, but I know I'm not wrong."—Doug Baz, Molly's Dad

"Surprising no one, Molly has written a book as smart, stylish, and entertaining as she is. The recipes sound as good as they look, but it's the extras that will make your cooking that much extra: her excellent explanations of how to balance flavors, the deep dive into the crunchy, spicy, and herbaceous condiments that will turn your dishes into taste sensations, and the instructional videos that bring every technique to life. I love this book as much as I love her (which is a lot!)."—Carla Lalli Music, author of Where Cooking Begins

"With its DIY approach to culinary expertise, this is a great starting point for home cooks wanting to develop flavor and technique."—Library Journal
Molly Baz is a food editor and recipe developer whose stories and recipes have been featured in Bon Appétit magazine and who has appeared in the brand's YouTube shows, Making Perfect and Molly Tries. Molly lives in Los Angeles with her husband, Ben, and their teeny-tiny weenie dog, Tuna.