Star Wars: Thrawn Ascendancy (Book I: Chaos Rising)
Spiral-Bound | April 27, 2021
Timothy Zahn
Rebinding by Spiralverse™
★★★★☆+ from 10,001 to 50,000 ratings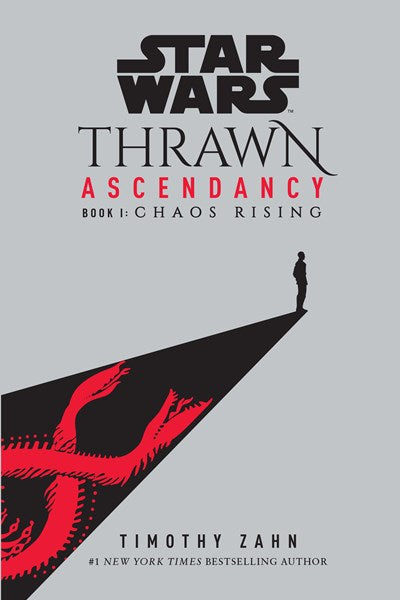 NEW YORK TIMES BESTSELLER • Discover Thrawn's origins within the Chiss Ascendancy in the first book in an epic new Star Wars trilogy from bestselling author Timothy Zahn.

Beyond the edge of the galaxy lies the Unknown Regions: chaotic, uncharted, and near impassable, with hidden secrets and dangers in equal measure. And nestled within its swirling chaos is the Ascendancy, home to the enigmatic Chiss and the Nine Ruling Families that lead them.

The peace of the Ascendancy, a beacon of calm and stability, is shattered after a daring attack on the Chiss capital that leaves no trace of the enemy. Baffled, the Ascendancy dispatches one of its brightest young military officers to root out the unseen assailants. A recruit born of no title, but adopted into the powerful family of the Mitth and given the name Thrawn.

With the might of the Expansionary Fleet at his back, and the aid of his comrade Admiral Ar'alani, answers begin to fall into place. But as Thrawn's first command probes deeper into the vast stretch of space his people call the Chaos, he realizes that the mission he has been given is not what it seems.

And the threat to the Ascendancy is only just beginning.
Timothy Zahn is the author of more than sixty novels, nearly ninety short stories and novelettes, and four short-fiction collections. In 1984, he won the Hugo Award for Best Novella. Zahn is best known for his Star Wars novels (Thrawn, Thrawn: Alliances, Thrawn: Treason, Heir to the Empire, Dark Force Rising, The Last Command, Specter of the Past, Vision of the Future, Survivor's Quest, Outbound Flight, Allegiance, Choices of One, and Scoundrels), with more than eight million copies of his books in print. Other books include StarCraft: Evolution, the Cobra series, the Quadrail series, and the young adult Dragonback series. Zahn has a BS in physics from Michigan State University and an MS from the University of Illinois. He lives with his family on the Oregon coast.