All About Me!: My Remarkable Life in Show Business
Spiral-Bound | November 30, 2021
Mel Brooks
Rebinding by Spiralverse™
★★★★☆+ from 10,001 to 50,000 ratings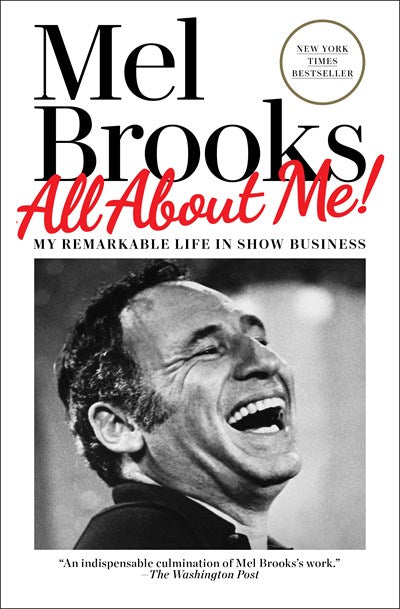 NEW YORK TIMES BESTSELLER • At 95, the legendary Mel Brooks continues to set the standard for comedy across television, film, and the stage. Now he shares his story for the first time in "a wonderful addition to a seminal career" (San Francisco Chronicle), "infused with nostalgia and his signature hilarity" (Parade).

ONE OF THE BEST BOOKS OF THE YEAR: New York Post • "Laugh-out-loud hilarious and always fascinating, from the great Mel Brooks. What else do you expect from the man who knew Jesus and dated Joan of Arc?"—Billy Crystal

For anyone who loves American comedy, the long wait is over. Here are the never-before-told, behind-the-scenes anecdotes and remembrances from a master storyteller, filmmaker, and creator of all things funny.

All About Me! charts Mel Brooks's meteoric rise from a Depression-era kid in Brooklyn to the recipient of the National Medal of Arts. Whether serving in the United States Army in World War II, or during his burgeoning career as a teenage comedian in the Catskills, Mel was always mining his experiences for material, always looking for the perfect joke. His iconic career began with Sid Caesar's Your Show of Shows, where he was part of the greatest writers' room in history, which included Carl Reiner, Neil Simon, and Larry Gelbart. After co-creating both the mega-hit 2000 Year Old Man comedy albums and the classic television series Get Smart, Brooks's stellar film career took off. He would go on to write, direct, and star in The Producers, The Twelve Chairs, Blazing Saddles, Young Frankenstein, Silent Movie, High Anxiety, and Spaceballs, as well as produce groundbreaking and eclectic films, including The Elephant Man, The Fly, and My Favorite Year. Brooks then went on to conquer Broadway with his record-breaking, Tony-winning musical, The Producers.

All About Me! offers fans insight into the inspiration behind the ideas for his outstanding collection of boundary-breaking work, and offers details about the many close friendships and collaborations Brooks had, including those with Sid Caesar, Carl Reiner, Gene Wilder, Madeleine Kahn, Alfred Hitchcock, and the great love of his life, Anne Bancroft.

Filled with tales of struggle, achievement, and camaraderie (and dozens of photographs), readers will gain a more personal and deeper understanding of the incredible body of work behind one of the most accomplished and beloved entertainers in history.
"Delightful . . . A wonderful addition to a seminal career, All About Me! is not only a worthy summary of all Mel Brooks has achieved but also a lasting testament to the laughs he's had along the way."—San Francisco Chronicle

"The book . . . covers [Brooks's] ninety-five years of life with a tummler's panache."—The New Yorker

"Full of both hilarity and wisdom."—Adam Grant, "15 Inspiring Books to Read Over the Holidays"

"If you're a Mel Brooks fan, All About Me! is the book you've been waiting for."—The AV Club

"This book has everything you would ever want Mel Brooks to tell you, and at 480 pages it is still not enough! Pure joy."—Judd Apatow

"Mel Brooks is Mount Hilarious. All any of us can do is look up and feel small and not as funny in comparison."—Marc Maron

"No one ever made me laugh harder than Mel Brooks. There was no more magical couple than Mel and Anne Bancroft. I treasure every memory with him and with them."—Norman Lear

"There are people who have great stories and there are people that tell great stories. Mel is that precious combination of a person with amazing stories who happens to be one of the greatest storytellers of all time. Lucky for him? Lucky for us!"—Sarah Silverman

"If you are holding the great Mel Brooks's memoir and you are wasting time reading this blurb, you're an idiot."—Conan O'Brien

"This marvelous book by the great man himself will give you a mega-dose of sheer reading pleasure. It's the personal, delightfully revealing life story of a giant comic talent. All About Me! delivers a much-needed, therapeutic supply of full-out laughter."—Dick Cavett

"All About Me! isn't a typical comedy memoir, and why would it be? Mel is a singular talent, still witty, still sharp, and still zinging us after all these years. These stories thread a hilarious narrative that is also profound and touching. Reading this, you'll learn very quickly why Mel Brooks is a king of comedy."—Wanda Sykes

"Not since the Bible have I read anything so powerful and poignant. And to boot—it's a lot funnier!"—M. Brooks

"In this laugh-a-minute memoir, actor and producer Brooks looks back at his rise through Hollywood, gleefully doling out punch lines along the way. . . . Studded with snickering asides and rapid-fire jokes, Brooks's account of making it in show biz is just as sidesplitting as his movies."—Publishers Weekly (starred review)

"Brooks is legendary in comedy, TV, and film, and his upbeat memoir is just the sort of fun book many readers are seeking."—Booklist
Mel Brooks, director, producer, writer, and actor, is an EGOT—one of the few entertainers in an elite group to earn all four major entertainment prizes: the Emmy, the Grammy, the Oscar, and the Tony. His career began in television writing for Your Show of Shows, after which he helped create the TV series Get Smart. He and Carl Reiner wrote and performed the 2000 Year Old Man Grammy-winning comedy albums. Brooks won the Oscar for Best Original Screenplay for his first feature film, The Producers. Many hit comedy films followed including The Twelve Chairs, Blazing Saddles, Young Frankenstein, High Anxiety, History of the World Part I, To Be or Not to Be, Spaceballs, and Robin Hood: Men in Tights. His film company, Brooksfilms Limited, produced critically acclaimed films such as The Elephant Man, Frances, My Favorite Year and 84 Charing Cross Road. In 2009 Mel Brooks was a Kennedy Center Honoree, recognized for a lifetime of extraordinary contributions to American culture. In 2013 he was the forty-first recipient of the AFI's Life Achievement Award. In 2016 Mr. Brooks was presented with the National Medal of Arts by President Obama.