The House in the Pines: A Novel
Spiral-Bound | January 3, 2023
Ana Reyes
Rebinding by Spiralverse™
★★★☆☆+ from 50,001 + ratings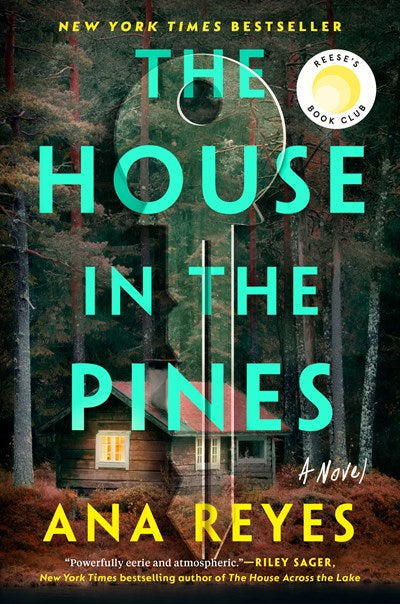 A REESE'S BOOK CLUB PICK An instant New York Times bestseller!

A shocking debut thriller about the subtlety of memory and manipulation, in which a young woman must find her way back to a New England cabin, armed with only hazy, haunting memories, to finally uncover the truth that could save her.

Maya was a high school senior when her best friend, Aubrey, mysteriously dropped dead in front of the enigmatic man named Frank whom they'd been spending time with all summer.

Seven years later, Maya lives in Boston with a loving boyfriend and is kicking the secret addiction that has allowed her to cope with what happened years ago, the gaps in her memories, and the lost time that she can't account for. But her past comes rushing back when she comes across a recent YouTube video in which a young woman suddenly keels over and dies in a diner while sitting across from none other than Frank. Plunged into the trauma that has defined her life, Maya heads to her Berkshires hometown to relive that fateful summer—the influence Frank once had on her and the obsessive jealousy that nearly destroyed her friendship with Aubrey.

At her mother's house, she excavates fragments of her past and notices hidden messages in her deceased Guatemalan father's book that didn't stand out to her earlier. To save herself, she must understand a story written before she was born, but time keeps running out, and soon, all roads are leading back to Frank's cabin. . . .

Utterly unique and captivating, The House in the Pines keeps you guessing about whether we can ever fully confront the past and return home.
"This is an absolute, can't-put-it-down thriller. . . . It's truly a wild ride that had me flying through chapter after chapter—which I think is the perfect way to kick off your year of reading."
—Reese Witherspoon (Reese's Book Club Pick January 2023)

"Powerfully eerie and atmospheric, The House in the Pines is a compelling mix of psychological thriller and dark fairy tale. By focusing not on whodunit but how and why, Ana Reyes's stellar debut explores the many ways our memories can fail us—and how they can set us free."
—Riley Sager, New York Times bestselling author of The House Across the Lake

"Loved it! Read in a single sitting, totally enthralled and desperate to learn the truth!"
—Lisa Gardner, #1 New York Times bestselling author

"Reyes's debut is a gripping, intelligent thriller that chilled me to the bone. With its intricate plotting, gorgeous prose, and complex, richly drawn characters, The House in the Pines is that rare book that you live inside from the first page to the last. I didn't want it to end—and I can't wait for readers to discover my new favorite author."
—Andrea Bartz, New York Times bestselling author of We Were Never Here, The Herd, and The Lost Night

"In The House in the Pines, Ana Reyes delves into a complex female friendship and the fragile nature of memory to weave together a smart, eerie, and completely addictive story of psychological suspense. Reyes is a debut author to watch."
—Alafair Burke, New York Times bestselling author of Find Me

"The House in the Pines unfolds like a magic show. Atmospheric, twisty, and skillfully wrought—this was an utterly engrossing reading experience. I wish I could go back and experience it again for the first time."
—Susie Yang, New York Times bestselling author of White Ivy

"I DEVOURED this book! There's something about the writing that is so sensuous and transportive, while also filled with an underlying sense of dread. . . . I enjoyed the themes of storytelling, generational ties, complicated female friendship, and control."
—Julia Bartz, New York Times bestselling author of The Writing Retreat

"It's a back-and-forth book that'll leave you on the edge of your seat, for sure."
—New York Post

"Thick psychological tension is heightened by Maya's memory lapses and reality-bending perceptions, lending the story a dark, supernatural feel."
—Booklist

"The novel works as an intense psychological thriller that thrives on subtle, but forceful, action."
—Shelf Awareness

"The House in the Pines is a fast-paced powerful thriller that really pulls the reader unlike anything I have read before."
—Latinx in Publishing

"The House in the Pines has a great hook, a beautifully painted central protagonist, and a genuinely creepy villain. I loved it. Superb."
—M. W. Craven, bestselling author of The Botanist

"The House in the Pines is a compelling thriller built on a foundation of a nuanced literary sensibility. Reyes weaves together several books' worth of story—lost novels, unsolved murders, rocky relationships, and substance abuse, to name a few—into one gripping and nimble page-turner with an assuredness that makes it look easy. Don't miss this memorable debut from a talented new voice."
—Emily Nemens, author of The Cactus League

"I've never read a mystery novel with a plot as intriguing and surprising as The House in the Pines. The novel's characters were as fascinating as the situations they found themselves in. I couldn't put it down."
—Catie Disabato, author of U Up? and The Ghost Network

"Ana Reyes's debut is chilling, atmospheric, and addictive—a perfect thriller. I didn't want it to end."
—Anna Dorn, author of Exalted

Ana Reyes is the New York Times bestselling author of Reese's Book Club pick The House in the Pines. She has an MFA from Louisiana State University and teaches creative writing. She lives with her husband in Easthampton, Massachusetts.

Author Residence: Los Angeles, CA