Please, Sorry, Thanks: The Three Words That Change Everything
Spiral-Bound | April 4, 2023
Mark Batterson
Rebinding by Spiralverse™
★★★★☆+ from 101 to 500 ratings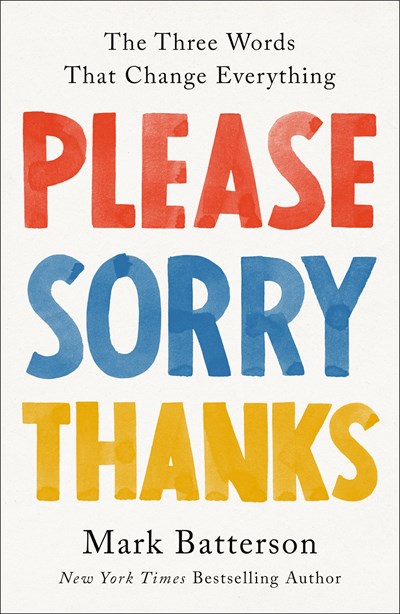 Strengthen your spiritual, mental, and emotional health and reach your most audacious goals with three simple but power-packed words—from the New York Times bestselling author of Win the Day.
The best predictor of success in life, in love, and in leadership is your proficiency at
please, sorry,
and
thanks
. Those three words are the foundation of all healthy relationships and successful careers. Those three words are the only ceiling on achieving your dreams. Those three words will determine how happy you are.
With his trademark blend of personal stories, scientific and historical references, and biblical insight, Pastor Mark Batterson shows how you can change your world with your words:
A timely please can help you unlock the rule of reciprocity for greater results, discover the power of "we is greater than me," and honor others above yourself.
A sincere sorry can lead you to mend broken relationships, strengthen connections through being radically vulnerable, and better understand the degrees of forgiveness.
A heartfelt thanks paves the way toward a resilient mindset of gratitude and an expectancy to see God move on your behalf.
Whether you're launching out into a new phase of life or navigating long-established complexities, it's time to harness the power of those three transformative words and let them propel you wherever God leads you to go.
"A balm for the soul. This book will give you a practical framework to be the kind of thoughtful, helpful force for good you always wanted to be."—Carey Nieuwhof, founder of the Art of Leadership Academy

"Powerful, moving, and needed! With just three little words, Mark Batterson will change your perspective on just about everything from your faith to your relationships to the way you speak to yourself."—Dr. Anita Phillips, trauma therapist and author of The Garden Within
Mark Batterson is the lead pastor of National Community Church in Washington, D.C. One church in multiple locations, NCC owns and operates Ebenezers Coffeehouse, The Miracle Theatre, and the DC Dream Center. NCC is currently developing a city block into The Capital Turnaround. This 100,000-square-foot space will include an event venue, child development center, and mixed-use marketplace. Mark holds a doctor of ministry degree from Regent University and is the New York Times bestselling author of twenty-three books, including The Circle Maker, In a Pit with a Lion on a Snowy Day, Whisper, and Win the Day, as well as several books for children, including The Blessing of You, written with his daughter Summer.


Author Residence: Washington D. C.

Author Hometown: Washington D. C.