Would You Rather? Made You Think! Edition: Answer Hilarious Questions and Win the Game of Wits
Spiral-Bound | August 18, 2020
Lindsey Daly
Rebinding by Spiralverse™
★★★★☆+ from 31 to 100 ratings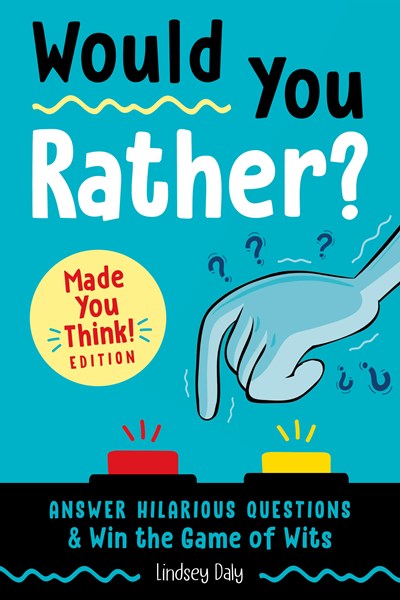 Enjoy hours of laughter with hilarious questions for kids that get harder as the book goes on. Who will win the competition for the best answers? Who will outsmart everyone?

Laugh and learn with 160+ questions designed to make kids giggle, think, and figure out who's the wittiest (and silliest) of all! Would You Rather? Made You Think! Edition provides endless hours of fun for eight- to twelve-year-olds who love a challenge--and a good laugh.

Would You Rather? Made You Think! features:


Learning through play. Kids will exercise their brains with these either/or scenarios that make them think creatively, use their imagination, and pull together facts quickly.
Family time away from screens. 160+ age-appropriate questions, ranging from the mind-boggling to the totally gross.
An exciting game for competitive kids. Try to outsmart family and friends with the most creative answer.
Levels organized by difficulty. As kids complete the levels, the next questions get harder.
Lots of laughs! The questions are funny; kids can make the answers even funnier!
Perfect for road trips, camping trips, restaurants, sleepovers, and dinner conversations.
Classroom fun. These questions can be used to increase student engagement, practice reading and writing comprehension, promote critical thinking skills, and create a fun classroom environment!
"In a world where critical thinking is huge, this book is perfect to enhance and hone that skill in a fun and engaging way. Lindsey Daly crafted thoughtful and entertaining "Would You Rather?" questions that you can use as a boredom buster road trip activity, as a family bonding activity, and more!" —Kelly Fedynich, 5th grade teacher

"From wondering if you'd rather discover the truth behind the creation of Stonehenge or find out what really happened to Amelia Earhart, to thinking about whether a zombie or ninja would be the perfect dance partner, this book is the perfect combination of thought-provoking and humorous questions that will have kids of all ages engaged and laughing!" —Mike Del Galdo, 7th grade teacher

"Funny, thought-provoking, and entertaining for all ages—I could not put this book down! As an upper elementary teacher, I know my students would be clamoring to challenge one another to these silly, yet engaging, questions. These would make an awesome 'do now,' writing prompt, or even class debate! I would highly recommend this book to any teacher looking to spice up the discussions in their classroom!" —Rebecca Caramanica, 4th grade teacher

"As a parent of children ages 10, 13, and 16, I was amazed at how easy this book made it to get them all talking! Instead of bickering, this book facilitated conversations and laughter. The topics were just silly enough and not overly invasive that all of my children were able to open up, recall memories of times together, and really connect. It helped me as a parent get to know them all a little bit better without prying. This book works for families and friends of all ages. I can't wait to take it to the pool so they can continue posing the questions to their friends. (I might ask their friends' moms a few of the questions too!)" —Jennifer Carcich, teacher, academic interventionist, and mother
Lindsey Daly grew up in Andover, New Jersey. She graduated from Ramapo College of NJ with a B.A. in history and a certification in secondary education. When she is not writing, Lindsey is working as a middle school social studies teacher and managing an Instagram page targeted at educators. She lives in New Jersey.