Unbelievably Vegan: 100+ Life-Changing, Plant-Based Recipes: A Cookbook
Spiral-Bound | January 18, 2022
Charity Morgan, Venus Williams (Foreword by)
Rebinding by Spiralverse™
★★★★☆+ from 101 to 500 ratings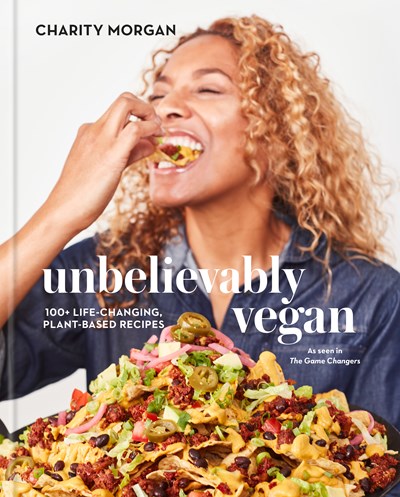 NATIONAL BESTSELLER • 100+ big, bold, sock-you-sideways plant-based vegan recipes from the breakout star of The Game Changers

"Charity is taking a practical approach to a plant-based diet. . . . She provides support and encouragement as she guides you through this exploration."—Venus Williams, from the foreword

ONE OF THE MOST ANTICIPATED COOKBOOKS OF 2022—Delish, Food52

Whether you're new to plant-based eating or already a convert, when you cook vegan with Charity Morgan, private chef to elite athletes and rock stars, you may be leaving out the meat, dairy, and eggs, but you won't be missing out on the flavor and indulgence of all your favorite comfort foods.

In her highly anticipated first cookbook, Charity lays out a plan for anyone who wants to eat less meat—whether they are looking to go completely vegan or just be a little bit more meat-free. Pulling inspiration from her Puerto Rican and Creole heritage as well as from the American South, where she lives with her family, Charity's recipes are full of flavor. Think Smoky Jambalaya; hearty Jerk-Spiced Lentils with Coconut Rice & Mango Salsa; Jalapeño-Bae'con Corn Cakes with Chili-Lime Maple Syrup; and a molten, decadent Salted Caramel Apple Crisp.

Unbelievably Vegan offers more than 100 recipes for living a meat-free life without giving up your favorite comfort foods. Charity guides readers on how to use oyster mushrooms to stand in for chicken and how to spice walnuts to taste like chorizo! She proves that vegan food can be fun, filling, healthy, and above all else unbelievably delicious.
"I can attest firsthand to the very special culinary force that is Charity Morgan: a knack for delicious dishes, a tried-and-true understanding of the performance benefits of plant-based eating; a daily and highly practical commitment to bringing these advantages to professional athletes; and, finally, her contagious enthusiasm and optimism."—Ethan Brown, CEO Beyond Meat

"Chef Charity has reimagined some of my favorite dishes in her cookbook. I'm definitely looking forward to sampling several recipes ASAP!"—DeAndre Jordan, NBA star and plant-based foodie

"Chef Charity Morgan is nothing short of genius when it comes to creating showstopping, craveable meals that appeal to meat eaters and vegans alike—no one EVER misses the meat in her dishes. If you are looking for fun, out-of-this-world vegan food, look no further than her cookbook!"—Chloe Coscarelli, author of Chloe Flavor

"Chef Charity has shown athletes a new school of thought on what performance food can be. Without compromising flavor, her plant-based meals can fuel anyone."—Derrick Henry, NFL Pro Bowl running back

"Charity is an unapologetic, self-made entrepreneur carving out her own lane in the plant-based space. This book represents that in every way."—Gary Vaynerchuk, serial entrepreneur and investor

"An inspiring feast for the eyes as well as the palate. . . . This cookbook is full of enticing recipes, but the genius here comes from the ways Morgan suggests to incorporate them into an existing meal routine."—Shelf Awareness
Charity Morgan is a plant-based chef and author. She has worked with celebrities and top athletes and was featured in the documentary The Game Changers. She grew up on a farm near Sacramento, California, eating dishes from her mother's Puerto Rican heritage, like pasteles and arroz con gandules, as well as Creole dishes her grandma made, such as jambalaya and gumbo. Charity studied cooking at Le Cordon Bleu College of the Culinary Arts and now lives in Nashville with her husband, former Tennessee Titans linebacker Derrick Morgan, and their two children.