Us: Getting Past You and Me to Build a More Loving Relationship
Spiral-Bound | June 7, 2022
Terrence Real, Bruce Springsteen (Foreword by)
Rebinding by Spiralverse™
★★★★☆+ from 1,001 to 10,000 ratings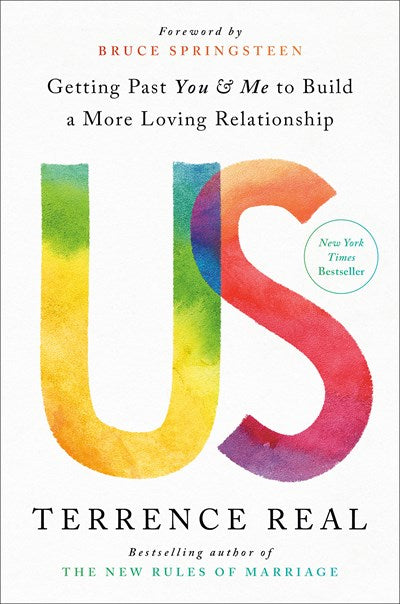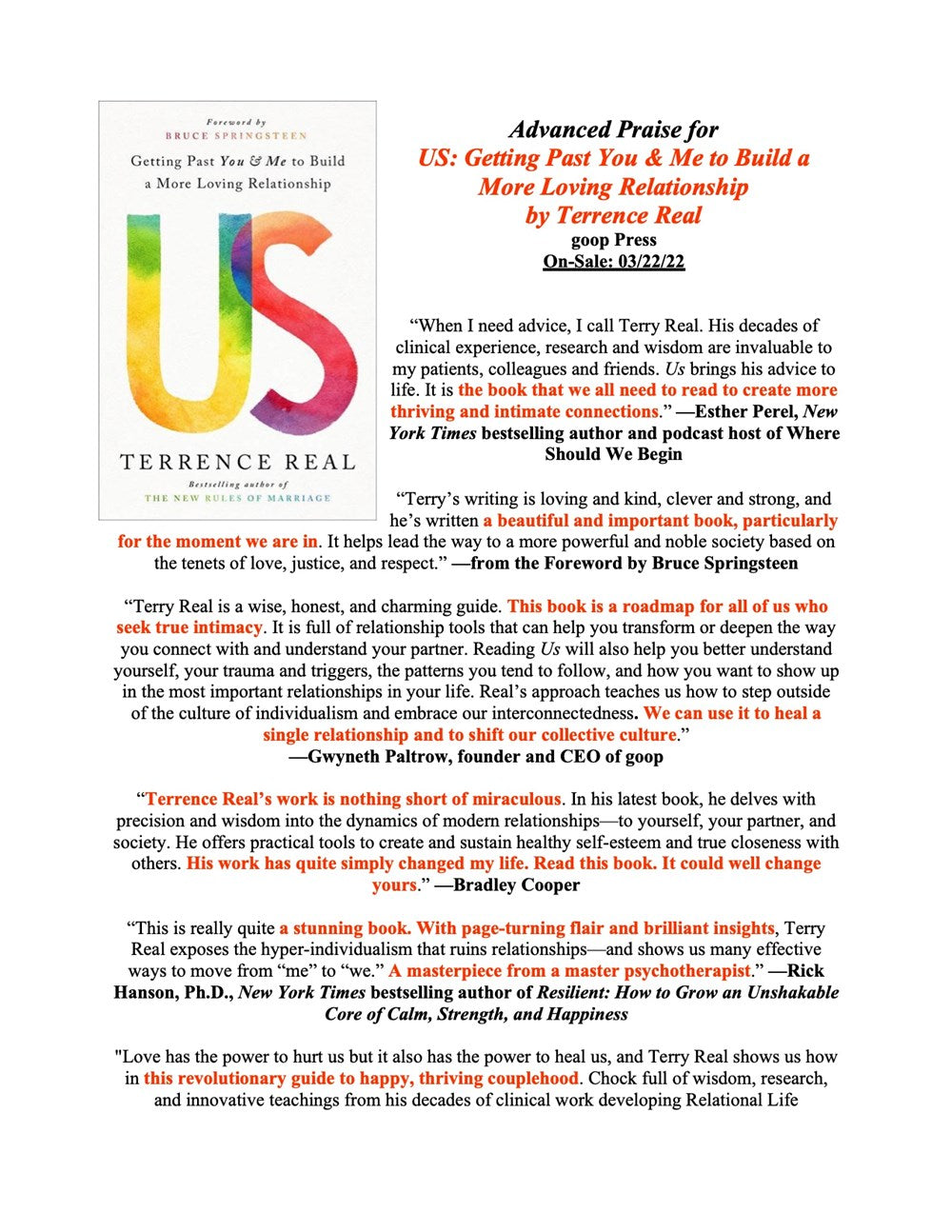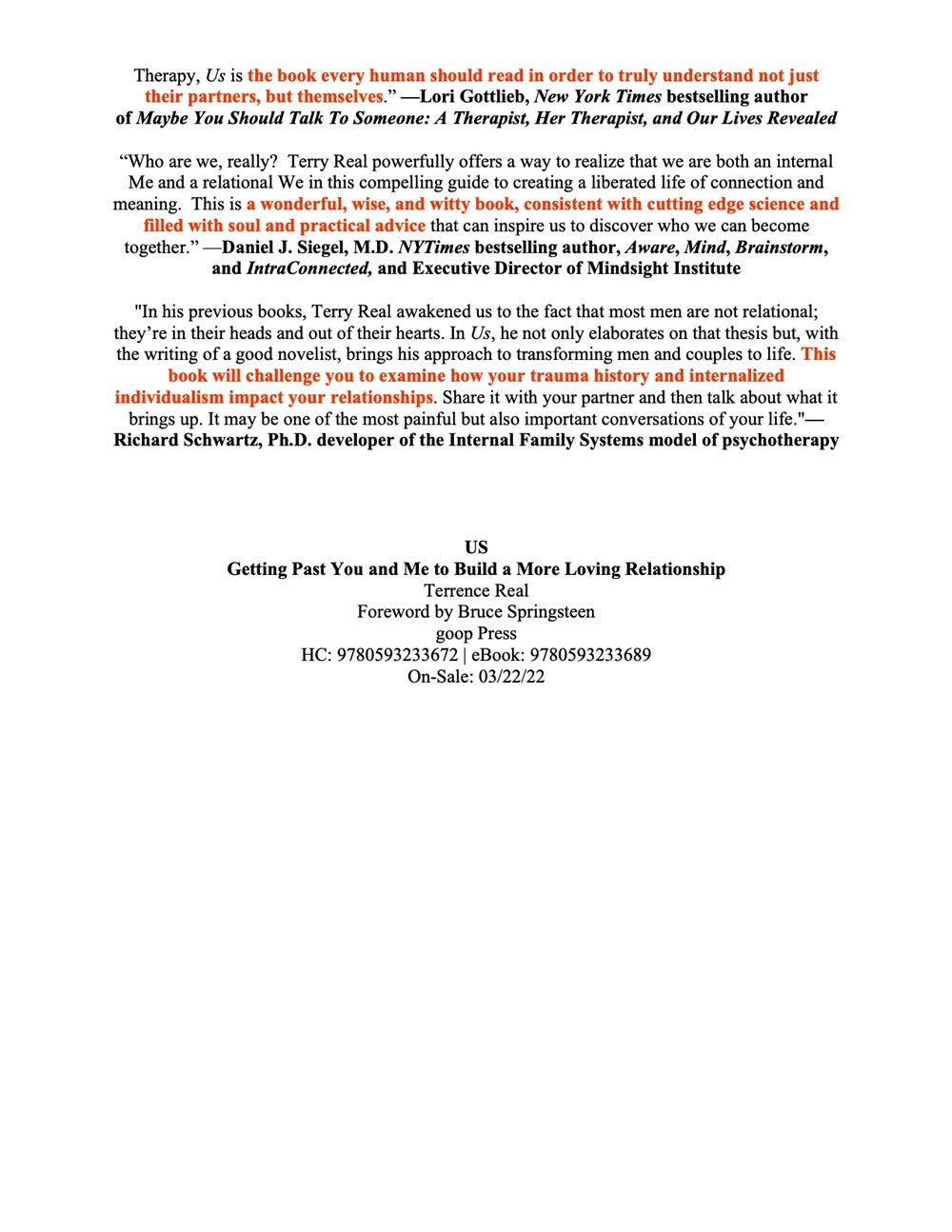 NEW YORK TIMES, WALL STREET JOURNAL, AND USA TODAY BESTSELLER • Stop working on yourself as an individual and start working on your relationship as a couple, with the help of the renowned family therapist and author of The New Rules of Marriage

"This book is a road map for all of us who seek true intimacy."—GWYNETH PALTROW, founder and CEO of goop

ONE OF THE BEST BOOKS OF THE YEAR: The Wall Street Journal

Not much is harder than figuring out how to love your partner in all their messy humanness—and there's also not much that's more important.

At a time when toxic individualism is rending our society at every level, bestselling author and renowned marriage counselor Terrence Real sees how it poisons intimate relationships in his therapy practice, where he works with couples on the brink of disaster. The good news: Warmer, closer, more passionate relationships are possible if you have the right tools.

In his transformative new book Us, Real brilliantly observes how our winner-takes-all culture infiltrates families with devastating results: repetitive fights that go nowhere, or a distant relationship in which partners end up living "alone together." With deft insight, humor, and charm, Real guides you to transform your relationship into one that's based on compassion, collaboration, and closeness.

Us is a groundbreaking guide to a new science-backed skillset—one that will allow you to get past your knee-jerk reactions and tap into your wiser, more collaborative self. With a novelist's flair, Real shares the stories of couples whose relationships have been saved by these skills and pans out to the culture that reinforces our dysfunction. If you and your partner are backed into separate corners of "you" and "me," this book will show the way back to "us." With Us, your true relationship can begin.
"A beautiful and important book, particularly for the moment we are in."—Bruce Springsteen, from the foreword

"It's cliche to say Dr. Terry Real's new book, Us: Getting Past You and Me to Build a More Loving Relationship, changed the way I view every relationship in my life. But it's true."—Katie Couric Media

"[An] enveloping and insightful book . . . Real is a natural storyteller, pointed, jovial, and funny. If you're struggling in your relationship and are open to hard truths, delivered with compassion and zero wasted time, Real is the ticket."—Esquire (Best Wellness Books)

"When I need advice, I call Terry Real. His decades of clinical experience, research, and wisdom are invaluable to my patients, colleagues, and friends. Us brings his advice to life. It is the book that we all need to read to create more thriving and intimate connections."—Esther Perel, New York Times bestselling author and podcast host of Where Should We Begin

"Terry Real is a wise, honest, and charming guide. This book is a road map for all of us who seek true intimacy. Real's approach teaches us how to step outside of the culture of individualism and embrace our interconnectedness. We can use it to heal a single relationship and to shift our collective culture."—Gwyneth Paltrow, founder and CEO of goop

"Terry Real's work is nothing short of miraculous. In Us, he delves into the dynamics of modern relationships with precision and wisdom, offering practical tools to create true closeness with others. His work has quite simply changed my life. Read this book. It could well changes yours."—Bradley Cooper

"This is a stunning book. With page-turning flair and brilliant insights, Terry Real exposes the hyper-individualism that ruins relationships—and shows us many effective ways to move from 'me' to 'we.' A masterpiece from a master psychotherapist."—Rick Hanson, Ph.D, New York Times bestselling author of Resilient

"Love has the power to hurt but it also has the power to heal, and Terry Real shows us how in this revolutionary guide to happy, thriving couplehood. Chock-full of wisdom, research, and innovative teachings, Us is the book every human should read in order to truly understand not just their partners, but themselves."—Lori Gottlieb, New York Times bestselling author of Maybe You Should Talk to Someone

"This is a wonderful, wise, and witty book, consistent with cutting edge science and filled with soul and practical advice that can inspire us to discover who we can become together."—Daniel J. Siegel, MD, New York Times bestselling author, Brainstorm and IntraConnected

"Share this book with your partner and then talk about what it brings up. It may be one of the most painful but also important conversations of your life."—Richard Schwartz, PhD, developer of the Internal Family Systems model of psychotherapy

"Original and stirring . . . [Real's] approachable take on healing relationships will enlighten."—Publishers Weekly
Terrence Real is an internationally recognized family therapist, speaker, and author. He founded the Relational Life Institute, offering workshops for couples, individuals, and parents along with a professional training program for clinicians to learn his Relational Life Therapy methodology. He is the bestselling author of I Don't Want to Talk About It, How Can I Get Through to You?, and The New Rules of Marriage.