Dr. Kellyann's Bone Broth Diet: Lose Up to 15 Pounds, 4 Inches-and Your Wrinkles!-in Just 21 Days, Revised and Updated
Spiral-Bound | December 14, 2021
Kellyann Petrucci, MS, ND
Rebinding by Spiralverse™
★★★★☆+ from 31 to 100 ratings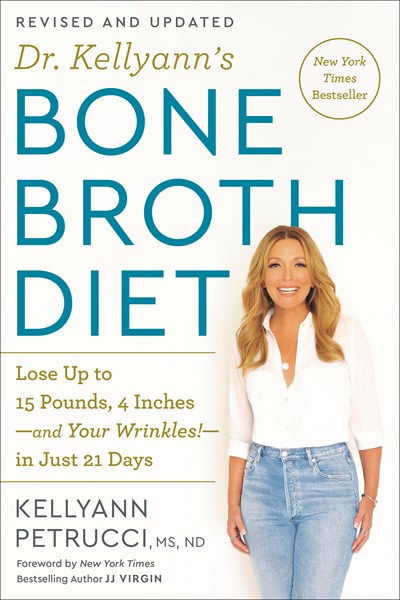 NEW YORK TIMES BESTSELLER • Lose weight safely and easily while spending less time in the kitchen with Dr. Kellyann's iconic bone broth diet plan, now revised and updated with new chapters and more recipes.

"Empowering, user-friendly information supported by the most forward-thinking scientific research available."—David Perlmutter, MD, #1 New York Times bestselling author of Grain Brain

As a naturopathic physician and weight-loss specialist, Dr. Kellyann Petrucci has helped thousands of patients achieve spectacular weight loss and more youthful-looking skin through her bone broth diet. Packed with fat-burning nutrients, skin-tightening collagen components, and gut-healing and anti-inflammatory properties, bone broth is the key to looking and feeling younger than ever before. In just twenty-one days, you, too, can unlock these miraculous results with Dr. Kellyann's delicious bone broth recipes and groundbreaking mini-fasting plan.

In this updated edition, Dr. Kellyann shares new 80/20 recipes for added post-diet flexibility, maintaining the diet template for 80% of your meals while allowing non-diet foods for the other 20%. Along with new research on the benefits of a low-carb diet and fasting, she also shares her best tips for looking beautiful from the inside out and lifestyle advice for staying healthy and vibrant long after you have finished the diet.

You'll learn the science of why bone broth works and how to lose weight safely and easily—cravings and hunger pains not included. The simple and tasty recipes for beef, turkey, chicken, and fish bone broths are loaded with flavor and nutrients. Unlike other diet plans that involve serious preparation and cooking, the bone broth diet allows you to spend less time in the kitchen and more time enjoying your newfound vibrancy. With easy fitness routines and mindful meditation exercises, Dr. Kellyann's Bone Broth Diet is your key to a healthier, happier, slimmer, and younger life.
"Here's what Kellyann and I know from decades of transforming people's lives: What you put on your fork is more powerful than anything you'll find in a prescription bottle."—Mark Hyman, MD, New York Times bestselling author of The Blood Sugar Solution

"Wealth doesn't mean anything if you don't have your health. In this book, Dr. Kellyann gives you the tools you need to conquer your weight problems, heal your body, stay young, and take your energy to an incredible level. Read it and take charge of your life."—Daymond John, co-host of ABC's Emmy Award-winning Shark Tank and bestselling author of The Brand Within and Display of Power

"Your life isn't about losing a few pounds right now, and then falling back into old habits. Instead, it's about empowering you to take control of your body and your mind for the rest of your life. Dr. Kellyann offers you the tools you need to be healthy, slim, and young, not just now, but forever."—Brett Hoebel, creator of the 20 Minute Body™ and celebrity trainer on NBC's The Biggest Loser

"Dr. Kellyann's Bone Broth Diet provides a terrific plan to lose weight. Fasting twice per week has always been a great way to lose weight, but few could succeed. Dr. Petrucci makes it easy for you by adding nutrient-packed bone broth plus great recipes that are nourishing and satisfying. Her emphasis on clean sources of fat and protein make great sense."—Steve Masley, MD, FAHAA, FACN, FAAFP, CNS, bestselling author of The 30-Day Heart Tune-Up and Smart Fat, and creator of the top health and wellness show on public television, 30 Days to a Younger Heart

"Dr. Kellyann's Bone Broth Diet is a must-read for anyone who wants to say goodbye to old habits and de-age their bodies. The easy-to-follow strategies will rescue you from old patterns and jumpstart your metabolism. Dr. Kellyann's plan will help create the "glow" that comes from having endless energy, a trim body and a radiant complexion."—Kathy Smith, New York Times bestselling author and fitness DVD Hall-Of-Famer
Kellyann Petrucci, MS, ND, is a board-certified naturopathic physician, a certified nutrition consultant, and the author of four books, including the New York Times bestseller Dr. Kellyann's Bone Broth Diet and The 10-Day Belly Slimdown. A concierge doctor for celebrities in New York and Los Angeles, Dr. Kellyann has been a host for Public Television specials and has been featured on Dr. Oz, The Doctors, Good Morning America, and Today.