Downshiftology Healthy Meal Prep: 100+ Make-Ahead Recipes and Quick-Assembly Meals: A Gluten-Free Cookbook
Spiral-Bound | December 6, 2022
Lisa Bryan
Rebinding by Spiralverse™
★★★★☆+ from 101 to 500 ratings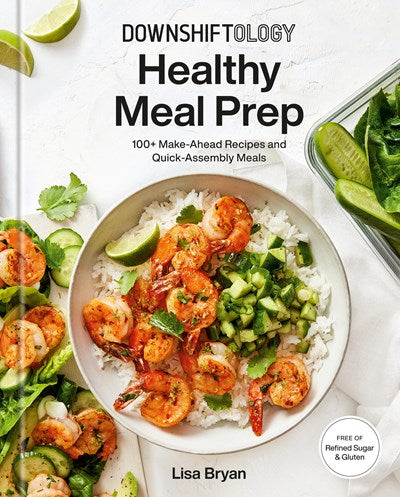 Discover an easier, more balanced way to meal prep as you whip up 100 fresh and healthy dishes that happen to be gluten-free, from the creator of the popular blog and YouTube channel Downshiftology.

When Lisa Bryan began meal prepping several years ago, she quickly became tired of eating leftovers and wasting food. At the same time, she realized she needed to "downshift" the accelerated pace of her life. Seeking balance, she made dietary changes like eating more vegetables and simple proteins, eliminating gluten (to manage her celiac disease) as well as processed foods, and reducing refined sugar. Then she flipped the script on meal prep by focusing on individual ingredients. On a whim, she posted a video to YouTube that went viral and she realized how many people were out there, just like her, who wanted a fresh approach to meal planning.

By prepping a handful of ingredients at the start of the week--such as flaked salmon, zucchini noodles, peas, prosciutto, soft-boiled eggs, and roasted veggies--and then mixing and matching them throughout the week, she found that she could enjoy a variety of meals and snacks (Creamy Salmon Zoodles, Peas and Prosciutto with Jammy Eggs, and Strawberries, Avocado, and Arugula Salad) without getting bored.

Lisa's debut cookbook is packed with 100 simple and ingenious, big-batch recipes that can either be frozen or repurposed into delicious meals without resembling leftovers. A dinner of light Coconut Chickpea Curry with rice can be enjoyed the next day atop a tortilla for a crispy tostada at lunch, or as a chickpea shakshuka for breakfast. All of the recipes are gluten-free and low in refined sugar; many are naturally anti-inflammatory, and dairy is minimal and optional. Lisa's approachable method for eating well and preparing meals with ease will inspire home cooks to downshift, too--at least when it comes to making healthy meals without a fuss.
"Lisa has revolutionized meal prep to be approachable, fresh, and easy, and it has everything you need to make healthy eating a breeze, from the best storage containers to how to extend the life of your most finicky produce to the simplest way to whip everything together for a delicious weeknight meal. You'll be inspired to reorganize your pantry, stock your freezer, and take a trip to the farmers' market!"—Emily Mariko, TikTok creator

"Lisa's gorgeous cookbook will teach you the tips and tricks to make meal prep your superpower! With Downshiftology Healthy Meal Prep, no matter what life throws at you, a quick and wholesome meal is minutes away."—Michelle Tam, New York Times bestselling cookbook author and creator of Nom Nom Paleo

"Lisa's recipes are legit, and she does not mess around. Her cookbook delivers healthy recipes that are not only easy to make, but they're packed with whole-food ingredients you can feel good about."—Bobby Parrish, author and creator of FlavCity

"Lisa's approach is thoughtful, practical, and doable! This isn't just a cookbook but a resource for meal planning. Every time I open the book, I'm inspired to eat healthier and meal prep for my family."—Natasha Kravchuk, creator of Natasha's Kitchen

"Lisa is the queen of meal prep on social media! And now she's bringing her passion and expertise to this book to inspire and help you save time in the kitchen, eat a variety of colors, nutrients, and flavors, and reduce the stress of what to make for dinner!"—Yumna Jawad, creator of Feel Good Foodie

"Lisa had me hooked in the first few pages when she explained that meal prep is like having a buffet bar in your fridge—seriously, who wouldn't love that?! Not only are Lisa's meals completely doable and craveable, but her book is also an amazing resource for how to prep, store, freeze, and reheat an incredibly wide variety of foods."—Jenn Segal, Once Upon a Chef: The Cookbook and Once Upon a Chef: Weeknight/Weekend
Lisa Bryan is the founder of the popular blog and corresponding YouTube channel Downshiftology. Lisa has been featured in Well + Good, Real Simple, Good Housekeeping, The Kitchn, and Elle. She lives in Southern California, where she hikes, bikes, and enjoys all things healthy.


Author Residence: Southern California (Orange County)

Author Hometown: Southern California