Unicorn Academy: Rainbow of Adventure Boxed Set (Books 1-4)
Spiral-Bound | April 7, 2020
Julie Sykes, Lucy Truman (Illustrated by)
Rebinding by Spiralverse™
★★★★☆+ from Up to 30 ratings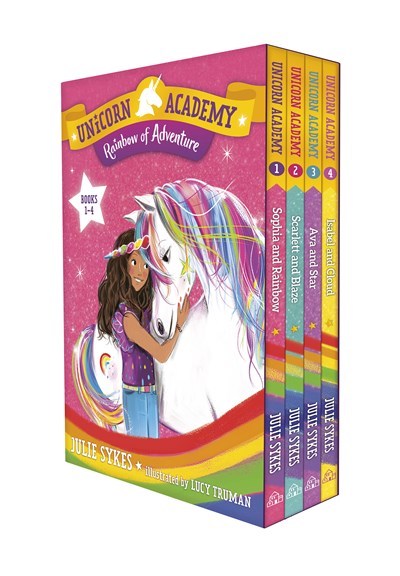 What if your best friend was a unicorn? This giftable boxed set includes books 1-4 of this magical chapter book series, where everyone is paired with their very own unicorn.

At Unicorn Academy, every student gets their own beautiful unicorn! Each unicorn has a special kind of magic. Some can fly, some turn invisible, and some can even create fire! To discover their powers, unicorns must bond with their student. Friendship is the key to the magic of Unicorn Island. Meet four magical best friendships in this collection!

Boxed set includes:
#1: Sophia and Rainbow: Sophia's first lesson at Unicorn Academy will lead her to save the magic of the island!
#2: Scarlett and Blaze: Blaze just might have the magic power that will unfreeze Sparkle Lake!
#3: Ava and Star: The magical berries the unicorns eat are disappearing--can Ava and Star solve the mystery?
#4: Isabel and Cloud: Can this pair learn to trust each other when the school is in danger?

Fans of Rainbow Magic, Purrmaids, and Princess Ponies will love this chapter book series about the magic of bonding with your own unicorn.
As a child, Julie Sykes was always telling tales. She still loves stories and has written many books. Julie lives in England in an old cottage with her family and a white wolf disguised as a dog. When she's not writing, she likes eating cake, reading, and walking, often at the same time. Visit her at juliesykes.co.uk.

Since graduating from Loughborough University with a degree in illustration, Lucy Truman has become one of the UK's leading commercial illustrators. Her inspiration often comes from the very funny little people in her own life, including family holidays with her nephew as well as her own children. Visit her at lucytruman.com.