I Am Amazing!
Spiral-Bound | July 26, 2022
Alissa Holder, Zulekha Holder-Young, Nneka Myers (Illustrated by)
Rebinding by Spiralverse™
★★★☆☆+ from 31 to 100 ratings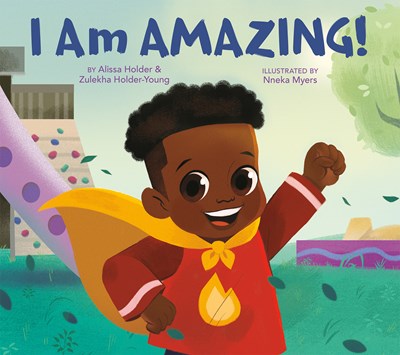 From the authors and illustrator of I Am Smart, I Am Blessed, I Can Do Anything! comes another story about the always-inspiring Ayaan!

Amazing Ayaan loves being a superhero--he helps a friend who has fallen on the playground, gives pushes on the swings, and offers a boost to those who need it at the rock wall.

But his fun is ruined when two of his friends tell him he doesn't seem like a superhero, and no one will take him seriously. But Ayaan doesn't completely lose his confidence. When he gets home from school, his Dad reminds him that anybody can be a superhero if you are helping others. And just like that, Ayaan dons his cape and mask. Amazing Ayaan to the rescue!
" [I Am Amazing] reminds readers that there really are superheroes among us. . . the story explores how positive thoughts, a loving support system, and appreciation for others can help make everything better."--Common Sense Media

"An uplifting tale that will convince all kids that they, too, are super."--Kirkus
Alissa Holder is an author, mother, and creative. She wrote her first title, I Am Smart, I Am Blessed, I Can Do Anything, with her sister Zulekha Holder-Young in 2020. She is an early childhood education teacher and is committed to writing books for children of all ages that are both self-affirming and confidence-building. Alissa lives in New York City.
Follow her journey on Instagram @Alissa360Style

Zulekha Holder-Young is the co-author of I Am Smart, I Am Blessed, I Can Do Anything, her first children's book written with her sister, Alissa Holder. She is a proud mom, author, and creative thinker who strives to promote positivity, self-confidence, and self-love in her work. Zulekha currently lives in Atlanta, Georgia, with her family.
Follow along on Instagram @AMomDotCom


Nneka Myers is an illustrator and character designer based in Toronto, Canada. Since graduating with a BAA in animation from Sheridan College, her vibrant illustrations and designs have been published in several children's books and in animated preschool shows.