The Investigator
Spiral-Bound | April 12, 2022
John Sandford
Rebinding by Spiralverse™
★★★★☆+ from 10,001 to 50,000 ratings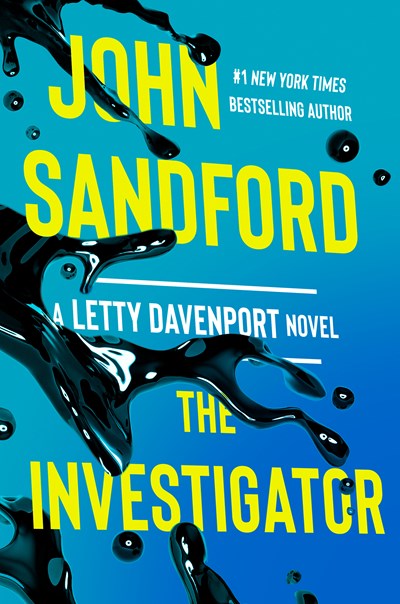 Letty Davenport, the brilliant and tenacious adopted daughter of Lucas Davenport, takes the investigative reins in the newest thriller from #1 bestselling author John Sandford.

"Sandford fans rejoice! Davenport next generation has arrived and Letty is exactly the kind of cool-eyed, smart-mouthed, lethally dangerous heroine we've been waiting for." --Lisa Gardner, author of One Step Too Far

By age twenty-four, Letty Davenport has seen more action and uncovered more secrets than many law enforcement professionals. Now a recent Stanford grad with a master's in economics, she's restless and bored in a desk job for U.S. Senator Colles. Letty's ready to quit, but her skills have impressed Colles, and he offers her a carrot: feet-on-the-ground investigative work, in conjunction with the Department of Homeland Security.

Several oil companies in Texas have reported thefts of crude, Colles tells her. He isn't so much concerned with the oil as he is with the money: who is selling the oil, and what are they doing with the profits? Rumor has it that a fairly ugly militia group might be involved. Colles wants to know if the money is going to them, and if so, what they're planning.

Letty is partnered with a DHS investigator, John Kaiser, and they head to Texas. When the case quicky turns deadly, they know they're on the track of something bigger. The militia group has set in motion an explosive plan . . . and the clock is ticking down.
"The Investigator is a procedural action thriller in which the technical sleuthing only heightens the tension. Letty is such a capable character, and Mr. Sandford such a fine tactician, it would seem incomprehensible and even cruel to deny readers a swift follow-up."--Wall Street Journal

"John Sandford created a winning formula with his furiously paced Prey novels, which star Lucas Davenport, a Minnesota detective turned U.S. marshal with a penchant for sharp dressing, high romancing and expert marksmanship. In The Investigator he moves the chess pieces to a different board."--New York Times

"Sandford's first Letty Davenport novel is a violent, topical, fast-paced story that's sure to please action fans."--Library Journal (starred review)

"Readers are treated to Sandford's well-crafted prose, conversational but never chatty and charged with boisterous humor. A top-line thriller from one of thegenre's heavy hitters."--Booklist

"A domestic-terrorist plot gives the adopted daughter of storied U.S. Marshal Lucas Davenport her moment to shine. Generations may succeed generations, but Sandford's patented investigation/action formula hasn't aged a whit. Bring it on."--Kirkus Reviews

"Letty Davenport takes center stage in this welcome series spin-off. One of Sandford's best books in years."--Publishers Weekly

"If John Sandford's The Investigator isn't the most-anticipated spring book, it's darn close…Sandford writes fully realized characters and no doubt he will deepen our understanding of Letty as the series matures."--Pioneer Press

"Fans of the Lucas Davenport series will find much to like in the adventures of his adopted daughter."--Criminal Element
John Sandford is the pseudonym for the Pulitzer Prize-winning journalist John Camp. He is the author of twenty-nine Prey novels; four Kidd novels; twelve Virgil Flowers novels; three YA novels coauthored with his wife, Michele Cook; and three other books.