The Paper Palace (Reese's Book Club): A Novel
Spiral-Bound | April 19, 2022
Miranda Cowley Heller
Rebinding by Spiralverse™
★★★☆☆+ from 50,001 + ratings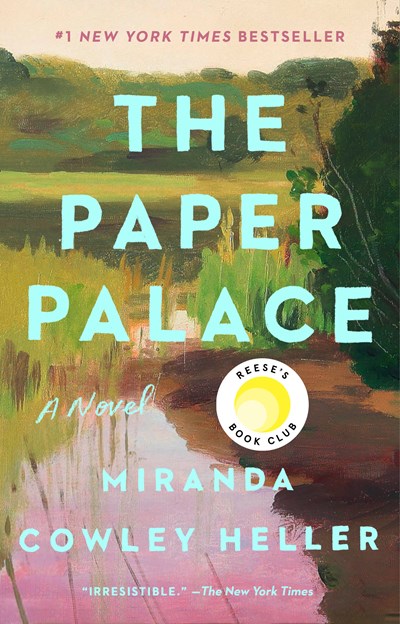 REESE'S BOOK CLUB PICK

INSTANT #1 NEW YORK TIMES BESTSELLER

OVER 1 MILLION COPIES SOLD WORLDWIDE

THE PAPER PALACE IS:

"Filled with secrets, love, lies and a summer beach house. What more could you ask?"—Parade

"A deeply emotional love story…the unraveling of secrets, lies and a very complex love triangle." —Reese Witherspoon (Reese's Book Club July '21 Pick)

"Nail-biting." —Town & Country

"A magnificent page-turner." —Cynthia D'Aprix Sweeney, New York Times bestselling author

"[An] irresistible placement of a complicated family in a bewitching place." —The New York Times

A story of summer, secrets, love, and lies: in the course of a singular day on Cape Cod, one woman must make a life-changing decision that has been brewing for decades.

"This house, this place, knows all my secrets."

It is a perfect August morning, and Elle, a fifty-year-old happily married mother of three, awakens at "The Paper Palace"—the family summer place which she has visited every summer of her life. But this morning is different: last night Elle and her oldest friend Jonas crept out the back door into the darkness and had sex with each other for the first time, all while their spouses chatted away inside. Now, over the next twenty-four hours, Elle will have to decide between the life she has made with her genuinely beloved husband, Peter, and the life she always imagined she would have had with her childhood love, Jonas, if a tragic event hadn't forever changed the course of their lives. As Heller colors in the experiences that have led Elle to this day, we arrive at her ultimate decision with all its complexity. Tender yet devastating, The Paper Palace considers the tensions between desire and dignity, the legacies of abuse, and the crimes and misdemeanors of families.
Praise for The Paper Palace:

"Beguiling."—Vogue, "The Best Books to Read This Summer"

"Nail-biting." —Town & Country

"This one's filled with secrets, love, lies and a summer beach house. What more could you ask?—"Parade, "Best Beach Reads"

"The gorgeous scenery of Back Woods (a stand-in for Wellfleet, Mass.) provides an atmospheric backdrop to Elle's ruminations and revelatory flashbacks." —Los Angeles Times, "10 best books for your summer beach reading"

"Ensconced in her family's rustic compound on Cape Cod for an annual summer trip, Elle Bishop is at a crossroads, forced to choose between the two great loves of her life. Should she run off with the longtime bestie she's secretly been in love with since they endured a ghastly childhood trauma together? Or stay with her cherished husband, a dashing Brit who's the father of her kids?" —People

"Doubly blessed when it comes to descriptive powers, Heller is as good on nature as she is on interiors."—The New York Times

"An assured debut. A sultry tale of Waspish New England that captures the spirit of Updike and Cheever." —The Times (London)

"Tightly woven and immediate, The Paper Palace takes us deep into a vivid summer landscape, a family, and a private, longstanding love story, and holds us there from start to finish." —Meg Wolitzer, New York Times bestselling author of The Interestings and The Female Persuasion

"The Paper Palace turned out to be the very page-turner I needed. If you want to learn something about love over a long time—how it can hurt, how it can soar— read this book." —Mary Beth Keane, New York Times bestselling author of Ask Again, Yes

"Miranda Cowley Heller has written a magnificent page-turner, a love story that shimmers with desire, intelligence, and humor. Lush and gorgeously written, The Paper Palace is as intoxicating as a summer night by the sea. I didn't want it to end." —Cynthia D'Aprix Sweeney, New York Times bestselling author of Good Company

"It's been ages since I was so absorbed in a contemporary novel. I loved it." —Nick Hornby, New York Times bestselling author of Just Like You

"Set in the physical and psychic landscape of Cape Cod, The Paper Palace is a fever dream of a novel, luminous with love and shot through with humor and heartbreak. It is a book that explores the indelibility of childhood, what it means to be shaped by place, and all that is unpredictable about the human heart. I couldn't put it down." —Adrienne Brodeur, author of Wild Game

"A beautifully constructed, wonderfully intelligent and beguiling novel, rich with a multitude of pleasures." —William Boyd, author of Any Human Heart

"It's glorious and gorgeous. I was absolutely immersed and gripped and I'm devastated to have finished it." —Marian Keyes, author of Lucy Sullivan Is Getting Married

"In rich and sensuous prose, Cowley Heller, cracks open the human heart and exposes her character's choices: the paths not taken and the devastating consequences. I smelled the old cabins and the backwoods, felt the pond water lapping around my ankles, experienced the love and loss of family. A perceptive and powerful story which will stay with me for a long time." —Claire Fuller, author of Unsettled Ground

"I can't think of a more brilliant debut than The Paper Palace. Enticing, assured and multi-layered, it introduces a major new voice in American fiction . . . A marvel."—Cressida Connolly, auhor of The Happiest Days

"Absolutely phenomenal novel - dazzling writing and utterly addictive. Read it."—Rosamund Lupton, New York Times bestselling author of Sister

"It felt as if I read The Paper Palace in one go. It was completely immersive, and shocking, and utterly alive. I loved it." —Nina Stibbe, author of Love, Nina

"Beautifully written, richly compelling, The Paper Palace is as dark and uncompromising as it is tender and lyrical. Here is a love triangle that keeps you turning the pages, a vivid evocation of place, and an exploration of the one of the most unsettling of secrets." —Rachel Joyce, author of The Unlikely Pilgrimage of Harold Fry

"Captivating debut… full of lush atmospheric details. This will keep the reader guessing all the way to the end."—Publishers Weekly

"The moody and atmospheric setting of the shadowy paths and ponds of the Back Woods is described in lush detail that makes a sharp contrast to the colder, sharper elements of Elle's story…From the first pages of her debut novel, Heller pulls no punches. Some of them just sneak up on you later on." —Kirkus
Miranda Cowley Heller has worked as senior vice president and head of drama series at HBO, developing and overseeing such shows as The Sopranos, Six Feet Under, The Wire, Deadwood, and Big Love, among others. This is her first novel. She grew up spending summers on Cape Cod, and now lives in California.