The Set Boundaries Workbook: Practical Exercises for Understanding Your Needs and Setting Healthy Limits
Spiral-Bound | December 14, 2021
Nedra Glover Tawwab
Rebinding by Spiralverse™
★★★★☆+ from 101 to 500 ratings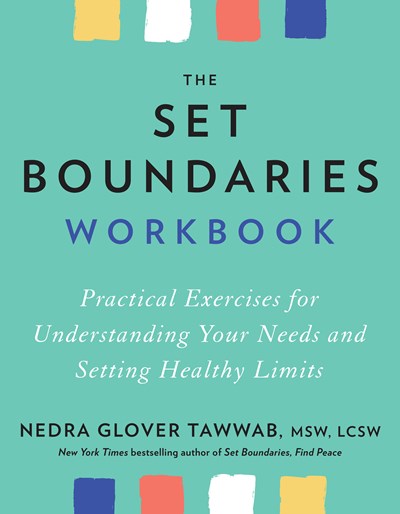 An accessible, step-by-step resource for setting, communicating, and enforcing healthy boundaries at home, at work, and in life

We all want to have healthy boundaries. But what does that really mean – and what steps are needed to implement them in our daily lives? Sought-after therapist and relationship expert Nedra Glover Tawwab presents clear explanations and interactive exercises to help you gain insight and then put it into action. Filled with thought-provoking checklists, questions, writing prompts, and more, The Set Boundaries Workbook is a valuable tool for everyone who wants to speak up for what they want and need, and show up more authentically in the world.

Nedra Glover Tawwab is the author of the New York Times bestseller Set Boundaries, Find Peace. A licensed therapist and renowned relationship expert, she has practiced relationship therapy for twelve years and is the founder and owner of the group therapy practice Kaleidoscope Counseling. She has been recently featured in The New York Times, The Guardian, Psychology Today, Self, and Vice, and has appeared on numerous podcasts, including Don't Keep Your Day Job, Do the Thing, and Therapy for Black Girls. Tawwab runs a popular Instagram account where she shares practices, tools, and reflections for mental health and hosts weekly Q&As about boundaries and relationships. She lives in Davidson, North Carolina, with her family.