Buy Back Your Time: Get Unstuck, Reclaim Your Freedom, and Build Your Empire
Spiral-Bound | January 17, 2023
Dan Martell
Rebinding by Spiralverse™
★★★★☆+ from 101 to 500 ratings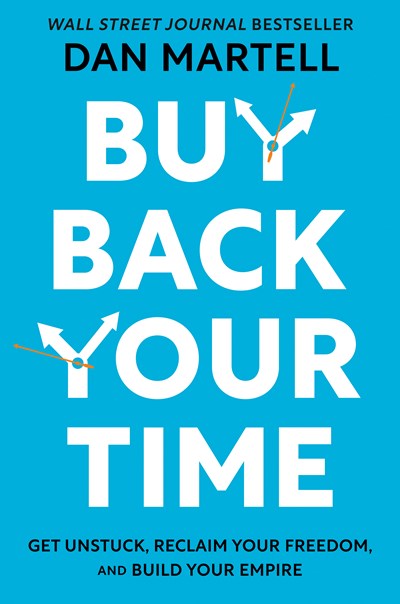 Wall Street Journal Bestseller

Learn to conquer the one real hurdle to scaling your company and growing rich: Time

How you use your free time will make or break your success. The secret? It's not about working harder or finding more time to do work. It's about designing the freedom to engage in the high-value work that brings you energy and fulfillment. This is at the heart of the message that has made Dan Martell the world's most popular SaaS (Software-as-a-Service) coach. Now, in his first book, Buy Back Your Time, he teaches entrepreneurs at every level how to scale their business, fast, while avoiding burnout. Trading money for time—that is, literally buying back free space in your calendar—will give you more financial success than you ever dreamed was possible.

With over two decades of experience as a serial entrepreneur and founder, Dan Martell will teach you the secrets to work less and play more while building an empire. He'll dig into the practical steps that will allow you to start buying back time immediately, while also developing operating procedures and hiring practices that will ensure rapid and robust growth. And he will teach you how to invest in your newfound time wisely—at work and at home—so you keep building your empire while living your best life.

Buy Back Your Time is the definitive guide for entrepreneurs at every level on how to succeed in business while enjoying more freedom than you ever imagined.
"A no-nonsense playbook for how to build a thriving business empire all while living your best life. Dan Martell makes complex systems as simple as 1-2-3."- Lewis Howes, New York Times bestselling author and host of The School of Greatness

"Dan distills a career of building and scaling companies into a masterclass of simple, actionable steps that will help you regain control of your life. The fact that your customers and employees will love interacting with you even more after you read this book is just icing on the cake."- Joey Coleman, Wall Street Journal bestselling author of Never Lose a Customer Again and Never Lose an Employee Again

"Buy Back Your Time tells Dan Martell's story of going from prison to successful serial entrepreneur. When the chaos of work threatened to completely overwhelm other meaningful pursuits like family and giving back, Dan devised methods and systems to reprioritize and create balance, crafting the life he wanted to have and also a way to share the fruits of his journey with others." - Eric Reis, author of The Lean Startup and The Startup Way

"There are books on 'time management' for entrepreneurs but never a book on 'time freedom.' This is one-of-a-kind advice from someone who has scaled businesses all while living an incredible lifestyle. A must read."- Todd Herman, author of The Alter Ego Effect

"Dan has read over 1200 business and productivity books, so you don't have to. Buy Back Your Time shows you how to grow your empire without missing family dinners."- Gagan Biyani, Co-Founder of Udemy.com and CEO of Maven.com

"Dan is literally the only coach I recommend to founders, and it's because he is truly world-class. His frameworks are the gold standard. I'm grateful to call him a mentor and friend." - Leila Hormozi, CEO of Acquisition.com

"They say those that can't do teach, but not here.... Dan did it, then masterfully taught it. A book on living a life you don't want to retire from and how to live your retirement dream today."- Garret Gunderson, New York Times bestselling author of Killing Sacred Cows

"This book sits between the E-Myth and 4-Hour Work Week. A playbook to true freedom and growth in your business." - Taki Moore, author of The Million Dollar Coach
Dan Martell is an entrepreneur, angel investor, thought leader, and highly sought-after coach in the SaaS, or software as a service, industry. He bootstrapped and successfully exited three tech businesses (Clarity.fm, Spheric, and Flowtown), raised more than $2 million in venture funding, and invested in more than 40 start-ups, such as Intercom, Udemy, and Hootsuite. In 2016, Martell founded the SaaS Academy and grew it to become the largest coaching business in the world for SaaS founders.

Author Residence: BC, Canada