Our Beautiful Colors
Spiral-Bound | December 6, 2022
Nikki Shannon Smith, Bea Jackson (Illustrated by)
Rebinding by Spiralverse™
★★★★☆+ from Up to 30 ratings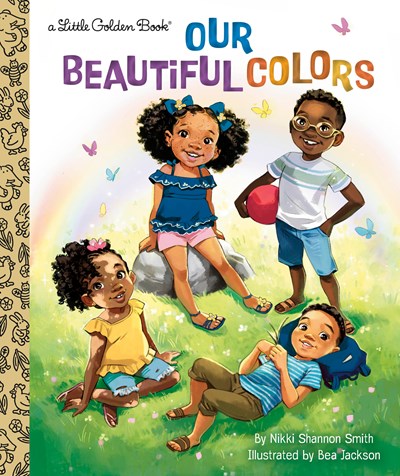 This Little Golden Book features beautiful illustrations and rhyming text about colors, plus a social justice theme that encourages Black children to celebrate themselves.

Beautiful colors—look up and look down.
Beautiful babies in all shades of brown.

This delightful concept book doesn't just teach colors—it does so with a focus on brown as a celebration and a validation of Black children. As beautiful Black babies play together in a park, they discover yellow flowers, red berries, green grass, and more. This Little Golden Book offers a way for families with very young children to begin addressing themes of diversity and equality.

Series Overview: LITTLE GOLDEN BOOKS have been loved by children for more than 75 years. When they were first published in 1942, high-quality books for children hadn't been available at a price most people could afford. Little Golden Books changed that! Priced at just 25 cents and sold where people shopped every day, they caused an instant sensation and were soon purchased by the hundreds of thousands. Created by such talented writers as Margaret Wise Brown (author of Goodnight Moon) and Richard Scarry, Little Golden Books have helped millions of children develop a lifelong love of reading. Today, Little Golden Books feature beloved classics such as The Poky Little Puppy and Scuffy the Tugboat, hot licenses, and new original stories--the classics of tomorrow, ready to be discovered between their sturdy cardboard covers and gold-foil spines.
NIKKI SHANNON SMITH is the author of numerous books for children, including the Brown Baby Parade series and the Little Golden Book The Little Christmas Elf. She currently lives in Woodland, California, with her husband and two children. When she's not busy with family, work, or writing, she loves to visit the coast. The first thing she packs in her suitcase is always a book.

BEA JACKSON loves telling stories through her art, from dynamic and diverse character design to delightfully fun and energetic children's book illustrations. She attended the College for Creative Studies and is the 2007 grand prize winner of L. Ron Hubbard's Illustrators of the Future award. In addition, Bea's work as a character and concept artist has been featured on the covers of books, in comics, and in various magazines and articles.