Would You Rather? Family Challenge! Edition: Hilarious Scenarios & Crazy Competition for Kids, Teens, and Adults
Spiral-Bound | May 11, 2021
Lindsey Daly
Rebinding by Spiralverse™
★★★★☆+ from Up to 30 ratings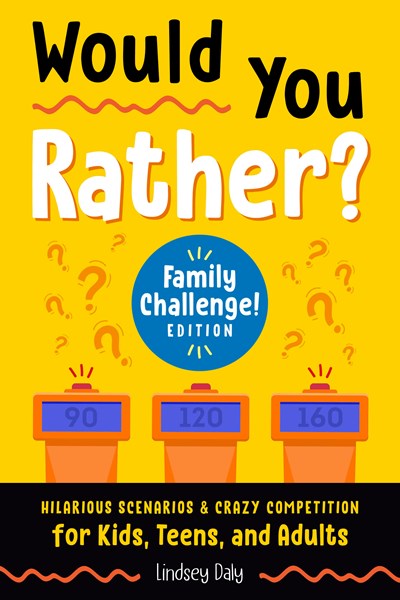 From the best-selling author of Would You Rather? Made You Think! Edition, a hilarious new collection of thought-provoking questions for all ages.


Can you beat everyone in your family at this awesome "Would You Rather" game? Can they beat you? Share some giggles with 160+ silly, fun questions that make you think, learn, and laugh while trying to come out on top of the competition.

Would You Rather? Family Challenge! Edition features:






Exercise for your brain. Kids and adults alike will exercise their brains with these either/or scenarios that make them think creatively, use their imagination, and pull together facts quickly.
Family time away from screens. 160+ questions, ranging from the mind-bending to the "eww" factor, that will give everybody a break from technology.
Lots of laughs for all ages! The questions are funny; kids, teens, and adults can make the answers even funnier!
An exciting game for competitive types. Try to outsmart family members with the most creative answer.
Conversation starters for road trips, camping trips, sleepovers, restaurants, and more.


Whether a gift for yourself, a family member, or a good friend, Would You Rather? Family Challenge! Edition will keep everyone entertained for hours!

"Our family turned off our devices and turned on our brains for some of the best conversations we've had. This book offers such a diverse group of topics that it's sure to grab the interest of every member of the family. Warning: may cause intense debate and laughter!" —Mindy Quirk, mother of 3

"My family thoroughly enjoyed Lindsey Daly's first Would You Rather? book, so it was not surprising we had a blast with this one. Our favorite categories were nature, entertainment, and science, but the most thought-provoking were the geography and history sections. Awesome way to get everyone off the screens and have a good laugh. We look forward to the next WYR!" —Christine Thorsen, mother of 2

"We first read Would You Rather? Family Challenge! Edition on a long car ride with our 3- and 6-year-old boys and our teenage niece and nephew. The book was a great source of entertainment for our whole family. Our teenage niece put her phone down to participate, and dare I say it even made her laugh! The questions were witty and engaging and helped the conversation flow. This book was also a great tool for teaching our young kids about parts of the question they didn't know. I would recommend this book for any family outing, from quarantine to car trips to game nights. So fun!" —Ashley Hirschhorn, nurse and mother of 2

"If you are looking for a new game for family fun night or a way to make a long road trip entertaining, look no further than Would You Rather? Family Challenge! Edition. The questions spark creativity and hilarious responses that everyone will enjoy. My 8-year-old twins ask me to play all the time, and they ask more questions about the events, topics, and people listed. We had a whole discussion about solar eclipses. Fun and educational for the whole family!" —Joeleen Corrales-Lee, teacher and mother

"Would You Rather? Family Challenge! Edition is an enjoyable book for the whole family. Even with teenagers, we love using this book anytime we are all together. It gives us as parents a chance to connect with our girls in a fun, nonstressful way. We especially love all the different categories of questions." —Anne Mars, teacher and mother of 2
Lindsey Daly grew up in Andover, New Jersey. She graduated from Ramapo College of New Jersey with a BA in history and a certification in secondary education. Lindsey is a middle school social studies teacher and the author of Would You Rather? Made You Think! Edition. She lives with her dog, Teddy, in New Jersey.