Every Summer After
Spiral-Bound | May 10, 2022
Carley Fortune
Rebinding by Spiralverse™
★★★★☆+ from 50,001 + ratings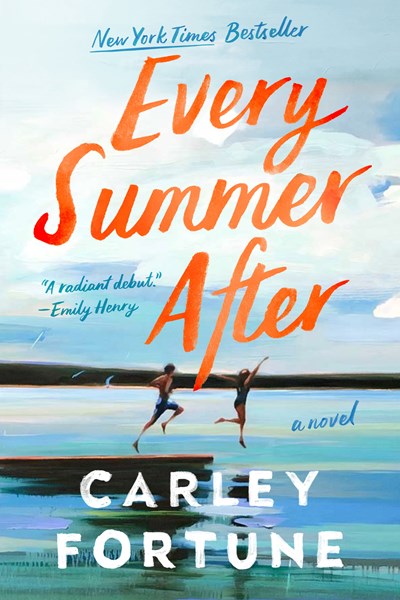 "A radiant debut."—Emily Henry, #1 New York Times bestselling author of Book Lovers

THE NEW YORK TIMES BESTSELLER!

Named One of the Hottest Reads of Summer 2022 by Today ∙ Parade ∙ PopSugar ∙ USA Today ∙ SheReads ∙ BuzzFeed ∙ BookBub ∙ Bustle ∙ and more!

Six summers to fall in love. One moment to fall apart. A weekend to get it right.

They say you can never go home again, and for Persephone Fraser, ever since she made the biggest mistake of her life a decade ago, that has felt too true. Instead of glittering summers on the lakeshore of her childhood, she spends them in a stylish apartment in the city, going out with friends, and keeping everyone a safe distance from her heart.

Until she receives the call that sends her racing back to Barry's Bay and into the orbit of Sam Florek—the man she never thought she'd have to live without.

For six summers, through hazy afternoons on the water and warm summer nights working in his family's restaurant and curling up together with books—medical textbooks for him and work-in-progress horror short stories for her—Percy and Sam had been inseparable. Eventually that friendship turned into something breathtakingly more, before it fell spectacularly apart.

When Percy returns to the lake for Sam's mother's funeral, their connection is as undeniable as it had always been. But until Percy can confront the decisions she made and the years she's spent punishing herself for them, they'll never know whether their love might be bigger than the biggest mistakes of their past.

Told over the course of six years and one weekend, Every Summer After is a big, sweeping nostalgic story of love and the people and choices that mark us forever.
"Fortune's debut novel is filled with nostalgia and heart. Percy and Sam's history is compelling and nuanced, making the story fly by faster than the summer months themselves. Although just like the places we spend our summers, and the people we meet along the way, Percy and Sam just might stay in your heart far beyond the last page."—USA Today

"The magic and romance of summer is palpable."—Popsugar

"Every Summer After is a quintessential summer novel, full of longing and lost love, and hits on so many beloved tropes. You'll want to gobble it up in one satisfying bite."—BuzzFeed

"Any book that begins with a cocktail and a heartbreak-induced haircut has a strong likelihood of being just the book for me, but Every Summer After outshone even my highest hopes. Fortune's wit is sharp, her prose is gorgeous, and her characters thrum with the rare kind of life and breath we readers are constantly on the lookout for. This is a radiant debut that packs an emotional wallop."
—Emily Henry, #1 New York Times bestselling author of People We Meet on Vacation

"A sweet story about second chances, and how the future we imagine for ourselves is never quite what it turns out to be."
—Jodi Picoult, #1 New York Times bestselling author of The Book of Two Ways and Wish You Were Here

"Carley Fortune perfects the nostalgia of young summer love and the choices that change us forever in Every Summer After, a smart and delightful novel that will tug on your heartstrings, and more than satisfy fans of Emily Henry. This is your next must-read beach-read from an exciting new voice. A total joy to devour!"
—Ashley Audrain, New York Times bestselling author of The Push

"Just like summer, I didn't want this epic, nostalgic tale of youthful romance all grown up to end. Set in Ontario's cottage country, one of my favourite places on earth, this tantalizing debut is a perfectly gorgeous summer love story fans of Jojo Moyes and Emily Henry should add to their wish lists immediately!"
—Marissa Stapley, bestselling author of Lucky

"Set in Ontario's idyllic cottage country, Carley Fortune's debut, Every Summer After, follows a couple—Persephone (Percy) and Sam—as they navigate loss, broken promises, and unrequited love. In a "then/now" narrative spanning nearly two decades, Fortune deftly explores the push and pull of a relationship burdened by past mistakes and misunderstandings, and how it's as much about choice as it is fate. Evocative and nostalgic, this novel is perfect for those who covet steamy summer dock days and second-chance love stories. I devoured it!"
—Karma Brown, bestselling author of Recipe for a Perfect Wife

"In the mood for summertime nostalgia (cottage summers, young crushes, sandy nights)? Carley Fortune brings those lakeshore towns and emotional memories to life in Every Summer After about haunting past choices and second-chance love."—Parade

"A spectacular debut…Alternating between the past and present, the story flawlessly conveys the lovers' growth both together and apart, and the summery setting provides an idyllic backdrop to their path back to each other. Centered on redemption and forgiveness, this sweeping, heartfelt romance proves impossible to put down."—Publishers Weekly (starred review)

"Readers who enjoy a steamy love story in the mold of Jill Shalvis won't be able to put this novel down."—Booklist
Carley Fortune is an award-winning Canadian journalist who's worked as an editor for Refinery29, The Globe and Mail, Chatelaine, and Toronto Life. She lives in Toronto with her husband and two sons. Every Summer After is her first novel.