Life in Five Senses: How Exploring the Senses Got Me Out of My Head and Into the World
Spiral-Bound | April 18, 2023
Gretchen Rubin
Rebinding by Spiralverse™
★★★☆☆+ from 1,001 to 10,000 ratings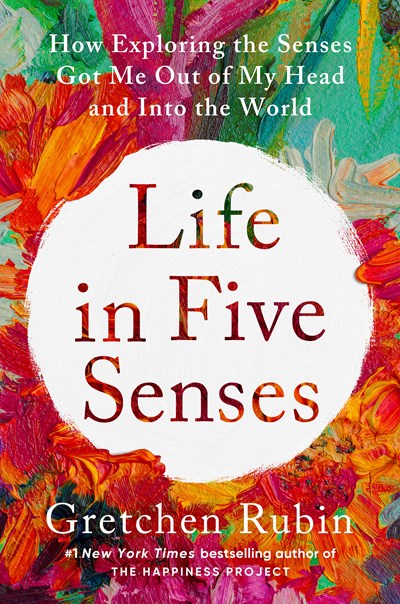 The #1 New York Times bestselling author of The Happiness Project discovers a surprising path to a life of more energy, creativity, connection, luck, and love: by tuning in to the five senses.

For more than a decade, Gretchen Rubin had been studying happiness and human nature. Then, one day, a visit to her eye doctor made her realize that she'd been overlooking a key element of happiness: her five senses. She'd spent so much time stuck in her head that she'd allowed the vital sensations of life to slip away, unnoticed. This epiphany lifted her from a state of foggy preoccupation into a world rediscovered by seeing, hearing, smelling, tasting, and touching.

In this journey of self-experimentation, Rubin explores the mysteries and joys of the five senses as a path to a happier, more mindful life. Drawing on cutting-edge science, philosophy, literature, and her own efforts to practice what she learns, she investigates the profound power of tuning in to the physical world.

From the simple pleasures of appreciating the magic of ketchup and adding favorite songs to a playlist, to more adventurous efforts such as making daily visits to the Metropolitan Museum of Art and attending Flavor University, Rubin show us how to experience each day with depth, delight, and connection. In the rush of daily life, she finds, our five senses offer us a way to cheer up, calm down, and engage with the world around us—as well as a way to glimpse the soul and touch the transcendent.

Life in Five Senses is a layered story of discovery filled with profound insights and practical suggestions about how to heighten our senses and use our powers of perception to live richer lives—and, ultimately, how to move through the world with more vitality and love.
"Right now, what the world needs most is people who have come to their senses—who have reunited with the power and wisdom of their bodies. Gretchen Rubin's Life in Five Senses—woven with research, practice, and a compelling story—invites us into the seismic shift toward a life grounded in sensation, vitality, and innate intelligence."—Glennon Doyle, #1 New York Times bestselling author of Untamed and founder of Together Rising

"Life in Five Senses is a great opportunity to spend time in Gretchen Rubin's inimitable company. But it's also an inspiring and practical guide to living in the moment. Many books have tried to teach us the power of the present. But Rubin creates her own tools and forges her own path—one that readers will surely want to follow."—Susan Cain, #1 New York Times bestselling author of Bittersweet and Quiet

"Gretchen Rubin always helps us notice the seemingly small but vitally important aspects of life that make us happier. In this fascinating exploration of our five senses, she shows us how paying closer attention to our daily experience of the exterior world can shift our interior worlds in remarkable ways. . . . A delightful treat, in every sense (pun intended)!"—Lori Gottlieb, New York Times bestselling author of Maybe You Should Talk to Someone

"What a wonderful wake-up call! Thanks to Gretchen Rubin, I've been noticing more, savoring more, tasting and smelling more—and it's made my life far more interesting. My only regret is that I read the ebook of Life in Five Senses instead of the hardcover. I missed the chance to feel the paper, hear the sound of the pages flipping."—A.J. Jacobs, New York Times bestselling author of The Year of Living Biblically

"A charming journey through the science and experience of fully engaging your senses of smell, taste, touch, sight, and sound."—Adam Grant, #1 New York Times bestselling author of Think Again and host of the TED podcast Re:Thinking

"We see, but how often do we really see? We taste things, but how often do we really taste things? Life in Five Senses opens us up to the hidden beauty of the world by allowing us to see and feel in high definition. By using all our senses like we have used them before, we can feel a deeper connection with our own existence and resonate more deeply with the existence of others."—Scott Barry Kaufman, author of Transcend and host of The Psychology Podcast
Gretchen Rubin is one of today's most influential observers of happiness and human nature. She's the author of many books, including the blockbuster New York Times bestsellers Outer Order, Inner Calm; The Four Tendencies; Better Than Before; and The Happiness Project. Her books have sold more than 3.5 million copies worldwide, in more than thirty languages. She hosts the top-ranking, award-winning podcast Happier with Gretchen Rubin, where she explores practical solutions for living a happier life. Raised in Kansas City, she lives in New York City with her husband and two daughters.


Author Residence: New York, NY

Author Hometown: Kansas City, MO