Princeton Review AP English Language & Composition Prep, 2023: 5 Practice Tests + Complete Content Review + Strategies & Techniques
Spiral-Bound | August 16, 2022
The Princeton Review
Rebinding by Spiralverse™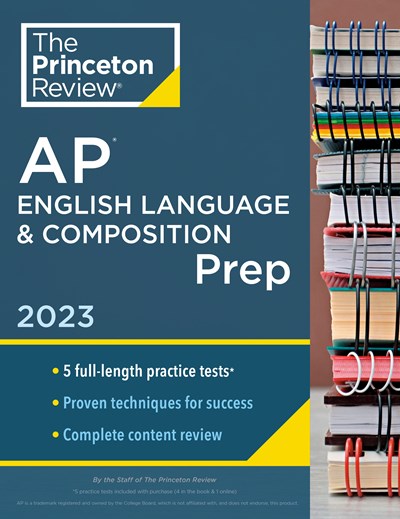 Everything students need to know to succeed for the extremely popular AP English Language & Composition course—including 5 (4 in the book and 1 online) total practice tests!

AP English Language & Composition Prep, 2023 provides students with a comprehensive "hit parade" of important vocabulary words, detailed coverage of all essay types (rhetorical analysis, argument, and synthesis), useful techniques for cracking the multiple-choice section, and much more.
The experts at The Princeton Review have been helping students, parents, and educators achieve the best results at every stage of the education process since 1981. The Princeton Review has helped millions succeed on standardized tests, and provides expert advice and instruction to help parents, teachers, students, and schools navigate the complexities of school admission. In addition to classroom courses in over 40 states and 20 countries, The Princeton Review also offers online and school-based courses, one-to-one and small-group tutoring as well as online services in both admission counseling and academic homework help.